National champions will be crowned this weekend, as the 2019 HSBC UK | National Cyclo-cross Championships take place at Cyclopark in Kent.
Men's and women's elite, junior, youth and veteran titles will all be contested over an action-packed Saturday and Sunday of racing.
Elite
Defending champion Grant Ferguson returns to defend the title he won in 2018, but he faces tough competition in the shape of Ian Field (Neon-Velo Cycling Team), who wrapped up the HSBC UK |National Trophy Series last weekend, and Tom Pidcock (TP Racing), who has recorded a number of impressive results on the continent this season.
Helen Wyman (Xypex - Verge Sport) is also set to defend her title, with strong challenges likely to come from Nikki Brammeier (MUDIIITA) and Bethany Crumpton (Storey Racing), both of whom have enjoyed great seasons so far. There will also be good showings expected of under-23 riders Anna Kay and Ffion James.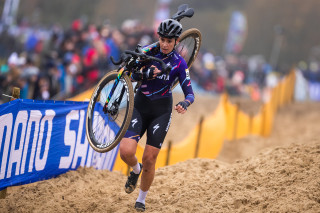 Under-23
The reigning women's under-23 champion, Evie Richards, is currently out of action following knee surgery. However, Kay (Experza-Footlogix) and James (Storey Racing) both rode strongly at the final round of the HSBC UK | National Trophy in Shrewsbury last weekend and will be confident of challenging for the title.
Pidcock is back to defend his 2018 title after his strong season on the continent.
Junior
2019 represents the first year in which the junior women will start in a separate race, and the field will include defending champion Harriet Harnden, Anna Flynn (Edinburgh RC), Maddie Wadsworth (Beeline Bicycles RT) and Josie Nelson of (RST/Cycle Division Racing Team).
With Sean Flynn having now moved up a category, there are a number of riders in the highly-competitive junior men's field who will fancy their chances of winning the title. Lewis Askey (Zanatta Ride Coventry XGear), Simon Wyllie (Halesowen A & CC), Harry Birchill (Mid Devon CC) and Oliver Draffan (Derwentside CC) have all put in strong performances of late and look in good form ahead of this weekend.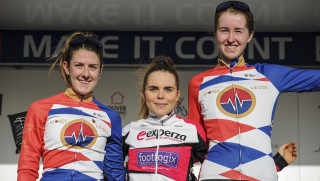 Veteran Women
This year also represents a first for the veteran women – 2019 is the first year in which national champions' jerseys will be presented in the sub-categories.
After wrapping up the HSBC UK | National Trophy Series in convincing style, Helen Pattinson (Hargroves-Montezuma's) looks favourite to take the veteran 40-49 title, although either Maddi Smith (Bolsover & District CC) or Alison Kinloch (PH-MAS/Paul Milnes Cycles), could challenge her for the honours.
The race for the veteran 50-59 title could be a little closer at the top, and even though Tracey Fletcher (Magspeed Racing) may be viewed as the favourite, Miriam Whitehurst (Somer Valley CC) has finished top at the last two rounds of the HSBC UK |National Trophy Series and looks on good form.
The veteran 60+ race - a new category for this season – will see Nicola Davies (www.cyclocrossrider.com) on the startlist after a successful season of racing the category.
Veteran Men
After enjoying a solid season so far, Adrian Lansley (Pedalon.co.uk), Paul Oldham (Hope Factory Racing) and Nick Craig (SCOTT Racing) will be looking to fight it out for the veteran 40-49 title. Lansley has looked strong all season, taking five out of six wins in the HSBC UK | National Trophy Series, but the outgoing champion Oldham, who took the honours at the last round of the series, will also be eyeing the title.
Pete Middleton (www.Zepnat.com RTLazer Helmets) will be hoping to keep hold of the veteran 50-59 title, but will be challenged by both Tim Gould and Timothy Davies (CC Abergavenny/JP Signs Print), both of whom have had very strong seasons.
Another new jersey for the 2019 championships, the Veteran 60+ category, has attracted an impressive field, and there are a number of strong riders who could claim the title.
Youths
The HSBC UK | National Trophy Series has been synonymous with two things this season: large fields and good racing. This weekend's championships look set to carry this pattern on.
After moving up to the category this year and enjoying a very good run of recent form, Zoe Backstedt (Storey Racing), is the favourite to take the under-16 girls' title. Similarly, Finlay Pickering (Vive Le Velo) starts the under-16 boys' race as a strong contender, although Adam Bent (Nutcracker Racing) will look to challenge him for victory.
In the under-14 girls' race, Libby Bell (Leicester Forest CC) looks strong after convincingly winning the HSBC UK | National Trophy Series with five victories. It's a little tighter in the under-14 boys' category, where both Max Greensill (Rapid Racer) and Oliver Akers (Holmfirth CC) will have their sights set on the national title.
Schedule
Saturday 12 January
09:30 Veteran Women
11:00 Veteran Men 60+
11:02 Veteran Men 50-59
12:15 Youth Under 16 Girls
12:17 Youth Under 14 Girls
13:15 Youth Under 16 Boys
13:17 Youth Under 14 Boys
14:30 Veteran Men 40-49
Sunday 13 January
10:30 Junior Women
12:00 Junior Men
13:15 Elite & U23 Women
14:30 Elite & U23Men
WATCH LIVE HERE from 10.15am on Sunday 13th January.