Beth Shriever and Quillan Isidore retained their British championship titles with 44 British BMX champions crowned this weekend as Derby BMX Club played host to the 2023 British BMX Championships.
Championship
Beth Shriever sported her world championship jersey in its first outing and looked in dominant form in the Championship category, taking the win in all four moto's and being pushed all the way by 15-year-old Freia Challis. Elsa Rendall-Todd rode consistently all day to finish in third place.
Shriever said: "It's always good to go to the Brits and see the British community give back to everyone that has supported me this year and to everyone that watched Glasgow.
"I loved the atmosphere - it was amazing. The track was good, I had some good first little straight battles with Freia, she's obviously coming through and she's very strong. It's great to see the up and coming talent as always, and it was great to have a bit of fun.
"The event was amazing and Derby BMX Club did a great job hosting it. I'm now getting ready for the last part of the season in Portugal."
Superclass
Quillan Isidore took the win in the Superclass category to finish ahead of Callum Russell and George Hunt, while Great Britain Cycling Team's Junior Academy Coach Kyle Evans came in fourth.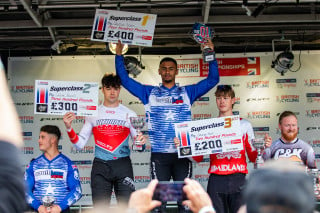 Isidore said: "The Brits is always my favourite race on the UK circuit, especially when you get a back-to-back British title – it's my third elite title and sixth total, but its always nice to do.
"It wasn't an easy day by no means. The weather, the tight track and I had a mechanical right before the final. I had to do a back wheel change minutes before which, without the help of Rich T and Dave H, I think I would have had to just roll out. It just shows how amazing the BMX community is. Props to British Cycling & Derby BMX Club for putting on a great event."
Junior men
In the junior men's category, it was Taylor Hunt who secured the victory and took the title, with fellow South West rider Harrison Collis just behind in second place, and South rider Charlie Roy taking third.
Hunt said: "Coming into the Brits this weekend, I felt good. I'd trained hard and had one goal in mind for the weekend.
"In the final, I had a great gate and strong first straight, I kept things smooth and consistent throughout the lap and crossed the line as British champion. I was so happy to have achieved the title, retaining it from last year.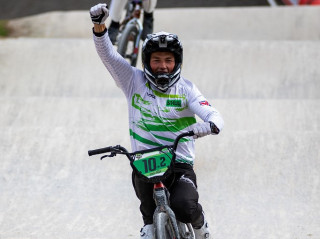 "This year has been a good one, I've loved being part of the GBCT Junior Academy and have benefited from the support, advice and coaching from the team. Looking forward, I want to end the season with a strong performance at the Manchester National Series round before I move into winter training."
Under-12's and Cruiser categories
Among the winners in the Cruiser categories were local brothers and Derby BMX riders Itai Jamera and Elisha Jamera. Freddie Parkinson won a very close battle with Ethan Rodgers to take another British title, while Senshu Flukes looked unstoppable and took a very well deserved win in the boy's aged 12 category.
Ella Lamb took a very convincing win in the girl's aged nine category, as did Amelie Eaton in the girl's aged 11, and South West rider Lottie Brown took the title yet again in the girl's aged 12 class.
James Clitheroe raced up in the boy's 14's and took another British title with a close fought victory over Finlay Hough. A very good day for the Cadman-Carpenter family saw Freddie win the boy's 17-18, with younger sister Annalise taking the girl's 14 title after a big pile up of riders in the first berm.
Alan Hill added yet another British title to his collection with victory in the 50-54 cruiser, before taking the veteran 40+ win.
2023 BMX British Championships
Superclass
Quillan Isidore
Callum Russell
George Hunt
Kyle Evans
Jos Marnham
Mark Fletcher
Matthew Hutt
Calum Strickland
Championship Women (17+)
Bethany Shriever
Freia Challis
Elsa Rendall-Todd
Evie Webster
Morgan Haslam
Junior Men
Taylor Hunt
Harrison Collis
Charlie Roy
Ned Penny
Ben Fitzsimmons
Harry Tanner
Harrison Bell
Ben Cornish
Male 13
Heath Thomas
Ben Larkins
Amos Guppy
Male 14
James Clitheroe
Finlay Hough
Fynn Phillips
Male 15
Jared Hill
Henry Eyre
Gabe Simpson
Male 16
Jimmy Criddle
Reuben Smith
Lewis Fletcher
Masters 30+
John Lillingstone
Thomas Palmer
Billy Irwin
Female 13
Lexi Waite
Grace Burge
Ruby Walford
Female 14
Annalise Cadman Carpenter
Anya Matern Alonso
Sophie Ellwood
Female 15
Lucy Simpson
Esme Brook
Akira Cooke
Female 16
Lucy Hutt
Tillie McCrum
Megan Gerrard
Male 17-18
Freddie Cadman Carpenter
Owen Putland
Kenny Phillips
Male 19-29
Ryan Stack
Billy Luckhurst
Joshua Wallis
Female 17-29 Challenge
Jaya Jack-Bradshaw
Lily Chiziwa
Caitlin Ellis
Female 30+ Challenge
Rebecca Gohl
Michelle Stupple
Kim Batsford
Veteran 40+
Alan Hill
Matt Barnard
Craig Hughes
Grand Veteran Men 50+
Lee Hunt
Michael Gough
Jason Lewis
Male 6 & Under
Joseph Claydon
Alby Blight
Roman Burdfield
Male 7
Henry Sullivan
Ethan White
Antek Porebny
Male 8
Ethan Shore
Charlie Dowsing
Seth Kucharik
Male 9
Joey Tomkins
Jack Devine
Arlo Steimetz
Male 10
Itai Jamera
Ronnie Pain
Leo Rowlands
Male 11
Freddie Parkinson
Ethan Rodgers
Ethan Howell
Male 12
Senshu Flukes
Oliver Tyres
Nate Hamilton
Female 6 & Under
Mabel Pyne
Orlaith Dewis
Abigail Henning
Female 7
Phoebe Millar
Lauren Snell
Ella Grant
Female 8
Betty Wills
Florence Dyson
Holly Bishop
Female 9
Ella Lamb
Grace Hudak
Trixie Trays
Female 10
Iris Hadja
Elizabeth-Lola Poole
Poppy-May Kirby
Female 11
Amelie Eaton
Poppy Bishop
Dakota Tucker
Female 12
Lottie Brown
Katie Millar
Isabella Rowe
9-12 Cruiser
Elisha Jamera
James Cottrell
Robin Matern Alonso
13-14 Cruiser
Stanley Palmer
Joe Penton-Voak
Sean Brown
15-16 Cruiser
Gabe Simpson
Zak Greene
Benjamin Weiss
17-29 Cruiser
Charlie Roy
Connor Hedges
Mickey Porter
30-39 Cruiser
Daniel Pople
Martin Brown
John Lillingstone
40-44 Cruiser
Adam Buday
Kingsley Mears
Fraser Watson
45-49 Cruiser
Matt Barnard
Andrew Heighes
Brett Knight
50-54 Cruiser
Alan Hill
Kevin Sykes
Darren O'Brien
55+ Cruiser
Michael Gough
James Yeo
Jon Moore
13-16 Female Cruiser
Elsa Rendall-Todd
Alexis McCartney
Kodie Harmer
17-29 Female Cruiser
Lily Chiziwa
Izzy Hurry
Olivia Firth
30+ Female Cruiser
Michelle Stupple
Rebecca Gohl
Sarah-Jane Nichols