Follow britishcycling.org.uk on
2010 Meadowbank Grand Prix

Story posted August 9, 2010; by Colin Renton | Photos Brian Annable

Home Win For Rutherford in British Omnium Championship
Alistair Rutherford (Science in Sport) was a classy winner of the British Omnium title, the main event in a weekend of spectacular racing at the Meadowbank Grand Prix. Rutherford posted the sixth fastest time in the flying lap then turned on the style to take top spot in the three remaining disciplines – the Points race, Elimination and Scratch – to clinch the title in impressive fashion from John McClelland (Agiskoviner) and Dave Martin (Bicycleworks)
"It was a good day" said Rutherford, whose grandmother is from nearby Musselburgh and arguably makes his success a 'home win'. "I really like being at Meadowbank – I was here a lot with the Commonwealth Games team in 2002". Assessing his performance, he added, "It was a good field. I've been training really hard for this and the guys at Science in Sport have been behind us sorting things out and it all went to plan."

Other highlights in a programme of racing that was contested in baking sunshine included a win for local rider Bruce Croall (City of Edinburgh) over his team mate Ken Ayre in the British Sprinters' League. Ayre is a novice whose only track experience has been accumulated in the local Tuesday night league, but his performances over the weekend suggest he is a rider to watch.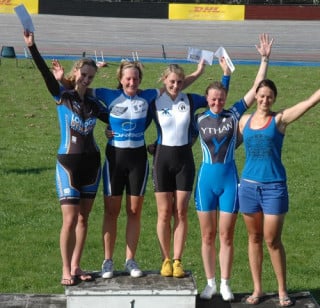 Symon Lewis (Sigma Sport) took the honours in the Derny challenge, seeing off Chris Bush (VC St Raphael) and Martin in an event that was noteworthy for the calm reaction of Alex Wise (Agiskoviner) who remained focused while his pacer Andy Laing changed machines in mid race following a mechanical problem. The Women's omnium produced a win for Cassie Gledhill (Orbea) who trailed City of Edinburgh's Louise Haston after three events but overhauled the Scot in the 8 kilometre points to emerge victorious by a point.

Meanwhile, a host of tightly fought support events plus an impressive win for Flora Gillies (Peebles CC) in the Youth omnium capped an exceptional two days of competition.
Meadowbank Grand Prix (15km, Endurance League)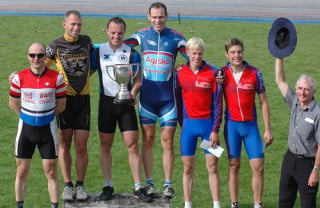 L to R Bush 4, Notley 3, Croall 1, McClelland 2, Cook 5, Solly 6

The final event of the weekend was the 39th year annual running of the Meadowbank GP with a full field of 28 riders from England, Scotland, Wales and Ireland facing 60 laps. It was very fast but without repeated attacks by the endurance riders, the pace of the race failed to `break the legs` of the sprinters who were rolling their big gears along at the back of the peloton.

This continued until the last 15 laps when the stronger riders started to get impatient and were attacking which had the affect of splitting the field and quickly eliminated 10 riders. The danger sprinters were still there though until Symon Lewis, on his own, launched himself out of the group to open a 30 metre gap. For a while, it looked as if the race was over for the rest until with five to go, the sprinters moved up outside the bunch.

With the speed of the group getting quicker and quicker, with two laps to go Bruce Croall simply flew away from his rivals, straight past Lewis, to win by a massive margin of 50metres. This was in the style of former World Champion Meadowbank GP winners Chris Hoy, Jan van Eijden, and Ivan Vrba. Defending Champion John McClelland won the bunch sprint for second from James Notley in third.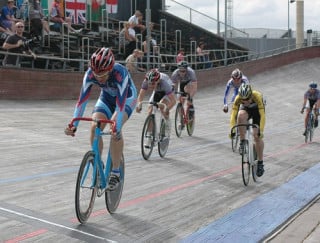 Everyone went home sunburned but happy.

Photos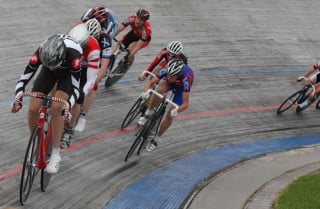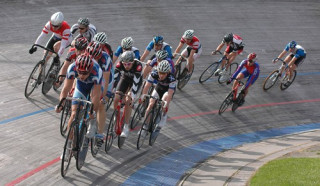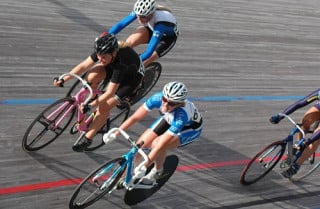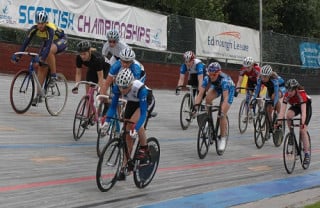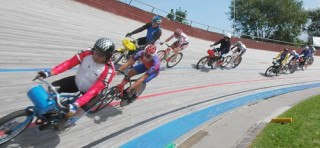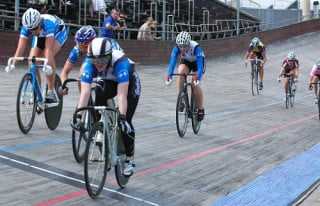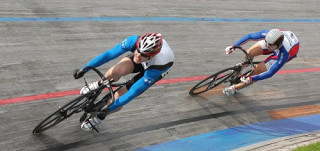 Results
Saturday Results

British Omnium Championship

Overall
1. Aistair Rutherford SIS
2. John McClelland Agiskoviner
3. David Martin Bicycleworks.com
4. Symon Lewis Sigma Sport
5. Chris Bush VC St Raphael
6. Greg Brown Dooleys RT
7 .Ross Crook Edinburgh RC
8. Alex Wise Agiskoviner
9. Callum Watson City of Edinburgh RC
10. Iain Cook VC Londres
11. James Solly VC Londres
12. Neill Withington VC St Raphael
13. Bruce Croall City of Edinburgh RC
14. Nikolas Gowrie Peebles CC
15. Derek Smith City of Edinburgh RC
16. Alastair Taylor Musselburgh RCC
17. Maher Al-Aussi VC St Raphael

Event 1 - Flying Lap Individual Time Trial
Bruce Croall City of Edinburgh RC 14.60 1
John McClelland Agiskoviner 15.20 2
David Martin Bicycleworks.com 15.39 3
Symon Lewis Sigma Sport 15.48 4
Greg Brown Dooleys RT 15.54 5
Alistair Rutherford SIS 15.64 6
Alex Wise Agiskoviner 15.70 7
Callum Watson City of Edinburgh RC 15.74 8
Jack Webb CC Cardiff 15.75 9
Ross Crook Edinburgh RC 15.78 10
Maher Al-Aussi VC St Raphael 15.80 11
James Notley Team Goldtec 15.83 12
Chris Bush VC St Raphael 15.86 13
Nicky Hall City of Edinburgh RC 15.99 14
Neill Withington VC St Raphael 16.06 15
Alastair Taylor Musselburgh RCC 16.13 16
Nikolas Gowrie Peebles CC 16.29 17
James Solly VC Londres 16.66 18
Iain Cook VC Londres 16.70 19
Paul Gittins Ferryhill Whs 17.67 20
Derek Smith City of Edinburgh RC 17.69 21

Event 2 - 15km Points Race
1. Alistair Rutherford SIS
2. Chris Bush VC St Raphael
3. Symon Lewis Sigma Sport
4. Ross Crook Edinburgh RC
5. Greg Brown Dooleys RT
6. David Martin Bicycleworks.com
7. James Solly VC Londres
8. John McClelland Agiskoviner
9. Iain Cook VC Londres
10. Alex Wise Agiskoviner
11. Neill Withington VC St Raphael
12. Callum Watson City of Edinburgh RC
13. Alastair Taylor Musselburgh RCC
14. Nikolas Gowrie Peebles CC
15. Derek Smith City of Edinburgh RC
16. Jack Webb CC Cardiff
17. Nicky Hall City of Edinburgh RC
18. Bruce Croall City of Edinburgh RC
19. Maher Al-Aussi VC St Raphael

Event 3 - Elimination Race
1. Alistair Rutherford SIS
2. John McClelland Agiskoviner
3. Chris Bush VC St Raphael
4. Iain Cook VC Londres
5. David Martin Bicycleworks.com
6. Greg Brown Dooleys RT
7. Callum Watson City of Edinburgh RC
8. Derek Smith City of Edinburgh RC
9. Alex Wise Agiskoviner
10. Ross Crook Edinburgh RC
11. Nicky Hall City of Edinburgh RC
12. Neill Withington VC St Raphael
13. Symon Lewis Sigma Sport
14. Nikolas Gowrie Peebles CC
15. James Solly VC Londres
16. Maher Al-Aussi VC St Raphael
17. Bruce Croall City of Edinburgh RC
18. Jack Webb CC Cardiff
19. Alastair Taylor Musselburgh RCC

Event 4 - 15km Scratch Result
1. Alistair Rutherford SIS
2. James Solly VC Londres
3. Ross Crook Edinburgh RC
4. Symon Lewis Sigma Sport
5. Alex Wise Agiskoviner
6. John McClelland Agiskoviner
7. Chris Bush VC St Raphael
8. Iain Cook VC Londres
9. David Martin Bicycleworks.com
10. Greg Brown Dooleys RT
11. Callum Watson City of Edinburgh RC
12. Nikolas Gowrie Peebles CC
13. Neill Withington VC St Raphael
14. Derek Smith City of Edinburgh RC
15. Alastair Taylor Musselburgh RCC
16. Bruce Croall City of Edinburgh RC
17. Maher Al-Aussi VC St Raphael

British Cycling Womens Omnium League
1. Cassie Gledhill orbea-forgoodnessshakes
2. Louise Haston City of Edinburgh RC
3. Emma Patterson London Dynamo
4. Fiona Duncan Ythan CC
5. Nicola Meadows AW Cycles
6. Louise Satherley Team Terminator
7. Emma Baird City of Edinburgh RC
8. Alison Chisholm Edinburgh RC
9. Gemma Neill Cycle World
10. Louise Borthwick Edinburgh RC
11. Fiona Walker Walkers CC
12. Rachel Henderson Edinburgh RC

Event 1 - 500m TT
1. Emma Baird City of Edinburgh RC 38.25 1
2. Alison Chisholm Edinburgh RC 38.82 2
3. Louise Haston City of Edinburgh RC 40.32 3
4. Cassie Gledhill orbea-forgoodnessshakes 40.42 4
5. Louise Satherley Team Terminator 41.09 5
6. Emma Patterson London Dynamo 41.38 6
7. Nicola Meadows AW Cycles 41.80 7
8. Fiona Duncan Ythan CC 42.97 8
9. Louise Borthwick Edinburgh RC 43.80 9
10. Gemma Neill Cycle World 44.38 10
11. Rachel Henderson Edinburgh RC 50.40 11
12. Fiona Walker Walkers CC 50.61 12

Event 2 - 8km Scratch
1. Emma Patterson London Dynamo 1
2. Fiona Duncan Ythan CC 2
3. Louise Haston City of Edinburgh RC 3
4. Cassie Gledhill orbea-forgoodnessshakes 4
5. Nicola Meadows AW Cycles 5
6. Louise Satherley Team Terminator 6
7. Gemma Neill Cycle World 7
8. Louise Borthwick Edinburgh RC 8
9. Emma Baird City of Edinburgh RC 9
10. Alison Chisholm Edinburgh RC 10
11. Fiona Walker Walkers CC 11
12. Rachel Henderson Edinburgh RC 12

Event 3 - Sprint (Heats)

Heat 1
1 Louise Haston City of Edinburgh RC
2 Alison Chisholm Edinburgh RC
3 Fiona Walker Walkers CC

Heat 2
1 Nicola Meadows AW Cycles
2 Emma Patterson London Dynamo
3 Rachel Henderson Edinburgh RC

Heat 3
1 Cassie Gledhill orbea-forgoodnessshakes
2 Louise Satherley Team Terminator
3 Louise Borthwick Edinburgh RC

Heat 4
1 Emma Baird City of Edinburgh RC
2 Fiona Duncan Ythan CC
3 Gemma Neill Cycle World

Event 3 - Sprint Results ( Semi Finals)

Semi Final 1
1 Louise Haston City of Edinburgh RC 15.38
2 Emma Baird City of Edinburgh RC

Semi Final 2
1 Cassie Gledhill orbea-forgoodnessshakes 15.23
2 Nicola Meadows AW Cycles

Event 3 - Sprint Results (Finals)
Final A
1 Louise Haston City of Edinburgh RC 14.50 1
2 Cassie Gledhill orbea-forgoodnessshakes 2

Final B
1 Emma Baird City of Edinburgh RC 13.55 3
2 Nicola Meadows AW Cycles 4

Minor Final A
1 Alison Chisholm Edinburgh RC 14.65 5
2 Fiona Duncan Ythan CC 6
3 Louise Satherley Team Terminator 7
4 Emma Patterson London Dynamo 8

Minor Final B
1 Gemma Neill Cycle World 15.34 9
2 Louise Borthwick Edinburgh RC 10
3 Rachel Henderson Edinburgh RC 11
4 Fiona Walker Walkers CC 12

Event 4 - 8km Points Race
1. Emma Patterson London Dynamo
2. Cassie Gledhill orbea-forgoodnessshakes
3. Louise Satherley Team Terminator
4. Fiona Duncan Ythan CC
5. Nicola Meadows AW Cycles
6. Louise Haston City of Edinburgh RC
7. Alison Chisholm Edinburgh RC
8. Gemma Neill Cycle World
9. Fiona Walker Walkers CC
10. Louise Borthwick Edinburgh RC
11. Emma Baird City of Edinburgh RC
12. Rachel Henderson Edinburgh RC

5km Scratch
1. Toby Sherwood City of Edinburgh RC 7.04.78
2. John Bremner Angus Bike Chain
3. Chris Pritchard Dumfries CC
4. Derek Timmins Musselburgh RCC
5. Angus Gillies Peebles CC
6. Robbie Spence Discovery Juniors CC
7. Joe Sutherland Discovery Juniors CC
8. Jonathan Mitchell Johnstone Wh
9. Sean Hadden Edinburgh RC

10 Km Points Race
1. Angus Gillies Peebles CC
2. Derek Timmins Musselburgh RCC
3. Toby Sherwood City of Edinburgh RC
4. John Bremner Angus Bike Chain
5. Chris Pritchard Dumfries CC
6. Jonathan Mitchell Johnstone Wh
7. Sean Hadden Edinburgh RC
8. Robbie Spence Discovery Juniors CC

Unknown Distance
1. Donal Bailey Ireland 7.01.17
2. Toby Sherwood City of Edinburgh RC
3. David Neil Ireland
4. Darrach Zaidan Ireland
5. Robbie Spence Discovery Juniors CC
6. Ross Grogan Ireland
7. Chris Pritchard Dumfries CC
9. Joe Sutherland Discovery Juniors CC
10. John Bremner Angus Bike Chain
11. Angus Gillies Peebles CC
12. Derek Timmins Musselburgh RCC
13. Jonathan Mitchell Johnstone Wh
14. Paul Gittins Ferryhill Whs
15. Sean Hadden Edinburgh RC

Devil Take the Hindmost
1. Angus Gillies Peebles CC
2. Darrach Zaidan Ireland
3. John Bremner Angus Bike Chain
4. Jonny Beers Ireland
5. Donal Bailey Ireland
6. David Neil Ireland
7. Robbie Spence Discovery Juniors CC
8. Chris Pritchard Dumfries CC
9. Joe Sutherland Discovery Juniors CC
10. Toby Sherwood City of Edinburgh RC
11. Jonathan Mitchell Johnstone Wh
12. Ross Grogan Ireland
13. Paul Gittins Ferryhill Whs
14. Sean Hadden Edinburgh RC

Sunday Results

British Cycling Sprinters League
1. Bruce Croall City of Edinburgh RC
2. Ken Ayre City of Edinburgh RC
3. Tom Powell Newcastle RC 2001
4. Toby Sherwood City of Edinburgh RC
5. Maher Al-Aussi VC St Raphael
6. Neill Withington VC St Raphael
7. Joe Sutherland Discovery Juniors CC
8. Donal Bailey Ireland
9. John McClelland Agiskoviner
10. David Neil Ireland
11. Jack Webb CC Cardiff
12. Jonny Beers Ireland

200m Qualifying Time Trial Result
1. Bruce Croall City of Edinburgh RC 11.49 1
2. Ken Ayre City of Edinburgh RC 11.67 2
3. Toby Sherwood City of Edinburgh RC 12.04 3
4. Tom Powell Newcastle RC 2001 12.11 4
5. Joe Sutherland Discovery Juniors CC 12.21 5
6. Donal Bailey Ireland 12.22 6
7. John McClelland Agiskoviner 12.23 7
8. Maher Al-Aussi VC St Raphael 12.31 8
9. David Neil Ireland 12.47 9
10. Neill Withington VC St Raphael 12.68 10
11. Jack Webb CC Cardiff 12.70 11
12. Jonny Beers Ireland 12.73 12

13. Mark Robinson RAF CC 12.74 13
14. Nikolas Gowrie Peebles CC 12.93 14
15. Darrach Zaidan Ireland 13.10 15
16. Emma Baird City of Edinburgh RC 13.11 16
17. Cassie Gledhill orbea-forgoodnessshakes 13.77 17
18. Paul Gittins Ferryhill Whs 13.86 18

Round 1 Result

Heat 1

Number Name Surname Club Time
Bruce Croall City of Edinburgh RC 11.93
Maher Al-Aussi VC St Raphael
Jonny Beers Ireland

Heat 2
Ken Ayre City of Edinburgh RC 12.12
Jack Webb CC Cardiff
John McClelland Agiskoviner

Heat 3
Neill Withington VC St Raphael 12.40
Toby Sherwood City of Edinburgh RC
Donal Bailey Ireland

Heat 4
Tom Powell Newcastle RC 2001 12.41
David Neil Ireland
Joe Sutherland Discovery Juniors CC

Round 1 Repechage Result

Heat 1
Maher Al-Aussi VC St Raphael 12.26
Donal Bailey Ireland
David Neil Ireland
John McClelland Agiskoviner

Heat 2
Toby Sherwood City of Edinburgh RC 12.87
Joe Sutherland Discovery Juniors CC
Jack Webb CC Cardiff
Jonny Beers Ireland

Round 2 Result

Heat 1
Bruce Croall City of Edinburgh RC 13.7
Toby Sherwood City of Edinburgh RC

Heat 2
Ken Ayre City of Edinburgh RC 12.00
Maher Al-Aussi VC St Raphael

Heat 3
Tom Powell Newcastle RC 2001 13.57
Neill Withington VC St Raphael

Round 2 Repechage Result

Heat 1
Toby Sherwood City of Edinburgh RC 12.78
Maher Al-Aussi VC St Raphael
Neill Withington VC St Raphael

Semi Final Result

Heat 1
Bruce Croall City of Edinburgh RC X 12.07 X 14.15
Toby Sherwood City of Edinburgh RC

Heat 2
Ken Ayre City of Edinburgh RC X 11.78 12.42 X 12.56
Tom Powell Newcastle RC 2001 X

Minor Final Result
Maher Al-Aussi VC St Raphael 12.99
Neill Withington VC St Raphael

Final Result

3rd/4th
Tom Powell Newcastle RC 2001 X 12.41 X 13.59
Toby Sherwood City of Edinburgh RC

1st/2nd
Bruce Croall City of Edinburgh RC X 11.70 X 11.70
Ken Ayre City of Edinburgh RC

British Cycling Endurance League - 15km Scratch
1. Bruce Croall City of Edinburgh RC 20.36.48
2. John McClelland Agiskoviner
3. James Notley Team Goldtec
4. Chris Bush VC St Raphael
5. Iain Cook VC Londres
6. James Solly VC Londres
7. Ken Ayre City of Edinburgh RC
8. Symon Lewis Sigma Sport
9. Callum Watson City of Edinburgh RC
10. David Martin Bicycleworks.com
11. Graham Barclay Endura Pedal Power
12. Derek Smith City of Edinburgh RC
13. Neill Withington VC St Raphael
14. Alastair Taylor Musselburgh RCC
15. Jonathan Cosh Johnstone Wh
16. Darrach Zaidan Ireland
17. Nikolas Gowrie Peebles CC
18. Jonny Beers Ireland

Derny Paced Event

HEAT 1
1. Iain Cook VC Londres Graeme Steen 12.35.06
2. Symon Lewis Sigma Sport Ian Smith
3. Greg Brown Dooleys RT Andy Laing
4. Ross Grogan Ireland David Urquhart 13.04.57
5. Derek Smith City of Edinburgh RC Alex Wharton 13.17.86

HEAT 2
1. Callum Watson City of Edinburgh RC David Urquhart 11.33.57
2. David Martin Bicycleworks.com Ian Smith
3. James Solly VC Londres Alex Wharton
4. Darrach Zaidan Ireland Andy Laing 11.54.51
5. Graham Barclay Endura Pedal Power Allister Watson DNF

HEAT 3
1. Alex Wise Agiskoviner Andy Laing 11.44.66
2. Chris Bush VC St Raphael Alex Wharton
3. James Notley Team Goldtec Graeme Steen
4. Alastair Taylor Musselburgh RCC David Urquhart 12.01.88

Derny Paced Finals

Minor Final
1. Greg Brown Dooleys RT Andy Laing 11.52.82
2. James Solly VC Londres Alex Wharton
3. Alastair Taylor Musselburgh RCC Allister Watson
4. James Notley Team Goldtec Graeme Steen

Final
1. Symon Lewis Sigma Sport Allister Watson 17.21.44
2. Chris Bush VC St Raphael Alex Wharton
3. David Martin Bicycleworks.com Ian Smith
4. Alex Wise Agiskoviner Andy Laing - 1 lap
5. Iain Cook VC Londres Graeme Steen - 1 lap
6. Callum Watson City of Edinburgh RC David Urquhart - 1 lap

Keirin

Round 1

Heat 1
1. Donal Bailey Ireland 13.22
2. Darrach Zaidan Ireland
3. Mark Robinson RAF CC
4. Derek Timmins Musselburgh RCC
5. Nikolas Gowrie Peebles CC REL
6. Jack Webb CC Cardiff DSQ

Heat 2
1. John McClelland Agiskoviner 12.82
2. Joe Sutherland Discovery Juniors CC
3. David Neil Ireland
4. Jonny Beers Ireland
5. Paul Gittins Ferryhill Whs

Final
1.. John McClelland Agiskoviner 12.52
2. David Neil Ireland
3. Joe Sutherland Discovery Juniors CC
4. Mark Robinson RAF CC
5. Donal Bailey Ireland
6. Darrach Zaidan Ireland

3km Scratch
1. Chris Pritchard Dumfries CC 4.47.72
2. Derek Smith City of Edinburgh RC
3. Angus Gillies Peebles CC
4. Robbie Spence Discovery Juniors CC
5. Greg Brown Dooleys RT
6. John Bremner Angus Bike Chain
7. Derek Timmins Musselburgh RCC
8. Sean Hadden Edinburgh RC
9. Jonathan Mitchell Johnstone Wh

Devil Take the Hindmost
1. Derek Smith City of Edinburgh RC
2. Angus Gillies Peebles CC
3. Robbie Spence Discovery Juniors CC
4. Emma Baird City of Edinburgh RC
5. John Bremner Angus Bike Chain
6. Jonathan Mitchell Johnstone Wh
7. Chris Pritchard Dumfries CC
8. Derek Timmins Musselburgh RCC
9. Nicola Meadows AW Cycles
10. Sean Hadden Edinburgh RC
11. Cassie Gledhill orbea-forgoodnessshakes

8 Km Points Race
1. Angus Gillies Peebles CC
2. John Bremner Angus Bike Chain
3. Chris Pritchard Dumfries CC
4. Jonathan Mitchell Johnstone Wh
5. Sean Hadden Edinburgh RC
6. Nicola Meadows AW Cycles
7. Rachel Henderson Edinburgh RC

500m HANDICAP
HEAT 1
1 Greg Brown Dooleys RT 96 30.7
2 Derek Timmins Musselburgh RCC 72
3 David Neil Ireland 52
4 John Bremner Angus Bike Chain 85
5 Bruce Croall City of Edinburgh RC 44

HEAT 2
1 Maher Al-Aussi VC St Raphael 72 31.15
2 Ken Ayre City of Edinburgh RC 48
3 Chris Pritchard Dumfries CC 85
4 Cassie Gledhill orbea-forgoodnessshakes 96
5 Rachel Henderson Edinburgh RC 120

HEAT 3
1 Kate McCullough Young Edinburgh Racers 120 32.96
2 Neill Withington VC St Raphael 72
3 Jonny Beers Ireland 56
4 Fiona Duncan Ythan CC 100

HEAT 4
1 Angus Gillies Peebles CC 88 32.02
2 Louise Haston City of Edinburgh RC 102
3 Mark Robinson RAF CC 56
4 Louise Borthwick Edinburgh RC 120

HEAT 5
1 Robbie Spence Discovery Juniors CC 90 31.33
2 Nikolas Gowrie Peebles CC 78
3 Gemma Neill Cycle World 110
4 Toby Sherwood City of Edinburgh RC 50
5 Jonathan Mitchell Johnstone Wh 64

HEAT 6
1 Emma Baird City of Edinburgh RC 94 30.83
2 Sean Hadden Edinburgh RC 114
3 Donal Bailey Ireland 50
4 Joe Sutherland Discovery Juniors CC 68
5 Paul Gittins Ferryhill Whs 84

FINAL
1 Greg Brown Dooleys RT 96 29.9
2 Emma Baird City of Edinburgh RC 94
3 Robbie Spence Discovery Juniors CC 90
4 Maher Al-Aussi VC St Raphael 72
5 Angus Gillies Peebles CC 88
6 Kate McCullough Young Edinburgh Racers 120

Womens Keirin Final
1. Emma Baird City of Edinburgh RC 13.96
2. Fiona Duncan Ythan CC
3. Cassie Gledhill orbea-forgoodnessshakes
4. Louise Haston City of Edinburgh RC
5. Gemma Neill Cycle World
6. Kate McCullough Young Edinburgh Racers
7. Nicola Meadows AW Cycles
8. Louise Borthwick Edinburgh RC
9. Rachel Henderson Edinburgh RC

Womens 3km Scratch
1. Fiona Duncan Ythan CC 4.46.20
2. Cassie Gledhill orbea-forgoodnessshakes
3. Louise Haston City of Edinburgh RC
4. Gemma Neill Cycle World
5. Nicola Meadows AW Cycles
6. Rachel Henderson Edinburgh RC

Youth Omnium
1. Flora Gillies
2. Adam Stobbart
3. Jack Crombie
4. Lulu Bartlett
5. Emma Borthwick
6. Calum Shackley

500m Time Trial (Event 1)
1. Flora Gillies Peebles CC 44.68 1
2. Adam Stobbart Edinburgh Racers 45.55 2
3. Jack Crombie Carnegie Cyclones 46.32 3
4. Lulu Bartlett Edinburgh RC 48.60 4
5. Emma Borthwick Edinburgh RC 49.34 5
6. Calum Shackley Glasgow Riders 50.99 6

Devil (Event 2)
1. Flora Gillies Peebles CC 1
2. Adam Stobbart Edinburgh Racers 2
3. Jack Crombie Carnegie Cyclones 3
4. Calum Shackley Glasgow Riders 4
5. Lulu Bartlett Edinburgh RC 5
6. Emma Borthwick Edinburgh RC 6

Course des Primes (Event 3)
1. Flora Gillies Peebles CC
2. Adam Stobbart Edinburgh Racers
3. Jack Crombie Carnegie Cyclones
4. Lulu Bartlett Edinburgh RC
5. Emma Borthwick Edinburgh RC
6. Calum Shackley Glasgow Riders

Points Race (Event 4)
1. Flora Gillies Peebles CC
2. Adam Stobbart Edinburgh Racers
3. Jack Crombie Carnegie Cyclones
4. Emma Borthwick Edinburgh RC
5. Lulu Bartlett Edinburgh RC
6. Calum Shackley Glasgow Riders

Youth Omnium
1 Emma Borthwick Edinburgh RC 5
2 Calum Shackley Glasgow Riders 6

HEAT 2
1 Jack Crombie Carnegie Cyclones 3
2 Lulu Bartlett Edinburgh RC 4
HEAT 3
1 Flora Gillies Peebles CC 1
2 Adam Stobbart Edinburgh Racers 2

Scratch (Event 6)
1. Flora Gillies Peebles CC 1 5.12.41
2. Adam Stobbart Edinburgh Racers 2
3. Jack Crombie Carnegie Cyclones 3
4. Emma Borthwick Edinburgh RC 4
5. Lulu Bartlett Edinburgh RC 5
6. Calum Shackley Glasgow Riders 6