Report: Preston Park Track - Week 6
Event: 19th May 2010
Report by Gavin Smith, photos by Dan Dunbar & Sally Page
In the most thrilling meet of the season so far, combative riding from all categories brought about several close finishes and one minor spill. With the improved weather, there was a real feel-good factor among the 82 competitors, and this was an evening to savour.
SENIORS
Well-known photographer Rupert Rivett developed the first breakaway of the evening. Quick as a flash, the snappy rider was on his way, gaining 100 metres on the bunch in the first lap. Two laps later, Rivett was still in front, but his escapade was doomed as Felix English and Matt Wise could be seen menacingly at the front of the bunch. By mid-race the pace had been upped considerably, and Rivett had been caught by English, Ashley Dennis, Brock Duncumb-Rogers, Matt Davies, Nick Smith and Elliot Tabraham-Dowers, with the pack well and truly stretched out behind, desperate to hang on. Paul Barnard mounted an impressive attack with three to go, but this also came to nothing. One lap later, things were getting serious as the bunch was led through by former local junior champ Nigel Burrows, with John Aston, Andy Parle, Sam Cheesman, George Moore and new rider Charlie Burrell well up there. On the final circuit, spectators were treated to the sight of fluent English speeding to a great win, followed by Duncumb-Rogers, Dennis, Jack Oliver-Blaney, league champion Mark Burgess and Drew Holmes.
Three separate keirins were on offer to seniors tonight, firstly for the B2 category with no league points yet to their names. Burrows enjoyed an excellent sprint win, outsmarting Rivett, Burrell, Danny Clark, Alan Cooper and Tim Hill in that order. Cheesman won the equivalent B1 event in a tight finish, just ahead of Jack Hoyle, Mark Mergler, Sara Gent, Matthew Butt and Steve Kane.
With top league sprinter Lee Povey resting up for the evening and enjoying spectating for a change, the result of the A-cat keirin was going to be difficult to predict. As it happened, the speed built up remorselessly over the final lap and Dennis came home first with a great kick, followed by Duncumb-Rogers, Burgess, Tabraham-Dowers, Holmes and Smith.
The B2 races at Preston Park give riders of all ages and abilities the chance to shine. Wise made a fine move early on in the 3-lap dash, but at the bell they were all together and it was going to be down to a bunch gallop. Burrell impressed with an outstanding sprint to take the win, beating Cooper, Mark Turner, Philip Burnett, Hill and Charlie Booth.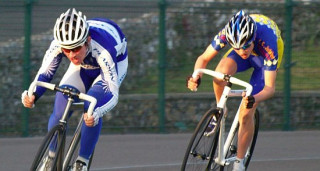 Fresh from his dramatic encounter with a hedge in a recent road-race, Mergler managed to stay on the track in the B1 dash, gaining a small lead at one point before being reeled back. Cheesman took the bunch sprint, followed in by Hoyle, Mergler, Martin O'Brien, Clark and Butt. Just after the finish, fifth-placed Clark fell spectacularly, luckily sustaining only cuts and being very ably attended to by Preston Park chief first-aider Sal Page.
Ben Miller and Elliot Tabraham-Dowers were the early movers in the A1 dash, but no gap could be created and in the final sprint it was in-form Dennis who brilliantly outsprinted English, Duncumb-Rogers, Holmes, Parle and Burgess.
The 8-lap block handicap was a fabulous race, with the three categories spread around the track at the start. Before the off, Hill gave a rousing speech to his B2 companions to urge them to keep their advantage throughout the event. However, it was the middle group (B1s) which started fastest, even gaining ground on their A-cat chasers early on. This race gave spectators the chance to see some of the B2s up close at the front of the action, with Ben Gerrey, Charlie Booth, Martin O'Brien, Sara Gent, Matthew Butt, Milo Burdeau and Philip Burnett among the front-markers for a while. Matters became more complicated with the B1s catching their prey at half-distance, with the elite group ominously poised to pounce whenever they chose to boost the tempo. Indeed they did just that with two to go, and English inevitably went into overdrive to take the win in front of Dennis, Duncumb-Rogers, Burrell, Smith and Davies.
Kane, Miller and Wise tried their luck at the start of the unknown distance race, breaking away and swiftly gaining a useful lead. Wise dropped back a lap later, not quite able to maintain the high pace, and Miller took the first prime. The sniff of cash prizes always incites action, and with two more fivers up for grabs Mergler, Parle and Barnard could be seen posting themselves near the front of the accelerating bunch ready to pounce. Just as Kane and Miller were brought back, Smith stylishly seized his chance to go ahead and take the next award, the peloton now being led by Booth, Burgess and Dennis. Chief commissaire Vern McClelland likes to keep riders guessing as to the length of these final races, but with just one prime left the smart money was on a fairly imminent finish and the big guns were by now assembling at the front. English rocketed from the bunch just in time to grab the final payout from Smith, and the former Preston Park double-champion was well on his way. English rode home alone in style, followed in by Burrows, Duncumb-Rogers, Smith, Oliver-Blaney and Parle.
YOUTHS
Who would win the weekly £5 youth prize tonight? The officials had that very difficult decision to make, as the youth racing was brought to life by some great attacking in every age-group. Although several youngsters put themselves in the frame for the award, it was U16 Jack Priddle who pocketed the money for his consistently combative performances.
U16 / U14
Jack attacked on the second circuit of the 4-lap opener, creating an advantage over his chasers, and building interest for spectators. At the bell, he still had a promising lead, but his rivals weren't going to let the win slip if they could help it, and a full-on chase was in progress throughout that last lap. In the end, Amy Jacobs timed her return to perfection to take the win on the line, beating Jack by about a wheel. Next in line were Matthew Hill, Kimberley English, Imogen Farlie and Sarah Cooper.
The individual handicap race was very closely fought, Oliver Moors getting the verdict in front of Spencer Thomas, Amy, Jake Marley, Gabriel Parle and Sarah. Chief judge Dave Gerrey's film of the sprint came in very handy for confirming the result.
Amy put up a classy display of riding to take the points race, gaining three of the five maximums. Her nearest challengers were Matthew, Jack, Jake, Kimberley and Imogen.
U12
Ten riders lined up tonight, and there was great competition, with league leader Amy Smith dominating the racing. She took the first 2-lap race by storm, controlling matters throughout to notch up her first win on the night, trailed in by Ben O'Brien, Douglas McCauley, Ted O'Brien, Thomas Burnett and Isaac Wright. Isaac sped home to win the handicap race, just in front of Sam Booth, Ted, Douglas, Thomas and Joe Hill. The points race was capably handled by Amy, her first three maximums giving her a commanding second win on the night. Ben was second and Thomas came third, and next were Isaac, Joe and Ted.
U10 / U8
The U8 one-lapper was dominated by Rahul Fortescue-Talwar in front of new rider Ben Battle, Rory Burke, Oliver Brooker, Freddie Davies and George Abbott-Stacey. The U10 opener saw Noah Ridgway-Brown, fresh from his excellent win in the recent Welwyn omnium, take victory ahead of Bethany Lewis, Stan Abbott-Stacey, Richard Hoyle, Charlie Brooker and Bradley Burke. The joint handicap race was easily won by Noah Lewis, Freddie came second and Noah Ridgway-Brown took third spot. They were followed by Isaac, George Abbott-Stacey and Bethany. The block handicap race was dominated by George Turner, while Noah Lewis, Oliver, Thomas, Freddie and Rahul filled the next points-scoring positions.