---
Now in it's 14th year, the Fred Whitton Challenge has raised over £530,000 for charity and remains true to its origin and inspiration behind the ride. Mr Fred Whitton, former Lakes Road Club secretary and main instigator behind all the clubs activities has left a rare event, which relatively few may consider, but many would wish to do. Lakes Road Club members (including Event Organiser Paul Loftus) and Mrs Whitton continue to work incredibly hard to ensure this event goes on from strength to strength, but maintains its personality, character and all the successes it has had to date. Chapeau indeed.
Like others involved within cycling, I had heard of the Fred Whitton Challenge long before I knew what the true details of the ride were. I had visited the lakes on many occasions, but not for many years, though had often travelled its mountain passes, albeit fell walking or as a car passenger. With some trepidation and a keen sense of adventure, I was delighted to gain my place to ride in this year's event. With a hopeful belief I had done enough to ensure I could get round, I set off (well before dawn) to drive to the Coniston HQ. With military precision and many an enthusiastic welcome, I was parked, signed-on and out on the ride before 06.30.
There are 8 named passes in all and gradients top out at a staggering 30% in some sections. Sure, it's steep, but the length of these gradient as well as the road surface, not to mention weather make for a challenge not for the well prepared or the feint hearted.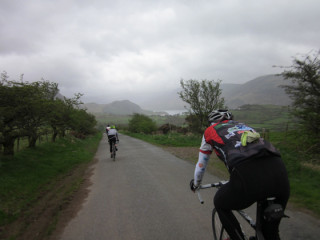 The day rolled out relatively mildly and a little overcast, but in great spirit as riders spin out on a pleasant 4-5 mile stretch before taking you up for the first of the many climbs of the day. All the useful and necessary pre-event info was good to read ahead of the day, but expectedly, little did anything to ease the effort of ride to come. It is however great to see how the experience and local knowledge can be used and appropriately applied to stage a top notch event in such a challenging environment.
Without rambling on about each stage of the event the following summary comes as I recall my day. As mentioned at the outset, there is little I can add to setting the scene, but it's certainly worth taking a closer look at the maps on the Fred Whitton site for further information. There's no doubt that this is one stunning route and the Fred takes in what some will consider to be the very best way to view the lakes in a single day.
Coniston to the Drunken Duck (hostelry, not pass) – read about this place, must stay there sometime. Apparently they also take dogs.
Head up to Troutbeck via Ambleside passing a Stunning old stone/ slate farmhouse. Missed it to take a picture, but spotted an appropriately named Mortal Man inn.
Ascent of Kirkstone Pass (summit 15miles) – A classic shaped valley leads in to a steep ascent with rolling later stages and a warm welcome at the top. Watch out for the descent – its particularly fast, but well marshalled.
Head due North to Patterdale, through a stunning winding valley road. Great camaraderie and spirit as the ride really got underway. Helvellyn is somewhere up to left. Perhaps that will wait for another day and another bike..?
Matterdale End (summit 26miles) – not too troublesome at this stage, but a great view of Ullswater.
Left to Keswick with a headwind. Lots of riders 'sitting in', but good cheery atmosphere and camaraderie en route. Noted the superb action by the marshalls. Thanks all, you did a great job on the day.
Due South through Borrowdale. This is impressive and before long we are heading to what appears to be a dead end, with no obvious route out…. Welcome to Honister!
Honister (summit 48 miles) - a particularly sharp lead in and overall a steep challenging ascent. Must be 25- 30% initially. Classic winding valley straight up and over to an amazing valley descent.
Feed stop at Buttermere (52 miles) – oh wow, great supply team, however I rode on having possibly eaten a little too much too soon. I heard someone say there was a sting in the tail…. and realised we were at the foot of Newlands.
Newlands – a veritable rollercoaster uphill with that sting in the tail and quite a technical descent on the tight narrow road that followed.
Whinlatter – what a turn out. Great support and testament to the event. It was over the top and then down to a headwind and the start of the rain that set in for the day.
I pushed on over the following 30kms or so, which pitched and rolled through Ennerdale (now due South) to Calderbridge. I met two great guys over from Ireland and we all helped each other round on the various legs that followed to Cold Fell.
Cold Fell (summit 82 miles) – wet and exposed with a headwind. Lots of riders 'sitting in', but glad to get over it, but pretty sapping nonetheless.
Feed 2 – What an atmosphere. Shelter, fuel, huge aluminium tea pots and sugar, plus the man in the hat. Thanks again for filling bottles and standing outside guiding us all in.
Due East to Eskdale having just skirted the coastline and off to the final, final challenges of the day.
Hardknott (summit 101 miles) quickly loomed from the distance – It bucks up from the start, with savage hairpins, easing a little for a short distance and then up to the final haul for the 30% ramps and more static hairpins to boot. This really is IT.
The descent that follows is a sharp drop on a pretty challenging surface, where effort had moved from the legs to gripping the bars and feathering brakes to maintain control.
Onwards to Wrynose (summit 105miles) – You're now close, but not home yet. It rolled pleasantly along the valley to a steep sided head, which then kicks up with only one way to go. This steepens again mid-climb with a ramp that goes directly up the mountain side like a wall. After hauling myself over, it was now the home run.
The 6 or so mile run in was a far tamer roller coaster ride, which actually left me laughing aloud with some pleasure in the pouring rain, knowing I was almost there (HQ at 112 miles). It has to be relief, satisfaction and just acknowledgement of a darn good day out.
Many people lined the roadside for the final few hundred metres of the ride (not to mention huge sections of the whole route), with great cheer as each rider made it back. It added a real sense of achievement to the day and again purely adds to what this event has on offer. It was then inside for a super homemade piping hot pasty, beans and peas. It was a perfect meal to finish off a day in the fells, whilst chatting over the day and before heading back to the car for a recovery drink and to ravage anything edible I could find before driving home. What a day, what a challenge and what an event. You've got to do it to understand, but it really is made by both the terrain/ landscape and by the team behind the event. Thank you, thank you very much indeed.
So there's some advanced warning. It is a big day in the saddle, it's tough, but prepare yourself, pace yourself and go supplied with the kit and mind to stay as comfortable as possible throughout the day. Afterwards, you'll look back and know that have successfully conquered a challenge.