Event: 27 October 2012
Location: Oakham, Rutland
---
It's the last sportive of the summertime – and that's official as indeed 'The Rut' takes place on the very last day of British Summertime which this year falls on Saturday 27th October. The next day in the small hours the clocks go back into winter mode with darkness falling at 6pm and closing.
What's it all about? Well the Wiggle Rut sportive is takes place in England's smallest county of Rutland from the tiny county town of Oakham. Rutland's county motto is Multum in Parvo which means 'much in little' and, pound for pound, the county certainly packs a punch for those who are keen to explore by bike. The terrain is characterised by vales (like Catmose, Belvoir and Rutland Water itself) and plateaus (Cottesmore and Ketton for example). This translates into mildly undulating rather than outright hilly – perfect for a challenging but do-able end of season bike ride.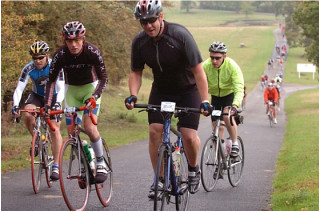 Above: Launde Abbey climb
With a choice of two routes of 72 miles or 102 miles and such a small county the routes inevitably venture into Leicestershire and Cambridgeshire too. Notable places of interest are Launde Abbey with its lung-opening climb up through the park. Pretty golden ironstone villages then frequent the run-in to Feedstation 1 at Great Easton. Then it's Welland Vale and the magnificent Harringworth Viaduct - longest masonry viaduct across a valley in Britain with its 82 arches.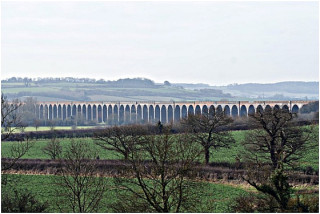 Above: Harringworth Viaduct.
Rutland water itself in the Vale of Catmose is followed by the plateau of Cottesmore and, if you've opted for the century plus ride, a gentle ascent near one of the highest points in the locality, Borough Hill at 650 feet.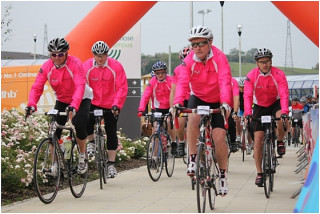 Above: No-one missed these early starters last year
The Wiggle Rut is a great event, held on very quiet roads, to wrap up summer and migrate into Autumn. There are no horrific climbs; just gently undulating and stunningly beautiful English countryside to enjoy. All KILO TO GO events operate to the highest standards with BC's NEG safety offices, mobile paramedics and recovery vehicle in case of problems. Ample Parking on hard ground, no event queues, quality goody bag for all finishers. Changing accommodation, showers and refreshments available all day at the Catmose Sportcentre HQ.
Action starts from 8am at the Catmose Sports Centre in Oakham. Online entries are at www.kilotogo.com and remain open until 21st October.