Location: Blenheim Palace, Oxfordshire
Event: 18-19 August 2012
---
Cycling fever following the successes of the Great Britain Cycling Team in London 2012 reached dizzy heights at Blenheim Palace this weekend when 15,000 people turned up to the annual Festival of Cycling. Bike Blenheim Palace organisers reported record numbers with an increase of 88% on last year, and success all round at the event that expanded to two days this year to encompass a unique variety of races, rides and retailers to the World Heritage Site in Oxfordshire on 18 and 19 August.
Now in its fifth year, Bike Blenheim Palace 2012 attracted some of the country's top cyclists, favoured for its traffic-free, oak-lined roads, iconic setting and scenic routes. UK Time Trial Champion Michael Hutchinson (In Gear Quicvit Trainsharp RT) and last year's winner in the 20km Time Trial returned to defend his title however his time of 26.05minutes was beaten by European Junior Time Trial Champion Joe Perrett (Cyclos Uno) who finished in first place in 25.59 minutes, ahead of 269 riders.
GB Paralympic and World Champion Sarah Storey (For Viored) won fastest female for the second year in 28.30minutes. Storey was joined by GB Paralympic teammates Lora Turnham & Fiona Duncan, Jon Allan Butterworth, Mark Colbourne, Shaun McKeown, Rachel Morris, Karen Darke and Crystal Lane, who used theTime Trial at Bike Blenheim Palace as a warm up the forthcoming London 2012 Paralympics. After the event, Sarah commented: "It was fantastic to be able to ride the Blenheim Palace TT as part of my final prep for London. The course is superb and it is a rare treat in the UK to be able to ride on a traffic free course. For me it is the highlight of the UK time trial calendar and I would love to see the Nationals held here. To win the 2012 edition alongside my Escentual For Viored team mate, Claire Galloway in second, was fantastic. Thank you to everyone involved."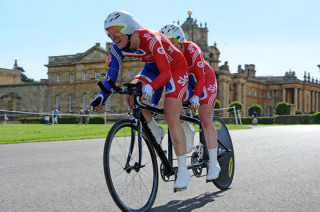 Six cyclists from the Australian Para Cycling team also took part providing huge inspiration for young riders with disabilities. Mountain bikers were catered for on the same morning with the new 40Km Off-Road Sportive that took 270 riders out into the beautiful estate of Blenheim Palace and local byways.
Michael Hutchinson returned on day two of the festival to win Male Champion title in the Brompton World Championship 2012 on Sunday 19 August. Hutchinson confirmed his credentials with a second successive win in a course record time wiping almost an entire minute off his 2011 time and completed the 13km course in 20 minutes 17 seconds; Julia Shaw took the prize for Fastest Female in 23 minutes and 39 seconds, she last won the female category in 2009.
The Brompton World Championship sold out its 750 places in just two weeks and the glorious weather ensured a bumper turn out, with 682 riders taking to the track in 25 degree conditions. The spectacle was provided by the theme of 'Sartorial Elegance' with competitors dressed in obligatory jacket and ties. Anna Glowinski, presenter of ITV4's Cycle Show, and Mule Bar Girl rider was filmed taking part in the race for a feature due to appear on the show on 27th August. TV stars Rory McGrath and Will Mellor were also filmed in the event as part of their forthcoming Channel 5 series 'Rory and Will, Champions of the World'. As ever, the event was an international affair with 34 nationalities represented including Anders Hedqvist, who had spent the last 18 days pedalling from Stockholm to London on his Brompton in order to take part.
The expansion of Bike Blenheim Palace to two days allowed for two additional Brompton events including 300 riders on The Brompton Marathon and 100 competing in The Brompton Sprint - an intense affair as riders battled it out in groups of three to try and set the fastest time on the 300m uphill course over 'Vanbrugh's Grand Bridge' towards the stunning north front of Blenheim Palace. Yu Shing Tang and Susan Todsy, female winner of the Brompton US Championship, beat the rest of the field to take the glory.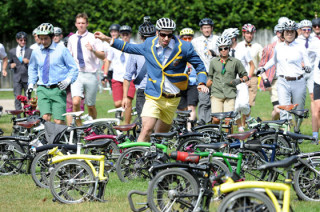 Sunday also saw 1,600 riders tackle the 60/100mile Road Sportives into the Cotswolds, a sell-out event that looks likely to expand capacity next year. In the afternoon the cycling routes within the estate were opened up to thousands of families who took advantage of the one weekend of the year that cycling is permitted in the Park.
The festival of cycling was centred around a hive of cycling activity in event village, which was significantly expanded this year to showcase many of the world's best cycling brands and products available to view and try out. Exhibitors ranged from Scott, Mavic, Schwalbe, Enigma Titanium, Rotor, Adidas, Magura, Cinelli, Campagnolo, Ebikes Juice Lubes, to the 'Look Mum No Hands' cycling café, the Kiddimoto inflatable race track and balance bikes for the under fives, and 'Wheels for All' project for cyclists with disabilities. Thrills were provided by the Animal Bike Tour mountain bike display, and gentler pursuits were presented by the bike polo tournament, and the Benson Vintage Bicycle parade.
Breast Cancer Care is the official charity for Bike Blenheim Palace and 124 riders took part in the second Pink Ribbonride, a 26.2mile ride though Oxfordshire's beautiful countryside, after a hugely successful debut last year. Breast Cancer Care aim is to raise £100,000 at Bike Blenheim Palace in 2012, the money raised from this event will go towards providing information and support free of charge for those affected by breast cancer.
Bike Blenheim Palace is truly a Festival of Cycling providing something for everyone to enjoy from the competitive cycling fanatic to families looking for somewhere safe to ride their bikes in beautiful surroundings. The event next year is set to take place between the 17 and 18 August and registration for 2013 is now open for the 60/100mile Sportive.
Paul Orsi, Bike Blenheim Palace Event Director comments: "We are totally blown away by the success of the event this year, it was an amazing weekend celebrating all elements of cycling, there were some weird and wonderful sights! It was fantastic to see such a huge turnout, and a wide range of people at the festival that just gets better every year."