---
The event saw the first riders depart the prestigious Crewe Alexandra stadium at 8am. The Worshipful Mayor of East Cheshire dropped the start flag in bright, sunny and warm conditions to set nearly 3,000 riders off into the springtime Cheshire countryside. Long and Medium option riders faced the awesome climb of the famous Mow Cop Killer Mile on the Cheshire/Staffordshire border whilst short option riders faced lesser climbs.
Several riders spotted former British Road Race Champion Kristian House – Rapha Condor Sharp -taking part and thought they would try to give him a run for his money through the hills of the Moorlands and edge of the Peak District before things settled down as the ride meandered through leafy (or rather budding) Cheshire lanes.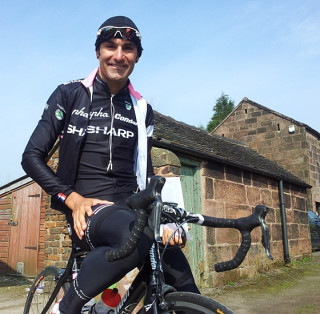 Heading up the organising team, Geoff Saxon summarised; "We're exceptionally pleased with how the event ran this year. We used a pioneering start procedure to address queuing issues from last year. People told us, in all sorts of ways, that they really enjoyed the event. One Facebook post simply said "If Carlsberg organised sportives……" But we're keen to get people to tell us, warts 'n' all, what they thought through our post-ride survey. That way people know there views get to the organisers for our analysis".
Above: Check out our experiences from the day on our video blog
Participant were emailed link to the post ride survey which closes Friday 6th April. Complete the survey and participants stand a chance of grabbing one of three prizes of the complete cleaning product range from Purple Harry.
Riders can re-live their "Cat" by clicking the links below which show their ascent of Mow Cop and the moment they cross the finish line