---
After a successful season with more than 60 victories and 50 podiums, including wins on both the road and off road, Dream Cycling announce a strengthened line up for 2013. The key for Dream Cycling is the team's versatility in a multitude of disciplines and the ethos and philosophy that is the back bone of the team.
The line-up for 2013 is a great combination of experienced race proven winners and young talent and importantly they all show the enthusiasm and character that makes this a fun, happy team.
The 2013 team are proud to continue using Giant bikes supplied by Avon Valley Cyclery, Giro helmets and accessories by Madison, fuelled by Accelerade energy products, team clothing by Velotec and beauty products by Pure Beauty Keynsham. The team has also been strengthened with the support and backing of Pro Gold Lubricants, Sunwise glasses, Michelin tyres, Graphic Shack, Andy Cook Cycling, Go Self Drive, Invek Service Ltd and Hotel Collingwood.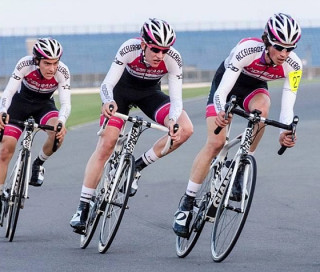 Dream Cycling are proud to be re-signing, Alec Baskaya, Craig Denning, Freddie Lewton, John Wilkinson, Matt Derrick, Rob Yeatman, Scott Chalmers, Steve Brown and Tony Davis.
Joining the team for 2013 will be Charles Coleman formerly of Cadence RT who had a very successful 2012 road season with numerous wins and has also been a Divisional Cyclocross Series Champion. Dan Mckimm will be a first year senior in 2013, he leaves Bristol Cycling Development Squad. Mark Perry is joining from Wilier Live2Ride an experienced rider with 20 seasons under his belt who has been both Divisional Road and Crit champion. Rupert Denny an U23 rider who joins us from GWR had a full 2012 season racing both here in the UK and Belgium. Tavis Walker is another rider joining us from Wilier Live2Ride, the elite rider had a great 2012 season with numerous victories.
Dream Cycling's management Craig Denning and Dave Hart are both very excited about the new line up and can't wait for the 2013 season. The team will continue to target key races throughout the season both on and off road.
Full rider line up for 2013
Alec Baskaya
Charles Coleman
Craig Denning
Dan Mckimm Freddie Lewton
John Wilkinson
Mark Perry
Matt Derrick
Rob Yeatman
Rupert Denny
Scott Chalmers
Steve Brown
Tavis Walker
Tony Davis
Full Sponsor line up
Accelerade
Andy Cook Cycling
Avon Valley Cyclery
Go Self Drive
Graphic Shack
Hotel Collingwood
Invek Service Ltd
Madison
Michelin
Pro Gold
Pure Beauty
Sunwise
Velotec