---
DAD-to-be Chris Opie kicked off the 2012 road season in style for Team UK Youth with victory in the traditional curtain-raiser, the Perfs Pedal Race in Hampshire on Sunday.
SLIDESHOW
REPORT


Race winner Chris Opie (right) celebrates with fellow UK Youth rider Magnus Backstedt.

The 24-year-old, who is due to become a father on Wednesday, outsprinted Marcin Bialoblocki (Node4Giordana) and Jonny McEvoy (Endura Racing) after 35 miles of action largely dictated by the eight-man Team UK Youth squad who placed four riders in the top nine in an early show of strength.
With the temperature hovering around zero under an overcast sky, organisers took the decision to cut the race from five laps of the Portsdown Hill course, at Southwick, to four, but the roads were largely dry with just a few parts which required caution.
First time up the Boarhunt climb the field was already splitting under the pace applied at the front, and it had been reduced to around half when Yanto Barker (Team UK Youth) moved off the front and opened a gap of around 20 seconds, which he held for the best part of a lap before he was reeled in with last year's winner, Ben Stockdale (Metaltek-Scott) chasing back after a crash.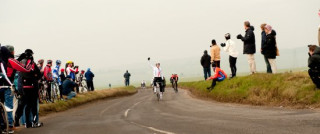 Chris Opie crosses the line to take victory in the 2012 Perfs Pedal Race.


Next to show was 2008 winner James Stewart (Team UK Youth) who opened up a similar gap to Barker, but again the race regrouped before the bell with Team UK Youth at the front and David Clarke (Node4Giordana) and McEvoy controlling any moves.
The field split again as Doug Dewey (Terra Footwear-Bicycle Line) tried to go clear, and eight riders broke away on the finishing climb where, with team-mates David McGowan and Fredrick Johansson for support, Opie timed his effort to perfection to cross the line with clear daylight to the others.
"I'm very happy with the win and it all went to plan," said Opie, from Truro, in Cornwall. "We had a full team meeting last night and we rode spot on to the plan. It was a short race, a fraction longer than the Tour Series, so we were only warming up by the finish, but it's a great way to start."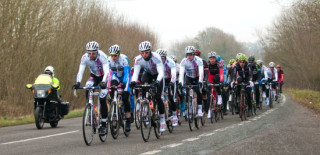 Results:
1 Chris OPIE Team UK Youth
2 Marcin BIALOBLOCKI Node4 Giordana
3 Jonathan McEVOY Endura Racing
4 David McGOWAN Team UK Youth
5 Erick ROWSELL Endura Racing
6 Jon DIBBEN Hargroves Cycles-Specialized-Trant-Next-Elliott's
7 Freddy JOHANSSON Team UK Youth
8 Ben SIMMONS Team Wiggle
9 Yanto BARKER Team UK Youth
10 Douglas DEWEY Terra Footwear- Bicycle Line
11 David CLARKE Node4 Giordana
12 Colin PARRY Wilier/ Live2ride
13 Russell FALDER Cycle Premier Racing Team
14 Pete WAGER Felt Colbornes RT
15 Chris McNAMARA Pedal Heaven RT / Colbornes / Tiger / Roadwheel /No 10
16 Andy BETTS (Felt Colbornes RT)
17 Jason WHITE Metaltek-Scott
18 Anthony MOYE Velo29.com-Vankru Cycling Team
19 James CARTRIDGE Cadence Cannondale RT
20 Mark BAINES Spirit Racing Team / Hands On /ACL
21 Nicolas HUTCHINGS CS Grupetto
22 Ben STOCKDALE Metaltek-Scott
23 Conor RYAN Performance Cycles CMI
24 Conall YATES In Gear -Quick VIT
25 Harry BULSTRODE Peter Hansford Racing
26 Harold EVANS VO2 Development Team /ACS Design/Progressive Cycle Coaching.co.uk
27 Jamie PINE London Dynamo
28 Al MURISON Performance Cycles CMI
29 Francis CADE VO2 Development Team /ACS Design/Progressive Cycle Coaching.co.uk
30 Toby EICHLER Wilier/ Live2ride/Vitalbiotics Wellman
31 Ben ANSTIE Cadence Cannondale RT
32 Tom STOCKDALE Primal Europe/RU Training today
33 Simon BROOKS VC St Raphael / Waite Contracts / Hewitt Cycles
34 Paul PICKUP Pedal Heaven RT / Colbornes / Tiger / Roadwheel /No 10
35 Scot EASTER Felt Colbornes RT
36 Robert ORR Velo29.com-Vankru Cycling Team
37 Gruff LEWIS Team UK Youth
38 Magnus BACKSTEDT Team UK Youth
39 James STEWART Team UK Youth
40 Unidentified Team UK Youth
41 Josh YETMAN Team Tor 2000 / Whitelake / Scorpion CS /Kalas /Peloton Racer / Overt
Loke
42 Nicholas BAKER Zappi's Cycling Club
43 Greg MANSELL Team UK Youth
44 Henry FURNISS Wyndamilla / UK Youth
45 Rowan HORNER VC St Raphael / Waite Contracts / Hewitt Cycles
46 James GRAY VC St Raphael / Waite Contracts / Hewitt Cycles
47 Graham CHILDS Hargroves Cycles-Specialized-Trant-Next-Elliott's
48 Jake MARTIN Cycle Premier Racing Team
49 Matthew THEOBALDS CS Grupetto
50 Chris SNOOK Banjo Cycles
51 Paul DRAKE Cycleworks UK Ltd
52 Stoyko BUSSAROV Wyndamilla / UK Youth
53 Scott TOMKINSON Newquay Velo
54 Jack PLUMMER Cadence Cannondale RT
---
British Cycling would like to thank the organising team, officials and everyone else who helped promote this event. Our sport could not exist without the hundreds of people, many of them unpaid volunteers, who put in many hours of hard work running events, activities and clubs.