Team Launch Feruary 2012 |
---
Champion System/Maxgear/Kyklos Racing Team launch 2012 line-up and sponsors.
The Champion System/Maxgear/Kyklos racing team from staging their 2012 launch at the beautiful Matfen Hall in Northumberland. The team, sponsors, families, friends and guests were presented with the team's vision, targets and philosophy.
In attendance were sponsors Champion System and their custom team clothing proved its worth as the team rode out in cold and snowy conditions.
The team's other backers were also on hand: Verolli distribution provide the team with Kyklos FW plus framesets, Swiss wheel builders Edco the wheels; and Moore & Large the 4za components, kmc chains, jagwire cables, Lake shoes, Limar helmets and Kenda tyres.
On the nutrition side, Yoursportsfuel.com are powering the team with race and recovery fuels and also providing nutrition advice and race fueling plans. Finally, Maxgear provide equipment including sunglasses and luggage and also team management.
During the event photographer John Picton was on hand to capture every moment, including a snowy team ride which illustrated the team's enthusiasm and commitment as the new season draws near.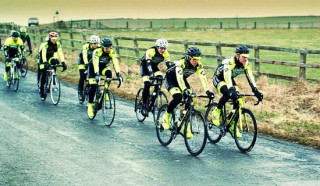 The formal Team presentation was led by Team Director Wayne Greenhalgh. He was underlined that the 2012 emphasis was on the junior squad of Carthy, Hall, Lawless, Latham, and Ragan. Greenhalgh was keen to point out that the team isn't just about results:
"The environment gives the riders an insight into what's required by a professional cyclist in the modern world of sponsorship, social media and marketing. Being a great athlete isn't just about being a winner anymore" added Greenhalgh, "it's about sponsors being able to market the athlete, and promote their products. As well as developing the riders on the bike, our experience will help these riders develop their skills in presentation and interviews. The fact that we have attracted premium brands shows that sponsors like what they are hearing and our riders can then take this forward in developing their careers as a top pro cyclist."
After a great start to the season in winning the Revolution track series, the team starts its road campaign with the Clayton Velo spring classic, and the junior Kuurne-Brussel-Kuurne UCI 1:1 race at the end of February. With the riders racing many UCI ncup races and tours along with the national Junior Road Series, the team is confident of some big wins and more importantly helping to show just how good British riders are.
Sponsors
The team would like to thank all the the sponsors for helping to make this team possible: Champion System, Maxgear, Kyklos, edco, 4ZA Forza, Yoursportsfuel.com, BuyaBike.co.uk, Lake, Limar, Kenda, jagwire, KMC, Matfen Hall, John Picton, A&E Physio.
Team Roster 2012
Juniors
Hugh Carthy, Chris Latham, Chris Lawless, Jake Ragan, Luc Hall
Seniors
Mike Ashurst, Matt Limacher, Mike Rawson, John Rigby, Dan Spashett, Wayne Greenhalgh (rider / Team Director), Andy Tinsley (Rider / Team Assistant), Jimmy Rutherford (Rider / Team Assistant)
Women
Lauren Brown, Melissa Bury, Eve Dixon, Nicola Soden, Frances White