---
Team UK Youth have announced their plans and ambitions for the 2012 season, stemming from the team's decision to register as a UCI Continental team.
In 2012, the team will ride bespoke bikes from WyndyMilla and take on an increased programme in the UK, Europe and the rest of the world; spreading the message of charity UK Youth further afield.
The team will still be supported and sponsored by Formula 1 World Champion Nigel Mansell OBE and headed up by Paris-Roubaix winner and Tour de France rider Magnus Backstedt.
"I'm absolutely delighted with how 2011 went for the team and are really excited that we can build upon our first year experiences on a larger scale," said Formula 1 legend, Nigel Mansell OBE, who is also the President of UK Youth.
He continued: "I thoroughly enjoyed the atmosphere with the team this year and it has been a great vehicle for relaying the message of UK Youth as a charity. 2012 is shaping up to be a fantastic year and I am very much looking forward to it'."
Building on the success of the 2011 season, many of the team's riders will stay for the following season. The ethos being to develop and nurture talent at a high level with the help of experienced rider Magnus Backstedt.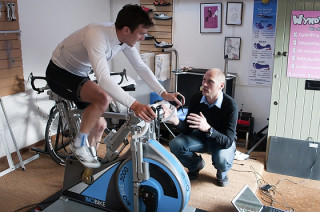 New additions for the team will be Yanto Barker, Chris Opie, Richard Tanguy and Swedish rider Christofer Stevenson. Stevenson is a consistent top 5 finisher in UCI 1.1 and 1.2 races.
"We've got some handy new additions to the team and have added some experience with Yanto Barker's inclusion," explained Magnus Backstedt.
He continued: "With our decision to register as UCI Continental, we'll be taking on good races in Europe and further afield. This is so we can be as competitive as possible in Premier Calendar events and the Tour Series in the UK."
In keeping with the British feel of the team, the bikes of choice will be WyndyMilla's Massive Attack in custom white and Union Jack decals. Each bike will be custom fitted as part of WyndyMilla's bespoke cycling approach, creating Rare British Custom for the team. Riders will be fitted at WyndyMilla's store in Seale, Surrey.
Founded in 1911, UK Youth is a leading national youth work charity supporting over 750,000 young people, helping them to raise their aspirations, realise their potential and have their achievements recognised via non-formal, accredited education programmes and activities.
Team UK Youth 2012:
Magnus Backstedt
Yanto Barker*
Niklas Gustavsson
Chris Opie*
Freddy Johansson
James Stewart
David McGowan
Richard Tanguy*
Greg Mansell
Gruff Lewis
James Lowsley-Williams
Christofer Stevenson*
* Indicates new rider for 2012.