| | | | | | | | |
| --- | --- | --- | --- | --- | --- | --- | --- |
| | Follow britishcycling.org.uk on | | | | | | |
Nathan Wilson Victorious in Doncaster
Pickburn, near Doncaster, South Yorkshire, 40 miles
Event: 17th July 2011
Report: Snowdon Sports
Picture Galleries: shaunflanneryphotography.com
A BREAK of three riders who went clear early in the race survived until the end of the Doncaster Wheelers Summer Road Race on Sunday, with Driffield's Nathan Wilson (Wilson's Wheels) taking the win.
Wilson, 24, attacked shortly after a minor crash had temporarily split the bunch on the fifth of 22 laps of a 1.8-mile circuit around the village of Pickburn, with Planet X rider Lee Tunnicliffe from Morley and Mark Perry (Vicious Velo) from Leeds going clear with him.
They worked well and established a lead which hovered around one minute for much of the race. A chasing group formed from the remains of the 54-strong field, but while they got clear of the bunch they couldn't catch the leading three riders.
On the line, Wilson held on for victory while Tunnicliffe took second from Perry, and the chasers crossed the line 1-03 behind.
Results:
1 Nathan Wilson (Wilson's Wheels) 1-45-00
2 Lee Tunnicliffe (Planet X)
3 Mark Perry (Vicious Velo) all @ same time
4 Jordan Hargreaves (Team Wallis CHH) @ 1-03
5 Dominic Smith (We Love Mountains RC)
6 Paul Bell (Peak RC)
7 Ewan Sewell (York Cycleworks)
8 Peter Fielding-Smith (Hull Thursday RC) all @ same time
9 Stephen Smales (Active/CP Cycles) @ 1-24
10 Phil Giles (RVO Racing) @ same time
Nathan Wilson (Wilson's Wheels) celebrates victory in the Doncaster Wheelers Road Race.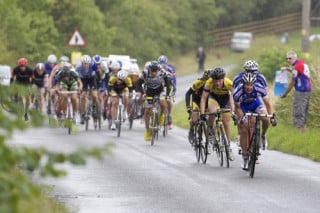 The bunch struggles to keep pace with the leading group.
Pictures: www.shaunflanneryphotography.com