Follow britishcycling.org.uk on
Tour Stage Winner for Blackpool Nocturne

Story posted August 11, 2010; by Adam Tranter for Face Partnership

Elite Stars to light up Blackpool Nocturne
It won't only be the fantastic Blackpool light show that will light up the Blackpool Nocturne but also a host of star bike riders. These include an Olympic Champion and a Tour de France stage winner who will be racing at the Blackpool Nocturne Elite Criterium on Saturday 21st August. 2010 Swiss Time Trial Champion, Rubens Bertogliati is the first continental rider confirmed for the night time race. The Swiss Champion is a past Tour de France stage winner (2002) and yellow jersey wearer and showed excellent form at the Giro d'Italia finishing second on stage 6.


Bertogliati will face a tough challenge from the British contingent who are in excellent from a season of back to back circuit races. Leading the challengers will be Olympic Gold medallist Ed Clancy MBE, who recently added the National Criterium Title to his credentials. Clancy won the inaugural Blackpool Nocturne in 2009 so will be looking for a repeat performance in his new National Champion colours.

"Last year was a great race, it was pretty magical to cross the line first with such a fantastic backdrop and a packed crowd. The Nocturne Series has brought a bit of glamour to city centre bike racing and it really is a fantastic day out. Blackpool is a great place to visit and to be able to race your bike around the closed roads in front of thousands of people is an experience that's up there with the best. I'd definitely recommend for families to come out and enjoy an evening of free entertainment."

"My form is good after winning the National Criterium Championships and hopefully my team mates from Motorpoint-Marshalls Pasta can help me for a repeat performance this year. But it's hard to predict this form of racing, and as always, there'll be strong competition from the other big UK teams. I'm looking forward to giving my national champs jersey its first outing at a Nocturne!"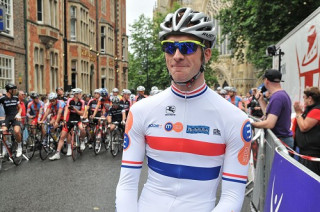 Clancy (pictured above) will be supported by a strong Motorpoint-Marshalls Pasta team including Ian Bibby, who won the HTC Smithfield Nocturne in June, as well as Andy Tennant, Malcolm Elliott and another Olympic medallist, Steven Burke. Rapha Condor Sharp will be led by Kristian House who will be hoping to follow up his superb solo victory at the Edinburgh Nocturne. House also comes off the back of a victory at the Preston GP where he rode away from the field with team mate Dean Windsor in a dominant display. Windsor will also be on the start line in Blackpool along with Dean Downing and multiple Olympic medallist Chris Newton.

There will be strong line ups from Sigma Sport-Specialized, Kuota-Road.cc and www.Cyclepremier.com-Metaltek, making it the best Elite line up of all the 2010 Nocturne Series events. The Elite Criterium will be the highlight of a race programme that also includes the Cycling Weekly Support Race, Youth Race, Dahon Folding Bike Race and the Blackpool Cycle Hire Challenge.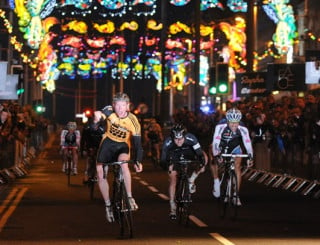 The Olympic champion in winning form last year in Blackpool.

Full details and online entry to the Cycle Hire Challenge and all the races can be found on www.blackpoolnocturne.com. The event is free to attend and the racing starts at 6pm.