Follow britishcycling.org.uk on
Bradley Wiggins to lead Sky at The Tour

Story posted July 30, 2010; Event Press Release | Website

The Tour of Britain is pleased to announce that Bradley Wiggins will headline the Sky Professional Cycling Team's line-up for this September's Tour, in a six man roster that also contains top British riders Russell Downing, Steve Cummings and National Road Race Champion Geraint Thomas.
Meanwhile, Wiggin's fellow Great Britain Olympic teammate and National Circuit Race Champion, Ed Clancy, will lead the Motorpoint – Marshalls Pasta team that also contains current Great Britain World Championships Silver medallist Andy Tennant and double Halfords Tour Series winner and reigning British Cyclo-Cross Champion, Ian Bibby

For Welshman Geraint Thomas, who wore the White Jersey of Best Young Rider during the Tour de France, The Tour provides the chance to race in his British Road Race Champions jersey in Wales, as Stage Three of The Tour heads from Newtown in Powys to Swansea, a stage which features the fearsome Constitution Hill close to the finish.


Also named in Sky's provisional line-up for The Tour are another duo of Brits, Tour de Wallonie winner and fifth placed overall in last year's Tour of Britain Russell Downing and 2008 Tour of Britain runner up Steve Cummings. Antipodean duo Matthew Hayman and Greg Henderson round out the Team Sky roster, as listed in the UCI Bulletin for The Tour of Britain. Australian Hayman is the current Commonwealth Games Road Race Champion, while New Zealander Henderson won the opening road stage of Paris – Nice this Spring and finished on the podium in the Tour Down Under.
The race has long been a big target for Team Sky with Team Principal Dave Brailsford saying on the Team's website: "We're doing lots of special things this year but right at the top of that list is to be able to take a British team to the Tour of Britain."

"Hopefully we'll race hard and get a result but this team is about so much more than simply winning bike races and we really want to make a big effort in that respect. We want to engage with people and the Tour of Britain will give us a huge opportunity to do just that and to thank people for supporting us through the year.

"It's also very much about inspiring youngsters and one of the things I want to highlight for this year is to see whether we can find a couple of creative ways to engage with kids and get them close to the riders. That's what it's all about. We want to inspire the next Bradley Wiggins."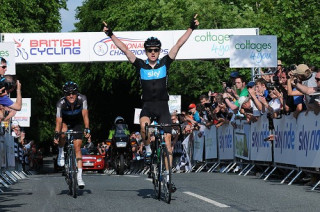 Geraint Thomas wins the British Road Race title in June.

"We're delighted to have Team Sky riding The Tour of Britain this year, particularly with such a strong line-up that shows they mean business for The Tour," commented Technical Director Mick Bennett. "I'm sure fans in Wales will be particularly excited to see Geraint Thomas riding Stage Three into Swansea, while I know from meetings and events in Newham, just how excited residents and in particular local children are at the prospect of our three Olympians racing on their streets in September. I know Bradley can expect a lot of support during the final stage, in what is of course London's Olympic and Paralympic Borough."

"Motorpoint – Marshalls Pasta too have a strong team, with several riders who stand an excellent chance of being involved in London 2012. With five domestic British teams riding The Tour this year, there will be an interesting race within a race between those squads to see who comes out on top and Motorpoint look to have a strong squad to do that."

The Tour of Britain begins in Rochdale on Saturday 11th September, finishing eight days later with The TfL London Stage, based in Newham around the historic London Docklands.

Sky Professional Cycling Team Tour of Britain line-up (Provisional):
Steve Cummings; Russell Downing; Matthew Hayman; Greg Henderson; Geraint Thomas; Bradley Wiggins
Reserves: Chris Froome & Chris Sutton
Ed Clancy, British Circuit race Champion, is one of two champions of the road from the country to be named for the Tour of Britain. Ed's Olympic Team Pursuit champion teammate Geraint Thomas is the other. Thomas is the British Road Race Champion.

Motorpoint – Marshalls Pasta Tour of Britain line-up (Provisional):
Ian Bibby; Ed Clancy; Jonathan McEvoy; James Sampson; Andy Tennant; Peter Williams
Reserves: Steven Burke; Malcolm Elliott; Andrew Roche

Further announcements on teams and riders taking part in The Tour of Britain, the UK's biggest professional cycle race, will be made in the coming days and weeks. The Tour of Britain is proud to be partnered with The Prostate Cancer Charity. Don't forget this September your chance to follow in the wheel tracks of the professionals and ride three stages from The Tour of Britain. Go to www.tourride.co.uk to find out more!

The Tour of Britain 2010
Stage 1 Saturday 11th September Rochdale to Blackpool
Stage 2 Sunday 12th September The Stoke-on-Trent Stage
Stage 3 Monday 13th September Newtown to Swansea
Stage 4 Tuesday 14th September Minehead to Teignmouth
Stage 5 Wednesday 15th September Tavistock to Glastonbury
Stage 6 Thursday 16th September King's Lynn to Great Yarmouth
Stage 7 Friday 17th September Bury St Edmunds to Colchester
Stage 8 Saturday 18th September The TfL London Stage
The Tour of Britain History
Re-launched in 2004 after a five year absence from the calendar, The Tour of Britain is now the UK's biggest professional cycle race and the country's largest free-to-watch sporting event. Ranked at the 2.1 level by the UCI, the sport's governing body, The Tour of Britain attracts some of the world's top cyclists, including Olympic and World Champions and Tour de France stage winners, to compete on British roads each September.

Related Links
Report: 2009 Tour of Britain
Report: 2008 Tour of Britain
Report: 2007 Tour of Britain
Report: 2006 Tour of Britain
Report: 2005 Tour of Britain
Report: 2004 Tour of Britain Photos