Follow britishcycling.org.uk on
12th Bath Road Club Junior Road Race

Story posted July 25, 2010; by Richard Robotham (http://rhodopsin.co.uk)
Round of the Junior National Road Race Series
Warm and humid conditions greeted the riders for the 12th Bath Road Club Junior Road Race. The field of 62 riders took to the start of the 115km over a five and three quarter lap course of an undulating course around the villages of Stewkley, Dunton, Cublington and Wing, with a severe climb at Whitchurch where the race would eventually finish.
Emphatic win for Tom Moses in the latest round of the Junior National Series.

The race fragmented after 2km from the start when Connor Dunne (Glendene CC) and Owain Doull (Hargroves Cycles) made an early break on the very first lap, gaining a 30 second lead over the nearest chasers. The race remained split for the rest of the race, with small attacks from the bunch bridging to the break. The two leaders were joined by riders Alex Murison (Glendene CC), Jamie Shirlaw (Herbalife-Wheelbase) and Jack Cousins (Wills- Wheels) gaining a good 45 seconds lead from the first of four chasing groups including the peloton.
By the end of the first full lap, the leaders had been joined by some of the chasers to make a large leading group of 11 riders and together they built up a lead of over three minutes on the peloton. With the leading group still setting a high pace, another chasing group had managed to pull the leaders time gap down to only 50 seconds. After 3 1/2 laps, this chasing group of six riders started to make inroads into the lead as the head of the race settled down to an even tempo and at the turn at Wing, had caught the leaders to make a huge group of 17 riders.

The large leading group didn't stay together for very long when once again Connor Dunne (Glendene CC) and Owain Doull (Hargroves Cycles) together with Joe Kelly (Team Isle of Man) and Jack Cousins (Wills Wheels) attacked to break away from the front and gain 23 seconds over the main contenders. Later, Sam Harrison (Planet X), Joshua Edmundson (Motorpoint) and Tom Moses (Glenden CC-Ridley-Vitesse-OCE) counter attacked and bridged to the leaders.
Connor Dunne leads the early break.
This group remained together until the last lap when Moses attacked after crossing the finish line at Cublington and he stayed away on his own for the rest of the lap to win the race. The four chasing riders virtually sat up in the last part of the race even when Owain Doull made his getaway to chase Moses. The remaining riders were unwilling to chase the two riders in front of them.

Moses came into sight at the bottom of the climb to the finish alone, powering up the hill to take a magnificent win in a record time of 2 hours 48 minutes 48 seconds, some two minutes faster than in any previous Junior Race on this course. Almost a minute later, Owain Doull crossed the line to take second place. There was a sprint up the finish hill for third to fifth places, with Sam Harrison taking third, from Joshua Edmundson in fourth and Joe Kelly in fifth nearly 2 minutes behind the winner.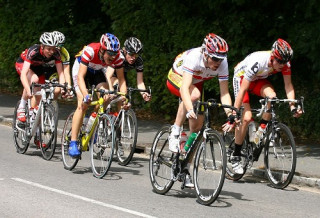 British champion Dan McClay leads the third chase group.
Rider reactions:
Tom Moses (Glendene CC) - "I rode this race last year and I knew from previous years it would be won from a break that went really early, as once you get away around here you can get a good lead. There were about 15 of us rolling through and not really trying that hard and we were just pulling away."

"I wasn't really worried about the early break because I knew that Conor Dunne was there, so I just sat there and waited to see what happened, when I could see it was staying away, I made my way across to it. It was a fast race, I knew I had to go hard in that group of 15 'cause Yates was in there. When it came too it, I tried to get as many riders between us, so got right up to the front, I knew I had to try to take as many points off him as I could cause I missed one of the rounds, but Simon Yates blew up."

"I am very happy with the win, I gave it everything, I didn't expect to win, but I have been training really hard this week and now I am heading off for the Worlds which I am looking forward to."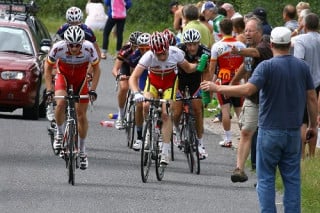 Feeding zone and Welsh Champion and second placed Owain Doull take a drink.

Owain Doull (Hargroves Cycles): "It was a hard race. I went away with Conor Dunne after about 2km and it felt like a training ride where everyone was attacking each other. Yes it was a hard race and I am pleased that I got a result in the end. There were six or seven of us and the Glendene had two and Tom Moses went. The rest of us were in a lose lose situation, because if we chased Tom, then Conor would go, so everyone kind of sat up."

"I knew I wasn't one of the more marked riders so I thought I would have a crack and I think Sam Harrison did something behind, which stopped them from chasing me down, so it worked out well. I decided I wanted to have a hard race and get in on an early move to see what happened. Once you get away on the lanes on this circuit, it's a bit like out of sight, out of mind."

"So I thought that would be the way to ride the race and it paid off in the end. I managed to rest a little, when the leading group grew to 17 riders. I felt quite fresh, I knew some of the riders were stronger than others especially on the climb where it all split up. I am looking forward to and hope to do well in the Tour of Wales as I will be on home ground."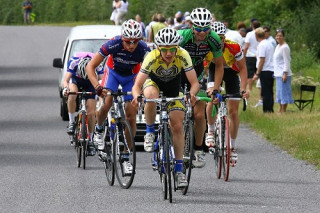 Simon Yates leads the chase up the climb at Cublington.

Result
1. Tom Moses, Glenden CC-Ridley-Vitesse-OCE 2.48.48
2. Owain Doull, Hargroves Cycles-Trant-Next-Scott-GSI
3. Sam Harrison, Planet X
4. Joshua Edmundon, Motorpoint
5. Joe Kelly, Isle of Man
6. Conor Dunne, Glendene CC
7. Jack Cousins, Wills Wheelers
8. Alex Murison, Glendene CC
9. Laurie Brooking, Herbalife
10. Matthew Hill, Mid Devon CC
11. Matthew Holmes
12. George Moore
13. Simon Yates
14. Robert Crampton
15. Paul Fostun
16. Felix English
17. Josh Cole
18. Rupert Denny
19. Charlie Fawke
20. James Dunlop