Follow britishcycling.org.uk on
2010 Youth Circuit Race Championships

Story posted July 24, by Belinda Sinclair | Full Results -- Click here
Pictures of the day at Redbridge Cycle Centre
What and amazing day it was at Redbridge for the National Youth Circuit Championships. Hot and blue skies were very welcome and some exceptional racing in front of a huge crowd made this a day to remember.

First to go into battle were were the Category C under 12 girls won by Charlotte Broughton who crossed the line first in front of VCL's Charlotte Cole-Hossain and Jessica Roberts of Towy Riders. Broughton's victory marked the first of Leicestershire RC's two victories of the day. The Category C boys race was won by young Manxman Owen Dudley of Team Royal London 360, who led Matthew Walls and Reece Wood home.


Some impressive racing emerged in both the Category B (under 14) races with girls winner Bethany Hayward (Welwyn Wheelers) responding to an attack with two laps left, piling on the pressure and riding it through to the finish. Similarly, in the boys race, which saw a few minor spills, Hillingdon Slipstreamers Louis Magnani led the charge for the line with three hundred metres to go, outpacing Ben Chapman (Team Milton Keynes) and Jack King (Sleaford Wheelers) in the ensuing bunch sprint.

Magnani was one of the riders who had fallen and when he crossed the line, he did so sporting not only an assortment of minor cuts to his leg, but also odd shoes, having had to borrow a handy replacement after one of his own broke. Leicestershire RC's second hooped jersey came in the Under 16 girls as favourite Lucy Garner proved just too fast for the two Cardiff Ajax riders who jostled and battled her all the way to the line. Amy Roberts followed her over with Elinor Barker in third.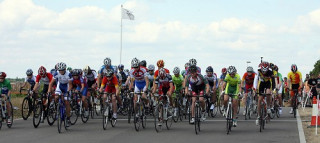 The boys under 16 race however, proved to be the most eventful ride of the day. Not only was there a large field, but a series of high speed punctures on the second bend only two hundred metres into the race and ensuing crashes, led to some early confusion and disruption. However, riders were untangled and sent on their way without too much delay and the race unfolded into a series of breakaways, captures and more breaks throughout the twenty lap race.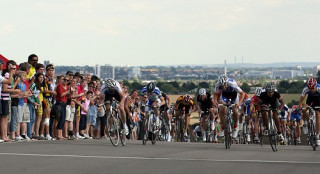 Save for the inevitable few stragglers who fell off the back of the bunch, it looked like another mass charge would be on the cards. But then, with just about two laps to go, Chris Lawless moved to the front and began to ride away from the front. De Ver's Germain Burton however, was ready to respond, having positioned himself near to the front of the very fast moving chasers. "As soon as Chris opened that gap, I knew it was time to go" Germain explained. "There were a lot of other strong riders right there with me too, and I knew that I couldn't afford to let them get the edge on me. My race plans did go out of the window a bit but I felt good, and I knew that I had to give it all or nothing, so I gave it all and just went."

There was little that the rest could do to pull him back after his exceptionally strong and well timed kick and he was away, up the final hill to the finish, crossing the line well ahead of the rest in a very unassuming manner, not even raising his arms in victory. Hackney's Alex Peters (second place) summed up the reaction of the group, as he congratulated the new champion post race: "Germain, that was amazing ride. We were all working really hard to catch you but we couldn't. What a brilliant ride!"


Two support races on the top part of the circuit rounded off what really was a very well organised and entertaining day with Aaron Freeman beating George Southby and Jack Rootkin-Gray into second and third places respectively in the under eight race, and Harry Tadman doing the same to Ben Tulett and Soloman Robson in the under ten event.
Report from the organiser, Michael Humphreys

Racing came of age at London's Hog Hill circuit when it hosted the 2010 National Youth Circuit Championships. With eight separate races, it was always going to be the circuit's busiest day since it opened in 2008. Three hundred and twenty riders signed up. Two races of more than 50 starters and the Youth A men's race with a massive 100 starters meant the judges, officials, marshals, catering and the car park were tested to the maximum.

The circuit at the Redbridge Cycle Centre, nicknamed Hog Hill, is 2km in length. Its wide smooth tarmac winds up and down a ridge overlooking East London. This is great for spectators but the 28 metre change in elevation per lap does test a rider's output. The pace of those at the front produced positive safe racing to defy the obvious risk of descending and turning in a bunch. Each race had a lead group circulating from which repeated accelerations would come, but only two of the day's races were won by any margin.

Anyone at Hog Hill for the 2010 Championships must conclude that youth riders are safer and better than most senior fields.
Under 12's
Under 12s racing began with a smallish field for the women. A group of 6 riders circulated comfortably until Charlotte Broughton of the Leicestershire Roads Club took the biggest break of the day for herself, building over a minute over fast-finishing Charlotte Cole-Hossain of VCLondres, Jessica Roberts of Towy Riders and Lauren Murphy of Milton Keynes.

The Under 12 Men raced it out fast and hard to the end, with the leaders' pace forcing out 20 riders by the commissaire's broom and only 29 riders ended the race on the same lap. A leading group of 20 stormed it to the final climb and places in the top 10 were swapped into the final sharp climb to the line. Owen Dudley of Team Royal London Isle of Man won the sprint by only 1 second over Matthew Walls of Eastlands Velo and Reece Wood of Aire Valley Racing.

Under 14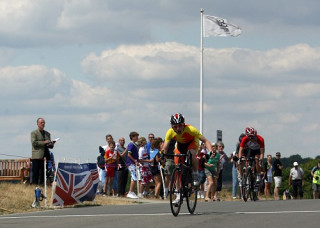 Racing over 9 laps, the Under 14 women's race also saw riders go away in a bunch which went from 17 riders down to 6 who contested the sprint. Bethany Hayward of Welwyn Wheelers won by 7 seconds after a huge burst of speed into the final turn from Emily Haycox of Maindy Flyers and Kimberley English of Welwyn Wheelers.

Sixteen riders of 50 starters were in it to the last of the Under 14 men's race that had seen many attacks before a final few laps in which the pace slowed and a minor crash brought down Louis Magnani who returned to the pit with a broken shoe and a few scrapes. He got going again and came out best in the mass sprint, whooping as he crossed the line just in front of Ben Chapman of Team Milton Keynes and Jack King of Langdale Lightweights.

Vic Hopkin of British Cycling's main board and the London Alliance of British Cycling regions helped award championship medals on our podiums, with assistance from David Chalfen, sports development in the Lee Valley Park where the Lee Valley Youth CC will again operate after London's Games have left a Legacy Velopark that will feature a road circuit and off-road competition areas for mountainbike and cyclocross.

Under 16
The Under 16 women put each other on the rack as brave riders attacked but then were unable to stay with the pace as the rest caught on. Bethany Crumpton of Halesowen and Alice Barnes of Palmer Park both tried a break and had to confess before four riders lifted the pace to a breathtakingly fast sprint around the final turn led by Lucy Garner of Leicestershire Roads who held on up the hill to the finish by 1 second from Amy Roberts and Elinor Barker both of Cardiff Ajax with Hannah Layland of V C St Raphael just outside the medals.

A dog-day heat gave excuse for a short break while the circuit closed so racing for the Under 16 men could proceed in the opposite direction. They were to ride up the Hoggenberg climb each time to the line. This steepens as it turns into the finish and then delivers a further blow as riders descend steeply to a second climb out of the upper circuit ready for a full-speed descending straight.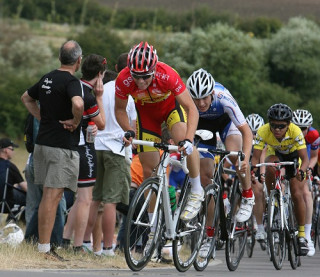 This makes the pull over the line the ideal place to lay down an attack and we saw plenty of those over the 20 laps of the Under 16 men's race. Jack Oliver-Blaney of Team Terminator, Kristian Woolf of Kingscliffe Flyers and Halesowen's Ted Bate all gave it a go but it was Ed McParland of JD Cycles who made the most prolonged attack in the midst of the race, spending three laps away on his own, but it was doomed when nobody came across to share the work. Ed did take away the prize for most combative rider, awarded by Mark Barry but his spirited ride took him out of contention.

Still in it was a huge bunch from the original 100 starters. Sheer numbers were impressive, as was the fact that the race passed off with only minor tumbles as the bunch rolled off the start line and into the first steep downhill turn. Always looking in contention, but always marked were defending champion Sam Lowe and known big-hitter Jonathan Dibben.
This seemed to make them reluctant to show their power but perhaps they could learn from the way in which the race was won as the laps counted down and the breaks fizzled out. One of these initiatives would eventually spring a gap and with the hill it could be held over a bunch. Surely it would come from a known rider but London has a few regulars who don't feel obliged to travel much or to compete in youth-only events when there are large sportives or senior racing on offer.

So when the yellow DeVer kit started to show as the laps counted down, the commentator called the name of Germain Burton and name-checked Maurice his father – DeVer cycles owner and former pro - standing trackside with several yellow-clad supporters. At that time Chris Lawless of Sport City Velo was making a break from a lined-out pack with Dibben, Lowe and Chris Latham all trying to blend in.
With four laps to go Burton's intentions were starting to look obvious and by the next passage at 3 laps remaining he was leading, never to be headed again. Lap times that had hovered around 3'10" dipped under 3 minutes for the only time all day as Burton went on one and the lap-scorer notes a 2'40" when he was on full-burn up to the bell.

The commentator had called the pack that this really was not a rider to let go solo and so it was that Germain Burton became the national youth champion able to celebrate his win safely on a margin he controlled down to 12 seconds ahead of the bunch sprint contested by 21 riders led home by very fast finishing Alex Peters of CC Hackney who made his habitual perfectly-judged sprint up the Hoggenberg to nip around many including third place Harry Tanfield of Velo29.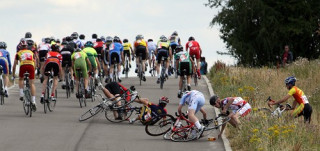 Support Races
While we digested the result of that brilliant and huge race, the Under 8 and Under 10 support events went off with the Mayor of Redbridge as honourable starter. He said he was truly amazed at the speed and skill of the young ones as Aaron Freeman of Chelmer CC won the Under 8s from George Southby of East Bradford and Jack Rootkin-Gray of Solihull CC. He also had a couple of false-starts from the highly-strung Under 10s eager to show their speed with 1 Hillingdon Slipstreamers' Harry Tadman showing the most over Ben Tulett of Palmer Park Velo and Solomon Kerfoot-Robson from Rhos On Sea CC.

The Mayor and Mark Barry were honoured guests on our podium to present the Under 16 championship awards and the non-championship support medals to our busy Under 8 and Under 10 riders. The evening sun shone brightly as the Mayor told us this was his first time and definitely not his last at the fabulous facility on Hog Hill. Let's hope he's not the only one who wants to come back and do it all again.

Huge thanks from the organiser to everyone who helped make this event possible. Sponsors were Lee Valley Park, Mosquito Bikes, Bike & Run. John Mullineaux and London Cycle Sport provided invaluable resource in advance and on the day. Service Graphics provided the podium and graphics. Our LVYCC judges, signing-on, gear-check, marshalling and podium crews all did more than their fair share in the hope and expectation that the day could be special, but really it is down to the riders who came and who raced for their championships which made the day so good. Thank you for coming along and we hope to see you around in our sport. The organiser.
Related Link
Report of the 2009 Youth Championships
Report of the 2008 Youth Championships
Report of the 2007 Youth Championships