Follow britishcycling.org.uk on
South West Team for School Games

Story posted July 21, 2010; by Andy Parker, South West Regional Events Officer

The South West region has announced its team for September's UK School Games. They are; Seb Baylis (Chard Whls), George Pym (Exeter Whls), Simon Cooper, Jack Plummer (Somerset RC), Laura Clode (Revo Racing), Hester Stembridge (CS South Hams), Adele Martin (Bristol Cheltenhamm CC), Alex Sheehan (Bristol Cycling Development Squad) and Joel Kelly (Mid Devon CC) as first reserve. Team Managers for the event will be Jake Durant and Fiona Telfer-Bruton.


The selection process came via the South West youth series which in its inaugural year featured events across Cornwall, Devon and Somerset bringing the region's best riders together and enhancing local racing leagues. With fields of up to forty riders, it clearly demonstrated the popularity of youth racing and created a pathway for competitors to excel.

Ric Jamieson, regional Talent Development coach was impressed with the progression of the riders who combined regular regional schools of racing training days with the events. "The improvement was clear to see as the series went on with riders building on the skills taught at the training days and using them in a racing environment. Group riding, sharing the pace and race tactics all became features of the events."

"Working together with Regional Development Manager, Chris Yates, we tried to involve local club coaches as much as possible to ensure that any coaching points could be passed on at a local level and influence the ongoing development of the regions riders".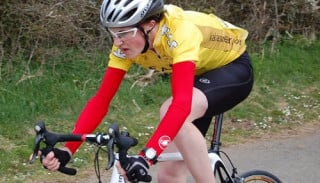 The series enjoyed sponsorship from clothing company Kalas who supplied the series leader and overall winners jerseys. The South West Regional board donated trophy's to the series winners with Seb Baylis and Laura Clode the inaugural champions. There's no rest for the riders now with the board funding regional team trips to National Youth Series events to ensure the riders continue their preparation for the UK school Games.

Thanks should go to the region's events promoters who hosted the youth races. Watch out for an expanded series next year. Good luck to all the riders taking part in the School Games.