Follow britishcycling.org.uk on
Preview: 2010 Circuit Race Championships

Story posted July 15, 2010; by Larry Hickmott | Event Website |

This Friday night in Beverly (East Yorkshire) will see the biggest and most tasty town centre cycle race of the year when the best British riders assemble on the cobbles for the 2010 Circuit Race Championship. With town centre racing more popular than ever, winning this championship is also taken on a new level of importance and those travelling to Beverly to watch will surely see a classic event.
Since the middle of May, cycling has been taken to the people around the country with three different series of events, the Nocturne Series, the Tour Series and the British Cycling Elite Circuit Series. With so many major events being circuit races nowadays, and so much money being put into the sport by sponsors, the pressure on riders to win the champion's jersey for their team is immense and no doubt, it won't do a rider's bargaining power any harm when it comes to contract time!

The winner of the Elite Circuit Race Championship on Friday night will not only have the glory of winning in front of a huge crowd but will also receive the British champion's jersey to wear for the next 12 months. Such a jersey means that in events that follow, such as the Elite Circuit Series races in Blackburn and York next week, the crowd and the other riders, will easily see who the champion is, as will those watching on TV.

Make no mistake, much of the talk on Wednesday evening in Colne was about the championship and anyone looking to be entertained on Friday night, head for Beverly! The Circuit race championship is part of a packed weekend of events including the Big G Cyclosportive and the East Yorkshire Classic Premier Calendar Road Race.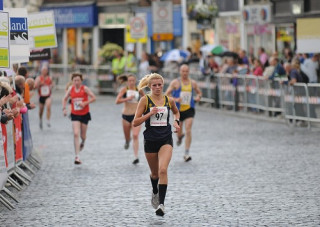 The Circuit Race Championship evening will be kicked off again by some running races.

Friday Nights Schedule
18.00 Beverley Town Centre 5k Running Race - 4 laps
18.35 Swanland Mortgages, 10 Rider - 1 lap invitation time trial
18.50 Keith Jordan Memorial Support Race - 25minutes + 3 laps
19.40 National Circuit Race riders presented at line
19.45 National Circuit Race Championship - Race start - 70minutes + 5 laps
21.05 National Circuit Race Championship presentations.

Last year the winner was Sky Professional Russell Downing who has had only one opportunity this year to wear the jersey, that being the Edinburgh Nocturne. The field this year though is packed with riders who will no doubt be racing in Britain next year which will give spectators the opportunity to see the champion racing in front of a home crowd.

Picking a possible winner is not easy and even the riders themselves are unsure who will come out on top. There is though a select group of riders who have shown this year they are on top of their game in the circuit races and the big favourite has to be Ian Wilkinson of Endura Racing. The stats alone make him the favourite – three wins in the Elite Circuit Series and two second places out of the five race so far! As his manager at Endura says, Rob Hayles, Ian has come into his own in the races where team tactics like the Tour Series no longer hold a rider back.

Ian though knows it won't be easy and one of his main rivals will be former champion (2002/208) Dean Downing. The Rapha Condor Sharp rider has won on the course before (2008) and showed his form has arrived special delivery with a victory on Wednesday night in Colne. Downing also has a strong team although like Ian and Endura, a lot of his teammates from outside of the UK will not be eligible to race.
Last year the race was graced with the prescence of Jeremy Hunt who this year is rather occupied in the Tour de France.

Endura showed on Wednesday night how to close a break down for the benefit of Wilkinson but Rapha also have the fire power to break the race up on a course with no hills but plenty of cobbles and twists and turns.

The Motorpoint Marshals Pasta team who won the Halfords Tour Series will also have a very strong team for the championship led by a World and Olympic champion no less, Ed Clancy. He won in Stafford a few weeks ago on a very tight circuit and while he has played down his chances saying he doesn't recover that well, Clancy has seemingly got stronger and faster as the year has gone on.

He is backed up by plenty of other possible winners such as Malcolm Elliott who made the break on Wednesday night showing his form is more than okay. One can only hope that should the ever popular Sheffield rider win the championship, any thoughts of retirement would be put on hold because the sport needs you Malcolm and also needs to see that jersey being raced!

The odds are in favour of a winner coming from these teams but championships are funny races and the pressure and desire from riders to win such a major event could mean riders from other teams upsetting the form book and winning the stripes on offer. So many other teams have been in there battling all year and it would not be out of the question for a rider from Pendragon Le Col Colnago, Kuota Roads CC, Sigma Sport Specialized or Cycle Premier Metaltek to get one of their riders across the line first.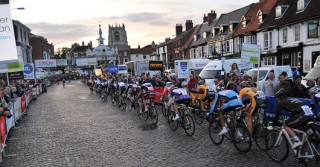 The circuit
The venue for the championship is a very special place which is perhaps one reason why it is being held there again. The circuit is plan flat which means unlike some courses, the riders capable of winning it are numerous. The roads are also quite wide in the main which gives riders space to move up which is useful if they find themselves at the back of the grid!

The focus point for the circuit will be the cobbles though. It's where the start finish is, the huge crowd and as anyone knows who has raced on cobbles, the bouncing up and down can also take it out of a rider's legs as much as anything else in the race. The course does have some narrow twisty bits too which will please the crit specialist who can duck down low and throw their bikes through the corners quicker than the bigger roadman type rider.

Do not be surprised if the race ends in a big bunch kick which is always great for a crowd to witness as is the suspense of whether a break can stay clear long enough to contest the victory sprint. Whatever the outcome, the big winner will be the sport of cycling which will be yet again be showcased in a town centre packed with eager spectators.

British Cycling will be there and a report will follow after the race has finished.

CHAMPIONSHIP RIDERS
1 Will Bjergfelt BigMaggies/Wilier Elite
2 Simon Gaywood Corley Cycles Elite
3 Steven Higgins Corley Cycles 2nd
4 Jamie Newall Corley Cycles 2nd
5 Ashley Cox Corley Cycles 1st
6 Jake Hales Corley Cycles 2nd
7 Nathan Wilson Cottingham Coureurs 2nd
8 Richard Lambert Cottingham coureurs 1st
9 Julian Gromett Cottingham Coureurs 2nd
10 Dan Booth Cult Racing 1st
11 Tony Gibb CyclePremier.com - Metaltek Elite
12 Jason White CyclePremier.com - Metaltek Elite
13 Andy Magnier CyclePremier.com - Metaltek Elite
14 Simon Wilson CyclePremier.com - Metaltek Elite
15 Richard Hepworth CyclePremier.com - Metaltek Elite
16 Robert Smail CyclePremier.com - Metaltek 1st
17 Robert Partridge Endura Racing Elite
18 Robert Hayles Endura Racing Elite
19 Scott Thwaites Endura Racing 1st
20 James Moss Endura Racing Elite
21 Dave Lines Endura Racing Elite
22 James McCallum Endura Racing Elite
23 Evan Oliphant Endura Racing Elite
24 Ian Wilkinson Endura Racing Elite
25 Gary Hand Endura Racing Elite
26 Justin Hoy Felt-Colbornes RT Elite
27 Josh Gosselin Guernsey Velo 1st
28 Stuart Reid Herbalife/Wheelbase.co.uk 2nd
29 Jack Pullar Herbalife/Wheelbase.co.uk 1st
30 Lewis Craven Herbalife/Wheelbase.co.uk 2nd
31 Adam Duggleby i-ride.co.uk 1st
32 Jon Mozley Kuota - Road CC Elite
33 Andy Tinsley Kuota Road CC Elite
34 Martin Smith Kuota- Road CC Elite
35 Dan Davies Kuota-Road.cc 1st
36 David McGowan Kuota-Road.cc 1st
37 Cam Austin London Dynamo 1st
38 Ian Biby Motorpoint Marshalls Pasta Elite
39 Steven Burke Motorpoint Marshalls Pasta Elite
40 Edward Clancy Motorpoint Marshalls Pasta Elite
41 Malcolm Elliott Motorpoint Marshalls Pasta Elite
42 Jonathon McEvoy Motorpoint Marshalls Pasta Elite
43 James Sampson Motorpoint Marshalls Pasta Elite
44 Andrew Tennant Motorpoint Marshalls Pasta Elite
45 Peter Williams Motorpoint Marshalls Pasta Elite
46 Daniele Santoni MSTina Elite
47 Matthew Kipling MTScyclesport Elite
48 Peter Middlehurst OCTAGON VC 2nd
49 Dean Shannon Orbea-FGS 1st
50 Marcel Six Orbea-FGS! Elite
51 Adam Norris Orbea-For Goodness Elite
52 David Clarke pendragon Elite
53 Steve Lampier Pendragon le col Elite
54 George Richardson Pendragon Le Col 1st
55 Yanto Barker Pendragon Le Col Colnago Elite
56 Dave Clarke Pendragon Le Col Colnago Elite
57 Rhys Lloyd Pendragon Le Col Colnago Elite
58 Chris Opie Pendragon Le Col Colnago Elite
59 George Richardson Pendragon Le Col Colnago 1st
60 Richard Tanguy Pendragon Le Col Colnago Elite
61 Dean Downing Rapha Condor Sharp Elite
62 Chris Newton Rapha Condor Sharp Elite
63 Graham Briggs Rapha Condor Sharp Elite
64 Kristian House Rapha Condor Sharp Elite
65 Matt Cronshaw Rapha Condor Sharp Elite
66 Jonathan Tiernan Locke Rapha Condor Sharp Elite
67 Lee Allen RVO Racing 2nd
68 Ian Field Scienceinsport.com 1st
69 Tim Lawson Scienceinsport.com 1st
70 Gary Adamson Scienceinsport.com 1st
71 Alistair Rutherford ScienceInSport.com 1st
72 Ian Field ScienceInSport.com 1st
73 Gary Adamson ScienceInSport.com 1st
74 Tim Lawson ScienceInSport.com 1st
75 Matthew Lawson Sigma Sport - Specialized Elite
76 Simon Richardson Sigma Sport - Specialized Elite
77 Tom Last Sigma Sport - Specialized Elite
78 Tom Murray Sigma Sport - Specialized Elite
79 Kit Gilham Sigma Sport - Specialized Elite
80 James Williamson Sigma Sport - Specialized Elite
81 Stephen Adams Sigma Sport - Specialized Elite
82 Gareth Montgomerie Sigma Sport - Specialized Elite
83 Peter Johnston Southfork Racing 1st
84 Blake Pond Southfork Racing Elite
85 Gary Chambers Southfork Racing 1st
86 Chris Daddy Star Bikes 2nd
87 Dale Appleby Team Raleigh Elite
88 Tom Barras Team Raleigh Elite
89 James Stewart Team Raleigh Elite
90 Liam Holohan Team Raleigh Elite
91 Ben Simmons Team Wiggle 2nd
92 Simon Holt UC Bergamasca Elite
93 Daniel Smith Velo29 Cycling Team 2nd
Former Winners
Our thanks to Jim Hendry MBE (Honorary Archivist, British Cycling)
Note: All Senior Championships became open to amateur and professionals in 1996

OPEN CHAMPIONSHIP
1996: Bury St. Edmunds – 73.3 km
1. John Tanner, 2. Mark Walsham, 3. Jon Clay

1997: Bury St Edmunds – 72 km
1. Simon Cope, 2. Joe Bayfield, 3. Mark McKay

1998: Haverhill – 72 km
1. Chris Walker, 2. Chris Williams, 3. Dan Smith

1999: Bury St Edmunds – 60.6km
1. Chris Walker, 2. Rob Reynolds-Jones, 3. Chris Lillywhite

2000: Birmingham – 62.4 km
1. Rob Hayles, 2. John Tanner, 3. Anthony Malarczyk

2001: Newark 60 km
1. Chris Newton, 2. Dean Downing, 3. Bryan Steel

2002: Newport, Wales - 60 km
1. Dean Downing, 2. Mark Kelly, 3. Neil Swithenbank

2003: Llandudno – 51 km
1. Russell Downing, 2. Dean Downing, 3. Bryan Taylor

2004
Hillingdon 80 km
1. Colin Roshier, 2. Greg Sandy, 3. Rob Enslin

2005: Otley, West Yorks - 47 km
1. Mark Cavendish, Russell Downing, Ian Wilkinson

2006 Horwich. – 64 km
1. James Taylor, 2. Tony Gibb, 3. Adam Blythe


2007: Otley – 1 hour
1. James McCallum, 2. Ed Clancy, 3. Matthew Cronshaw

2008: Beverely -- 1 Hour plus five
1. Dean Downing, 2. Rob Hayles, 3. Tony Gibb

2009: Beverley
1. Russell Downing, 2, Jeremy Hunt, Rob Hayles

PROFESSIONAL

1979: Milton Keynes – 90 km
1. Sid Barras, 2. Ian Banbury, 3. Jack Kershaw

1980: Telford – 90km
1. Bill Nickson, 2. Sid Barras, 3. Barry Hoban

1981: NOT HELD

1982: Newport, Gwent – 80 km
1. Phil Bayton, 2. Phil Corley, 3. Bill Nickson

1983: Stockton on Tees - 81 km
1. Keith Lambert, 2. Dudley Hayton, 3. Steve Jones

1984: NEC, Birmingham – 90 km
1. Malcolm Elliott, 2. Bill Nickson, 3. keith Lambert

1985: Hull
1. Dave Miller, 2. Malcolm Elliott, 3. Steve Fleetwood

1986: 1. Paul Sherwen, 2. Steve Joughin, 3. Phil Thomas

1987: 1. Tim Harris. 2. Chris Lillywhite, 3. Mark Walsham

1988: Leek – 100 km
1. Mark Walsham, 2. Jon Walshaw, 3. Nick Barnes

1989: Cardiff – 90 km
1. Paul Curran, 2. Mark Walsham, 3. Chris Lillywhite

1990: Worksop – 100 km
1. Rob Holden, 2. Hilton McMurdo, 3. Adrian Timmis

1991: Cardiff – 80 km
1. Rob Holden, 2. Hilton McMurdo, 3. Mark Walsham

1992: Cardiff – 100 km
1. Neil Hoban, 2. Dave Baker, 3. Keith Reynolds

1993: Crystal Palace – 66 km
1. Chris Lillywhite, 2. Spencer Wingrave, 3. Simon Cope

1994: Milford Haven – 58 km
1. Neil Hoban, 2. Dave Rayner, 3. Bernie Burns

1995: 1. Jon Clay, 2. Mark Walsham, 3. Chris Lillywhite

AMATEURS

1993: Wigan – 70 km
1. Roger Hammond, 2. Jeremy Hunt, 3. Mark McKay

1994: Gorleston – 70 km
1. Dave Williams, 2. John Charlesworth, 3. Matt Stephens

1995: Bury St. Edmunds – 75.4 km
1. Sam Quinn, 2. Roger Hammond, 3. Jimmy Jones
Related Links
Elite Circuit Series
Round 1: Dumfries Bikefest
Round 2: Otley Town Centre Races
Round 3: Stafford Grand Prix
Round 4: Get Connected Wales Circuit races
Round 5: Colne Grand Prix