2010 Dumfries BikeFest Grand Prix
Please take time out to back our "Keep Racing on the Roads" campaign to save Road racing by becoming a fan of our dedicated facebook page
Sunday, May 30, Dumfries, Scotland, by Larry Hickmott / Premier Calendar Home Page

The fourth round of British Cycling's Premier Calendar Series in Dumfries (Scotland) was won by Dean Downing of the Rapha Condor Sharp team after a 100 miles of tough racing in the hills along the coastline of the Solway Firth in southern Scotland. Downing won the race solo after attacking in the closing miles from a fast finishing Matt Stephens (Sigma Sport Specialized) and Graham Briggs (Rapha Condor Sharp) who won the sprint from the remaining riders in the break.
The Race
Dean Downing makes up for the loss on Friday night with a win in the Premier Calendar event at Dumfries.
A field of just under 80 riders assembled in Dockhead Park, Dumfries, on Sunday morning with bright skies overhead in contrast to the continuous rain of the day before. Missing from the field was Premier Calendar leader and winner of two of the three Premier Calendar events held before Dumfries, Chris Newton (Rapha Condor Sharp).

Riders set to gain most from his absence were the two Endura Racing riders in second and third in the series table, New Zealand Champion Jack Bauer and the inform Ian Wilkinson. The latter showed on Friday night how much it meant to win in Scotland for his Scottish sponsor and Wilkinson was well up for the challenge before the race.

At 11am, with the sun taking the chill out of the strong wind, the peloton set off and on roads that didn't pose too many difficulties for riders of this class, despite lots of attacks, nothing was sticking. Riders would get a few seconds up the road and then the crazy attacking going on at the head of the bunch would see the break's lead melt ever so quickly.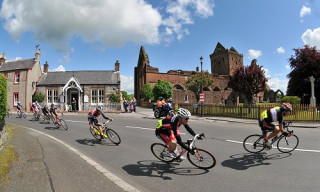 New Abbey after five miles and a lone Raleigh rider is clear of a peloton in full flight.
It wasn't until the riders were heading back to Dumfries around the half way mark that the frantic pace finally took its toll and a big group of 20 or so riders went clear out of the village of Borgue. With Endura leading the chase behind, the large break kept on increasing their lead before more attacks at the front saw the lead group whittled down to nine riders. Yanto Barker and Evan Oliphant did what they could to escape but there were some wise old bike riders in that leading group.

The lead group of nine remained all together until with two miles to go, Dean Downing launched himself up the road to draw the sting from the rest to benefit his teammate Graham Briggs. Downing's attack though was too much for the rest and he was left to solo in to win his first Premier Calendar for a few years, only eight seconds clear of Matt Stephens who was dead chuffed at his second place. Graham Briggs then screamed with delight as he beat one of the greats of British cycling, John Tanner, in the sprint for third place. Barker was fifth.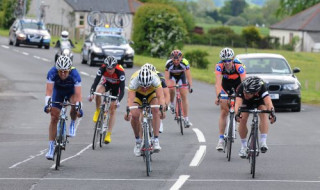 Graham Briggs snatches the final podium place from a flying John Tanner with Yanto Barker in fourth.
Post Race Reactions
Dean Downing "I'm really happy with this win especially after what happened on Friday night. I've not won a Premier Calendar for a good couple of years now and to win one so windy and hard makes me quite happy. The boys rode well today. We're all still tired after the stage race in Japan and I was the lucky one to sit out the crit on Thursday night and that has benefited me."

"Just two days at home with my wife and my little one is like plugging myself into the electrics and I was really refreshed when I got here. Graham knew the circuit from doing the DoonHame and said there were some good launch pads here and the others in the break knew it as well like Yanto had quite a few attacks and so did Evan."

"Originally, I was going to lead Briggsy out because he's fast and I just rolled through and a gap opened and I put it in the 11 about two miles out. I felt like I had quite a lot of power out there after training for the crits and it was a flattish circuit. I was told there were no hills but there were some near the end! We were attacking quite a bit today but following as well."

On how the numbers were reduced from the original split, Dean explained "there were quite a few bumps on the run in and Yanto put a big attack in on one of the lumps and it just split in half and then a few came back to the break. Yanto was good today, really good as was Matt Stephens. It is a pleasure to ride with Matt."
Matt Stephens "I don't have much top end at the moment but underneath I have this steady endurance and just kept dieseling along. I got dropped a few times on the climbs before powering over the top and getting back on. In the finale, it was really cagey, no-one wanted to ride and Dean went and he has such an explosive acceleration I couldn't go with him so I waited and then into a headwind attacked, got a gap and I know when you have a gap into a headwind, no-one wants to commit themselves to chase."

"I just got into a tuck into the wind and held on. Really chuffed with second place. It was a tough course, wearing down on great country roads to race on, really safe and testing."

Graham Briggs: "We had a few chats out there and were just looking after each other. Towards the end he said he'd ride for me and he was covering the moves. I knew the run from the DoonHame so I gave him a bit of an indicator of where he could go and he went. The others looked around a bit and faded and he got the gap. Matt didn't really attack, more like creeped off and Evan went to follow him and then sat up and I just tried to stay at the front and slow it down and waited for the sprint. This is our (Dean and Graham) last Premier Calendar for a while so I'm pleased with how its turned out."
Podium: Graham Briggs (3rd), Dean Downing (1st) and Matt Stephens (2nd)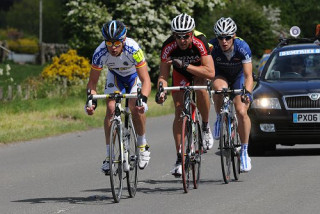 After 25 miles and a break has a few seconds lead here by Raleigh's Peter Smith.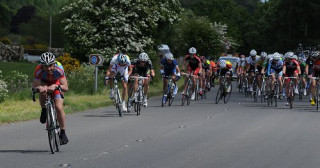 Behind the break it's crazy fast as riders attack to get away with Alistair Kay leading the way chasing down a second Raleigh rider inbetween him and the break.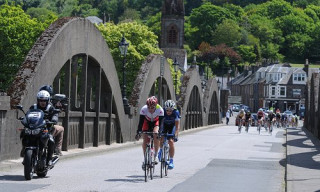 Another 15 miles later and Mark Thwaites leads the race with the peloton never far away.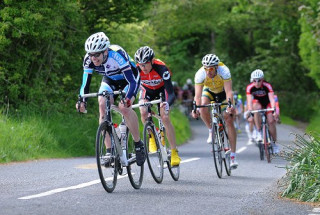 At Borgue, the peloton is going along at a crazy speed and shortly after this was taken, there was a split with 20 or so riders going clear.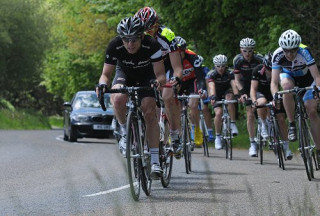 Out of Kirkcudbright, the leading group gives it full gas up the long drag out of the Scottish town lead here by eventual winner Dean Downing.
At Lochfoot, the large split had been reduced by the attacking, Yanto Barker said to be one of the chief attackers, and a group of nine riders is at the head of the race with 20 miles to go.
Result
1. Dean Downing Rapha Condor Sharp 03:56:32
2. Matthew Stephens Sigma Sport - Specialized @8
3. Graham Briggs Rapha Condor Sharp @14
4. John Tanner Team Sportscover same time
5. Yanto Barker Pendragon - Le Col - Colnago same time
6. Evan Oliphant Endura Racing same time
7. Andrew Tennant Motorpoint Marshalls Pasta same time
8. Richard Cartland Team Corley Cycles same time
9. Will Bjergfelt Big maggies/Wilier/Prendas same time
10. Dave Clarke Pendragon - Le Col - Colnago @ 53
11. Phill Sykes Sigma Sport - Specialized same time
12. Malcolm Elliott Motorpoint Marshalls Pasta @01:50
13. Matthew Kipling MTS Cyclesport - Inkland same time
14. Ian Wilkinson Endura Racing same time
15. Zak Dempster Rapha Condor Sharp same time
16. Mark Wordsworth Team Corley Cycles same time
17. Steve Lampier Pendragon - Le Col - Colnago same time
18. Steven Burke Motorpoint Marshalls Pasta same time
19. Ashley Brown Team Sportscover same time
20. Mark Thwaites My Team Giordana same time
21. Dale Appleby Raleigh same time
22. Gareth Montgomery Sigma Sport - Specialized same time
23. Marcin Bialoblocki Big maggies/Wilier/Prendas same time
24. Simon Baxter Adept Precision RT same time
25. Richard Hadley Raleigh same time
26. Wayne Coombs VC Montpellier same time
27. Lee Davis Motorpoint Marshalls Pasta same time
28. Joshua Hunt Mid Devon CC same time
29. Alastair Kay York Cycleworks same time
30. Jason Christie Endura Racing same time
31. Stephen Adams Sigma Sport - Specialized same time
32. Michael Nicolson Dooleys-cycles.co.uk same time
33. Duncan Moralee Private member same time
34. Callum Wilkinson Endura Racing same time
35. Andrew Hawdon Herbalife / Wheelbase same time
36. Tom Last Sigma Sport - Specialized same time
37. Dan Shand Raleigh same time
38. Robert Hassan Glasgow Wheelers CC same time
39. Robert Orr cyclingbargains.com same time
40. Andy Coupe Team Wallis CCH RT same time
41. Matthew Higgins Team Corley Cycles same time
42. Ashley Cox Team Corley Cycles same time
43. Colin Parry VC Montpellier same time
44. Gavin Evans Team Sportscover same time
45. Chris Mark Adept Precision RT same time
46. Sam Jackson Herbalife / Wheelbase same time
47. Joe Skipper Team Zappi's same time
48. Pete Smith Raleigh 01:55
49. Darren Lapthorne Rapha Condor Sharp same time
50. Dan Fleeman Raleigh same time
51. Ed Clancy Motorpoint Marshalls Pasta same time
52. Kristian House Rapha Condor Sharp @02:00
53. Colin Humphrey Team Sportscover same time
54. Scott Thwaites Endura Racing @04:41
55. Lewis Cowley VC Montpellier same time
56. George Richardson Pendragon - Le Col - Colnago @08:12
57. David Lines Endura Racing @20:20
Dumfries Bikefest Women's Road Race
Incorporating Scottish Women's Road Race Championship

Held at the same as the men's race and on a different circuit, the Women's National RR, which was part of the Dumfries Bikefest, saw a group of four riders gain five minutes on the rest of the field. What was awesome though was just how close the finish was. See the pictures below from Cheryl King to see for yourself !
Kara Chesworth (on the right) wins the sprint for the victory from Natalie Creswick (left) and Catherine Williamson (centre). Photo: Cheryl King
A packed podium at the end of the race. Photo: Cheryl King
Early stages of the race with Natalie Creswick leading the peloton. Photo: Cheryl King
Five riders in the break with Scottish champion Jane Barr leading. Photo: Cheryl King
See more photos from Cheryl
You can see more photos from this race by going to Cheryl's Flickr page (www.flickr.com/photos/ckingimages) and an edited selection will be appearing on her website, www.ckingimages.co.uk
Result (thanks to Bill Dunscombe for the results)

1. Kara Chesworth Dysynni CC 02:20:05
2. Natalie Creswick Twickenham CC same time
3. Catherine Williamson Rapha Condor CC same time
4. Jane Barr Stirling BC same time
5. Claire Thomas 05:00
6. Hannah Barnes Motorpoint / Marshalls Pasta 05:34
7. Marianne Britten Max Gear RT same time
8. Kerry Lang Glasgow Couriers 05:36
9. Corrine Hall Team Corridori same time
10. Sarah Byrne Motorpoint - Marshalls Pasta same time
11. Louise Eden MaxGear RT same time
12. Catriona Phin Sandy Wallace Cycles same time
13. Hannah Walker GS Surosa 07:11
14. Sarah King Langdale Lightweights RT same time
15. Anda-Jay Burgess Sandy Wallace cycles same time
16. Laura Murray Deeside Thistle CC same time
17. Jennifer Stanning Edinburgh RC 07:16
18. Teri Wishart 15:51
19. Gabriella Shaw Bang & Olufsen/Chevin Cycles same time
20. Natalie Milne Team Leslie Bike Shop/Right Mov same time
21. Karen Brenerman Edinburgh same time
22. Victoria Wade VC Moulin same time
23. Lucy Caldwell Kirkcudbright same time
24. Katy Winton Glentress Riders 40:37:00
25. Maddy Robinson VC Moulin same time
RELATED LINK
Premier Calendar Home Page