2010 Hillingdon Grand Prix

Please take time out to back our "Keep Racing on the Roads" campaign to save Road racing by becoming a fan of our dedicated facebook page
Sunday, May 16, 2010; Hillingdon Cycle Circuit, by Belinda Sinclair | Full Results |

As always, as the Hillingdon circuit is in West London, it was cold. Not too cold, but rather breezy and still far from the summer weather that we should be having by now. But that didn't stop a full field – sixty four riders – lining up in this Women's National Series event, ready to do battle. Unfortunately, it was to be a race beset with problems.

Very early in the second lap, with riders bunched tightly, there was a crash, resulting in Rapha's Claire Beaumont and Orbea's Cassie Gledhill both ending up on the tarmac, unable to carry on. A third rider who also fell, managed to get up and back on. The race was neutralized, then stopped twice while medics sorted both riders out.
They were both clearly very shaken and Beaumont's helmet took much of her impact, but although initially dazed, she recovered quickly. However, Gledhill seemed to fare rather more badly and after a considerable delay, during which she received medical treatment, she was taken off to hospital with a several suspected broken bones and breathing problems.

When the race finally restarted twenty minutes or so later, and after an additional warm up lap, the whole thing had to be shortened by eight laps to enable sufficient time between its end and the final race. But it didn't temper either the pace or the effort of the riders; riding as a bunch for most of the race, but the primes hotly contested.


First honours went to Dani King, Ruby Miller and Laura Trott, next to Hannah Rich, with former World Track champion Jo Rowsell, riding as an independent, and Laura Trott also taking primes. The final sprint started on the penultimate corner of the circuit, with Dani King well supported by her two team mates and double Junior World Sprint champion Becky James kicking hard alongside them and pursuing them up the final straight. King crossed the line first, just ahead of James, with Janet Birkmire a close third.

Speaking to Dani after the race, she was understandably pleased with her afternoon's work. "It was fast, consistently fast, but we (her two team mates) worked hard together and they really helped me. Several people tried to attack but nobody really seemed to want to take it on. I went for the primes to get my legs ready and working and that worked well as I got it and the legs worked well."

"I knew that Becky was still there and also Jo (Rowsell) so I knew that I would have to work hard right to the end. I really pushed with about six laps to go and the final sprint started at the bottom corner when Becky went. She's a fantastic sprinter so I knew that that was the push and I went too. I'm really pleased with how it went and how we all worked together today."
"I'm so pleased, this is my 3rd win out of the 3 road races I've done this year in the U.K. The race started off well, fast from the start, however a few crashes meant the race had to be stopped twice and shortened as a result."

"My Horizon Fitness team mate, Hannah Rich said to me towards the end of the race that she was feeling good and was happy to give me a lead out so I was chuffed and took her up on the offer. With about half a lap to go Hannah got on the front and gave it all she had with me on her wheel. Becky James kicked and I knew that was when I had to go. She got quite a lead but I managed to just pip her to the line!"

"Overall I was so pleased with my performance and the way the team rode. I hope to repay the favour for Hannah in the near future. I'm off to Belgium now for a few weeks to get stuck into racing and hopefully get some good results!


Becky James was similarly pleased with her own performance. "Well, this is not my usual discipline – I'm a track sprinter - but I am really enjoying riding on the road in crits. I am enjoying getting fit and mixing in well with the other girls and today was a fantastic, fast race. Mind you, I went on the first corner at the bottom and it was only when I got round the last corner and saw the long uphill slope to the finish – and into the wind – that I realised that I'd gone a bit too early!"

"But I knew that Dani was there and also Jo Rowsell, so I had to ride it out and keep hanging on 'til the finish. But I am very pleased with today. I'm off to Belgium next week and then hopefully the Commonwealth Games, so races like this and experiences like today are really good preparation."
Results | Full Results |
1 Danielle King Horizon Fitness
2 Becky James Motorpoint
3 Janet Birkmyre Orbea-For Goodness Shakes
4 Hannah Barnes Motorpoint/Marshalls Pasta/Candi TV
5 Jessica Booth Halesowen A&CC
6 Marianne Britten Max Gear RT
7 Lucy Garner Leicstershire RC
8 Harriet Owen Bicester Millennium CC
9 Hannah Manley Cardiff Jif
10 Hannah Walker GS Surosa

Men's Race and Support Race

After the drama of the women's race, the men's race went ahead more or less on time and as planned. The sun even came out, albeit briefly. Again, like the women's event, this was another fast paced race throughout the sixty six laps, with lots of bunch riding, and numerous breaks.

Two riders went off the front very early, establishing a substantial lead of twenty five seconds, but they were gradually hauled back, before six more had a go, eventually splitting into three sets of two and riding way out front for a good few laps. They too were then swallowed up by the peloton, which was working well together and eating up lap after lap.

Dave Clark featured in several of the bids, both on his own, and as part of a couple of breakaway groups, one of which with twenty six laps still to go, established an impressive gap of some twenty six seconds. But the fast pace began to tell, and the lead was whittled down to just seven seconds with seven to go as the bunch lay in wait, increasingly closer behind the leaders. Then with about three laps to go, the rain which had been threatening all day, arrived, changing the surface considerably until the inevitable happened.


With just under a lap to go, and virtually in the same spot as the women's crash, a couple of wheels touched and riders went down. All but two got back up, but it was too late; the leaders were off down the back straight, with Tony Gibb and the rest of his team dominating. A tight, fast sprint up to the line saw Gibb cross first, closely followed by Jon Mozely and Marcel Six.

Team manager Rod Freeman was delighted with the result: "It was our aim to win of course, but it's always nice when everybody works well together and pulls off wheat they set out to do. We did have quite a few riders in the race, so we had quite a presence, but like we saw, anything can happen, however well you ride, so it was a good result."
Read the Report from Team CyclePremier.com – Metaltek
Results | Full Results |
1 Tony Gibb CyclePremier.com/Metaltek RT
2 Jon Mozley Kuota-Road CC
3 Marcel Six Orbea/For Goodness Shakes
4 Ben Luckwell Big Maggies/Wilier/Prendas
5 Jason White CyclePremier.com/Metaltek RT
6 Matt Cronshaw Rapha/Condor/Sharp
7 James Stewart Tm Raleigh/High 5/Skoda
8 David McGowand Kuota-Road CC
9 Lee Smith Felt-Colbornes RT
10 Marc Wilmot Tm Quest/The Bike Shop
Support Race
The earlier support race was one, again in a sprint to the line, by fifteen year old Jacob Reagan. According to his Dad Mark, they'd only 'popped in as they were nearby'. " We live up near Manchester and he rode at Redbridge yesterday, so as this was on, we thought we might as well make a weekend of it. And it worked out rather well!"
Results | Full Results |
1 Jacob Ragan Sport City Velo
2 Noritz Jabke BC Private Member
3 Jacey Reder Private
4 Dominic Gabellini Rapha Condor
5 Oliver Newlan Twickenham CC
6 Michael Westwell RAFCC
7 James Jackson BC Private Member
8 Neil Heffernan Inverse
9 Matt Barker Team Quest
10 Martin Hunter Colchester Rovers CC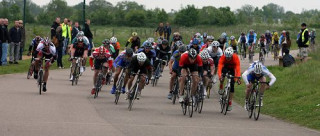 More Photos
Jason Streather tries his luck early on
One of the Raleigh riders takes a tumble in the Men's Elite race.
FULL RESULTS
Women's Grand Prix
1 Danielle King Horizon Fitness
2 Becky James Motorpoint
3 Janet Birkmyre Orbea-For Goodness Shakes
4 Hannah Barnes Motorpoint/Marshalls Pasta/Candi TV
5 Jessica Booth Halesowen A&CC
6 Marianne Britten Max Gear RT
7 Lucy Garner Leicstershire RC
8 Harriet Owen Bicester Millennium CC
9 Hannah Manley Cardiff Jif
10 Hannah Walker GS Surosa
11 Amy Roberts Cardiff Ajax
12 Joanna Rowsell PM
13 Alex Greenfield Horizon Fitness
14 Ruby Miller Forza Cycles
15 Bernadette Hards Maxgear RT
16 Kara Chesworth Dysynni CC
17 Emily Barnes Palmer Park Velo
18 Emma Grant A W Cycles
19 Jackie Garner Maxgear RT
20 Sarah King Langdale Lightweights RT
21 Corrine Hall Tm Corridori
22 Lauren Creamer Wolverhampton Wh
23 Louise Mahe Tm Mule Bar Girls
24 Lowri Bunn Abergavenny RC
25 Melissa Bury Sportcity Velo
26 Laura Trott Welwyn Wh
27 Hannah Shenton Paul Milnes RT
28 Natalie Hill Hillingdon Slipstreamers
29 Hannah Rich Horizon Fitness
30 Rebecca Curley Rapha Condor
31 Hannah Bowes Tm Mule Bar Girls
32 Cheryl Owens GS Metro
33 Maryka Sennema Kingston Wh/Sigma Sport
34 Cannot See black top ???????
35 Clara Horne Halesowen A&CC
36 Nicola Juniper Ciclos Uno
37 Jaine Paine Willesden CC
38 Jodie Stimpson Tm Dillon
39 Rachel Przybylski Rapha Condor
40 Natalie Greswick Twickenham CC
41 Natasha Perry Rapha Condor
42 Leona Kadir Sigma Sport RT
43 Lise Soerensen Kingston Wheelers
44 Caroline Harding Finchley RT
45 Emily Bagnall Kingston Wh/Sigma Sport
46 Sabine Homrighausen Kingston Wh/Sigma Sport
47 Emma Patterson London Dynamo/Prologue/For Goodness Shakes
48 Jeanelle Culdicott Max Gear RT
49 Joanna Le Cocq VS Jersey/i-consult/Top Personal
50 Ceri Dipple BC Private Member
51 Nikki Wheeler Team Wiggle
52 Alice Barnes Palmer Park Velo
53 Monica Da Polenza A W Cycles
54 Eleanor Jones Halesowen A&CC
55 Vicki Filsell Pearson Cycles RT
56 Astrid Wingler London Phoenix
57 Rebecca Lodge London Dynamo/Prologue/For Goodness Shakes
58 Jessica Mitchell London Dynamo/Prologue/For Goodness Shakes