Report: Cheshire Classic Women's Road Race
25th April 2010 | Report and Images: Andy May | Series Standings |

Halesowen's Jess Booth narrowly snatched victory from previous winner and Paralympic gold medallist Sarah Storey following a decisive breakaway. Andy May was there to capture the action.
Above: Halesowen's Jess Booth pips Storey on the line to claim victory after Sarah attempted to break clear on the final lap.
Since its inception 30 years ago the Cheshire Classic Womens Road Race has had some illustrious winners including National champion and Olympian Catherine Swinnerton in 1981 and World Champion Mandy Jones who was wearing her rainbow jersey when she won the event in 1985 (she also won in 1983 & 1990).
Slideshow of photos from the race by Andy May - www.maysportsimages.com
In more recent years Nicole Cooke won in 2000 whilst still a Junior and star of track and road Lizzie Armitstead won the event in 2007. Last year's winner Annie Last was away competing at the Mountain Bike World Cup in Dalby Forest, but Paralympic legend Sarah Storey MBE, who won two cycling gold medals in Beijing to add to the five swimming golds she won at previous games did line up. Sarah had attacked right from the start last year but just couldn't make a break stick.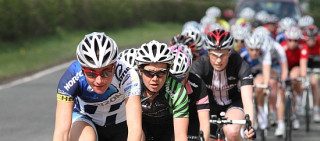 Above: Horizon's Sarah Storey strings out the bunch in the early stages.
Run over a circuit of 7.7 km through Weaverham and Acton Bridge, 10 1/4 laps gives a full race distance of 80 km, with a testing uphill finish which really saps the strength in tired legs.
Just like last year Sarah Storey hit the front right from the start and set an electric pace which some immediately found impossible to match. By the time they came up the bypass for the first time there were people being shelled out the back in a long line. They soon regrouped and thereby split the race into two groups. On the second circuit Iona Sewell of Squadra Donne/Bike Food, Natalie Creswick of Twickenham CC/Evans and a rider who'd signed on the line (number 54) went off the front briefly, but were soon dragged back to the peloton.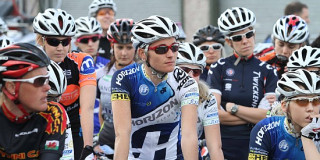 Above: Storey (centre) looking cool, calm and collected at the start.
The pivotal move of the race came the fourth time up the hill on Acton Lane when eight riders attacked over the top. Anna Fischer of Maxgear RT, Kara Chesworth of Dysynni CC, Sarah Storey of Horizon Fitness RT, Ali Holland of Shred Racing, Leanne Thompson of Vanilla Bikes.com, Natalie Creswick of Twickenham CC/ Evans, Catherine Williamson of Rapha Condor and Jess Booth of Halesowen A&CC worked incredibly well together with no one sitting on and they began to put about 30 seconds a lap on the main field. Leanne Thompson was dropped very quickly, leaving the remaining seven to fight it out to the finish.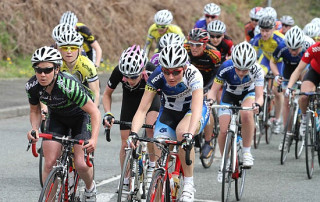 Above: Shred's Ali Holland on the attack at the front of the group
Event organiser Terry Veal said "I've been involved in this race for many years and I have NEVER seem them attack that hill as hard. It must be something in the air!" Barney Storey, Sarah's husband concurred that in the past four years that Sarah had ridden the event this was by far the fastest pace.
That pace never let up with the seven riders, all from different teams working together perfectly and coming up the hill for the final sprint they were still all there. Sarah Storey led them out, but Jess Booth got on her wheel and as they approached the line she managed to come around to take the title - just!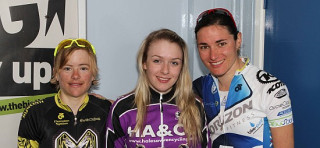 Above: The podium (left right) - third placed Anna Fischer, winner Jess Booth and second placed Sarah Storey
After the race I managed to grab a word with the two leading protagonists:
2nd place, Sarah Storey, Horizon Fitness Racing Team:
"That was the best race and I think we've had from a Womans perspective in the UK. It was much more positive than it usually is. Lots of people who realised that working together was going to be a great thing to do. It made the race fast. From an Horizon team perspective it was a great team performance. We had a race plan that we all executed perfectly, that was to get me in a break and set me up as best we could to win the sprint from the break. It was just one of those pipping on the line things you know. I mean with Jess (Booth) being a pursuiter herself it was a drag race at the end there. The Horizon girls did a great job and they reverted to plan B when I was up the road and Hannah (Rich) won the bunch sprint. It was good day all around for the girls.
1st place, Jess Booth, Halesowen A&CC:
"It was really good. People were going very fast right from the start. Everyone in the group did really well, with no one sitting on which was good. On the final lap up the hill I just got on Sarah's wheel and managed to get around her at the end. I was looking around and everyone was looking good so anything could have happened. I just went for it."
Sarah Story diary from the Cheshire Classic: Read it here
RESULT
1 Jessica Booth Halesowen A&CC
2 Sarah Storey Horizon Fitnes Racing Team
3 Anna Fischer MaxGear RT/Champion System
4 Alli Holland Shred Racing
5 Catherine Williamson Rapha/Condor CC
6 Natalie Creswick Twickenham CC/Evans
7 Kara Chesworth Dysynni CC
8 Hannah Rich Horizon Fitness Racing Team
9 Hannah Walker GS Surosa
10 Eileen Roe Unattached
11 Leanne Thompson Vanilla Bikes.com
12 Anne Ewing Edinburgh RC/The Bicycle Works
13 Ella Sadler-Andrews Horizon Fitness Racing Team
14 Marianne Britten MaxGear RT/Champion System
15 Laura Murray Deeside Thistle CC
16 Lowri Bunn Abergavenny RC
17 Hannah Shenton Paul Milnes/Bradford Olympic
18 Sarah King Team Mischeif
19 Annabel Simpson Horizon Fitness Racing Team
20 Sarah Byrne Motorpoint/Marshalls Pasta
21 Louise Eden MaxGear RT/Champion System
22 Jane Barr Stirling BC
23 Kate Scotter ExtremeSportsTherapy/Streetlife Cycles
24 Bernadette Hards MaxGear RT/Champion System
25 Iona Sewell Squadra Donne/Bike Food
26 Corrine Hall Team Corridori/Specialized
27 Tamina Oliver BC Private
28 Jackie Garner MaxGear RT/Champion System
29 Jeanette Caldicott MaxGear RT/Champion System
30 Natasha Perry Rapha/Condor CC
31 Rebecca Womersley Sowerby Brothers RT
32 Nadine Spearing MaxGear RT/Champion System
33 Lynn Patchett Stone Whlrs
34 Rachel Przybylski Rapha/Condor CC
35 Tracey Corbett Rapha/Condor CC
36 Victoria Ware Squadra Donne/Bike Food
37 Eleanor Jones Halesowen A&CC
38 Claire Beaumont Rapha/Condor CC
39 Gail Aspden Squadra Donne/Bike Food
40 Monica Eden Tameside Cyclesports
41 Rebecca Curley Rapha/Condor CC
42 Eleanor Underhill Weaver Valley CC
43 Nicola Soden East Kilbride RC/Rolls Royce
44 Victoria Annis VC Bradford/Pennine Cycles


First 2ndCategory: Anna Fischer, MaxGear RT/Champion System
First 3rd Category: Hannah Walker, GS Surosa
First 4th Category: Lowri Bunn, Abergavenny RC