Follow britishcycling.org.uk on
Report: Sky Ride Middlesbrough
Event: 15th August 2010, Middlesbrough
Report and images by Andrew Kennedy
The British Cycling Sky Rides are fun, family-oriented mass participation cycling events and smaller local rides taking place across the UK this summer. British Cycling in partnership with Sky and Sport England are working hard to support all forms of cycling and have set themselves the challenge to get one million more people cycling by 2013.
Cycling is fun and exciting, keeps you healthy and is a great way to spend time with your family and friends. That's what a few of the thousands of people who rode the Middlesbrough Sky Ride told British Cycling on Sunday.
We sent Andrew Kennedy on his bike around the 9km circuit to chat to the participants of the Middlesbrough Sky Ride, and find out just why they enjoyed riding their bikes around their towns closed-to-traffic roads on a sunny Sunday morning.
Middlesbrough Sky Ride was based on a flat family-friendly circuit that took in the sights and civic splendour of Albert Park and Ayresome Gardens. Along bustling Linthorpe Road with Sunday lunchtime pub bands battling to be heard above their neighbours music. The riders then headed up to the rejuvenated Middlesbrough Docks area to catch sight of the brand new 2.5 million pound Anish Kapoor sculpture TEMENOS and it's equally famous neighbour, the landmark Middlesbrough transporter bridge. The ride then retraced it's route back through the docks to Albert Road and the finish entertainment village on Corporation Road.
Experienced cyclists, absolute beginners, kids with stabilisers, uni-cyclists (that's a bike with one wheel, not someone who rides to college) and everyone in between who could dig out a bike in Middlesbrough was cycling the route. The Teesside people enjoyed the traffic free cycling that was on offer, without the usual worry of cars and other motor vehicles. Parents and family groups brought the children onto the roads and lots of couples and friends were out enjoying the sunshine and attractions at the three entertainment hubs.
In Albert Park we spotted cousins Tanvir and Sonia who'd brought out the young boys from their families. Tanvir told us, "we have two families here all doing the ride together, the boys are really enjoying themselves, they think the Gatorade drink is making them faster so we'll have to be careful they don't crash into each other". The young boys in this family group were very enthusiastic about cycling, and when we asked what cycling did for you one of them said, "it makes you healthy", whilst his cheeky cousin said, "it makes me burp".
Sat close by relaxing and listening to the band in Albert Park were 2 year old Georgia and 7 year old Jasmine with Georgia's Dad and Jasmine's Auntie. A leaflet through the door telling them about the Sky Ride had them pumping up their tyres in readiness. Jasmine's aunty said, "it's a brilliant idea to close the roads, it brings people together, the highlight for us has been to see the joy and excitement on the kids faces".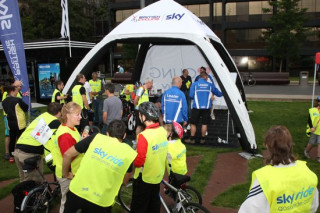 A popular place on the route was the entertainment village on Corporation Road, smack in the centre of town. With BMX stunt riding, British Cycling Go-Ride activities, live bands on stage, market stalls, trade stands offering free drinks, and much more, there was something to keep all the family entertained. We spoke to the Smith family from Coulby Newham, just outside Middlesbrough who'd set off at 10am and ridden the circuit twice. We asked their daughters aged 8 and 5 what they'd enjoyed the most, "all of it really, but the funny men riding their bikes and juggling we liked that". Dad said, "the little one has been in her buggy and our eldest on her own bike, we felt very safe today, it's been a fantastic day out and one we'll all remember".
The British Cycling stand was doing a demonstration of the Watt bikes used by the British Cycling team to help prepare elite riders for major competitions. Shane Durose a 24 year Middlesbrough man who works as a volunteer mechanic at Middlesbrough Cycle Centre decided to test himself on the rig. Shane blasted away the opposition with a time of 11.23 for a 200 metre effort and incredibly recorded 1557 watts output, which is very close to the recordings by Chris Hoy and Mark Cavendish. Shane promised to start taking his cycling a little more seriously now that he knows he has the wattage close to an Olympic and World Champion. Middlesbrough Sky Ride might have just discovered one of our future champions. We'll keep you posted if Shane starts winning big races.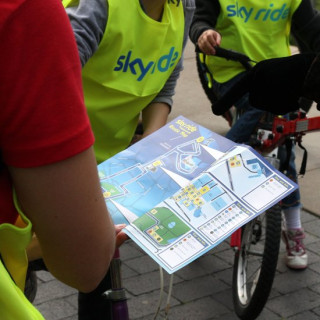 The closed roads and wide avenues leading up to the Docks were very tempting for budding racing cyclists to gain a bit of speed on the Sky Ride. Teenager Jake Dobson from Newcastle with his parents Joanna and Phil, and a couple of mates from Newcastle Phoenix Cycling Club were out on the circuit. Jake is a big fan of Mark Cavendish and Bradley Wiggins and enjoys watching professional bike racing on TV, especially the Tour de France. The boys enjoyed speeding around the circuit a couple of times, of course riding sensibly and taking into account the slower riders, like our own correspondent!
Aileen from Spain and Reza from Iran are a couple living and working in the Teesside area and came to the Sky Ride with their friends. Aileen told us that she enjoyed riding the streets that she normally travels by car or bus, "we live close to Albert Park and it was very special for us to ride our bikes through there today, it's been good to see the lovely sights of Middlesbrough without the danger of cars, and the weather today, just like home in Spain".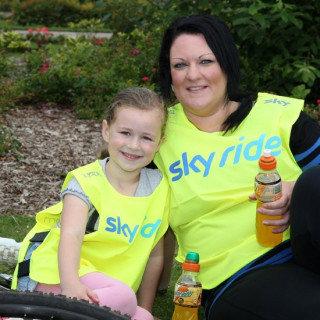 The Sky Ride can't promise sunshine every week, but it brought lots of fun and family entertainment to the unusually quiet streets of Middlesbrough this weekend. The people we spoke to enjoyed their day on the bikes and they'll all be looking forward to the next time they can don their yellow Sky Ride bibs and get some miles in.