Follow britishcycling.org.uk on
Report: Sky Ride Ealing
Event: 18th July 2010, Ealing | Report: Eddie Allen | Sky Ride Website

Over 13,000 cyclists took to the streets of the West London borough of Ealing for the first of the 2010 series of Sky Ride city events. Temperatures in the high 20s greeted the riders as they tackled around eight miles of Ealing's leafy traffic-free suburban streets.
Above: What's it like to Sky Ride? Take a look at the on-bike footage.
Above: Sunshine and smiles in Ealing as Sky Ride 2010 gets underway
I arrived at Ealing's Lammas Park at just before 10am and already the park was thronged with hi-viz vest wearing Sky Riders ready to tackle the route. It was clear even at this early stage that West London's cyclists were going to embrace Sky Ride in a big way.
Above: Check out our photostream from the day
The route led out of Lammas Park and threaded its way through a maze of Ealing's residential streets, heading east towards the sunny, languid Ealing Common. At every turn or crossing point, friendly marshals were on hand to help riders safely negotiate busy junctions and make sure everyone went the right way.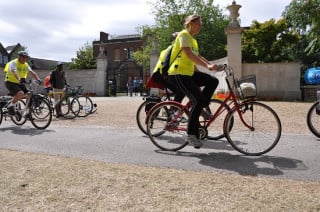 Above: Riders file past Pitzhanger Manor in blazing afternoon sunshine.
From the Common, we made our way past the beautiful and impressive Pitzhanger Manor before heading into Ealing town centre, passing the town hall on our very own traffic free contra-flow lane. As we circumnavigated the route, we were amazed to see more and more riders magically drawn in by Sky Ride's 'Pied Piper effect'. We were in a group of around 50 or so riders who had left Lammas Park. However, in a short space of time our group had swelled to nearer 100, some of whom and joined the route from further afield, some of whom lived on the route and obviously, looked out of their windows, saw what was going on and grabbed their bikes from the shed, keen to get a piece of the action. In this way rider numbers snowballed as we headed first for Brent Lodge Park, where there was a refreshment and Dr Bike station, then back to Lammas Park.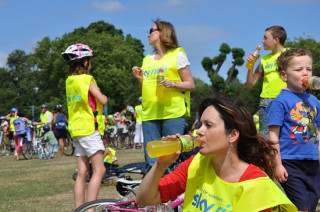 Above: Back at Lammas Park, riders refuel on Gatorade
When we arrived back at the Park, the party atmosphere was in full swing. The slightly overcast start to the day had burned away and Lammas Park was shoulder to shoulder with cyclists. Some cracking open picnics, others sampling ice creams, while others were getting their Sky Ride bibs signed by Ben Swift, who amongst a number of his Team Sky colleagues, were the star turns of the event.
Above: Take a look at what riders thought of Sky Ride Ealing.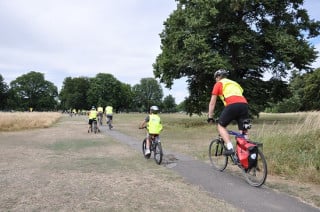 Above: Crossing Ealing Common
I spoke to a number of fellow Sky Riders who were relaxing after completing their first lap. Everyone I spoke to was full of praise of the event, for a whole host of different reasons. Some loved Sky Ride because of how it put cycling on the map in the borough - 13000 hi viz wearing riders quietly occupying the streets for the day is a difficult thing to ignore. Some were simply enjoying a rare chance to explore the roads of their borough with their children in a safe and happy environment. Others were just in it for the carnival vibe, showing off their cool bikes, wacky bikes, old bikes and new bikes - not to mention their fancy dress - I saw a man dressed as a penguin cycling along Uxbridge Road...
Here's what our Sky Riders had to say:
Joy from Ealing
"This is a brilliant event to be taking part in. Lots of cyclists here of all ages and stages. Really good route, really well organised and will hopefully raise the profile of cycling and improve it in our borough and hopefully not annoy too many motorists and remind them that cyclists have every right to be on the road as well."
Chris from Hampshire
"We've come up from Hampshire today and we're joining my son and his girlfriend. We're just having a great day, it's been brilliant."

Charlotte from Ealing
"It's the first time on a Sky Ride for me and my son Oliver. It's a big day and we're really enjoying it. Lots of people, really nice atmosphere. Really nice to be on the roads without danger of being cut up by cars.

Rob from Brentford
"I have to say it's been a really great initiative putting thousands of people on their bikes, some of whom are doing it for the first time. Looking back at today, it's a great thing to do and certainly should be a regular fixture on the calendar and I'm looking forward to the next one."

Chris from Ealing
"I have to say that this is one of the best things to happen in the borough. All power to Boris and everyone who's organised it! It's been a really good day, I've bumped into some people that I haven't seen for 20 years. It's been a fantastic day, well done to everyone involved."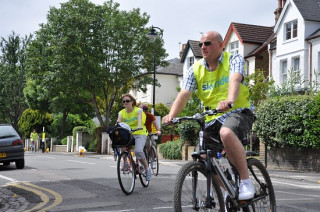 Above: The leafy suburban streets belonged to the cyclists on July 18th!
With the sun now out in force and the mercury rising further, we stocked up on energy drinks at the Gatorade truck before heading out for a second lap of the route. It was early afternoon and now the sun and the sheer number of cyclists around meant that Lammas Park's carnival atmosphere had leaked out onto the roads themselves. Families were riding along together, chatting and laughing. A number of churches along the route had got involved and set up their own feedstations, while every greenspace along the route had become a cyclists' picnic area, with families pulling off to the side of the route, unpacking a hamper and crashing out on the grass. It's when cycling and normal life mesh so naturally and seamlessly that you know you're onto a winning formula. And it was clear that the organisers of Sky Ride Ealing (with a little help from the weather gods) had cooked up the right ingredients delivering a wonderful day for Ealing and for cycling.