Sky Ride 2010: 12 Events in 10 Cities
25th May 2010 | www.goskyride.com
Above: Sir Chris Hoy and Kelly Brook launch Sky Ride 2010 in style

Sky and British Cycling have announced the return of Sky Ride - the free family-oriented mass participation cycling events in 10 cities and smaller local rides taking place across the UK.
Twelve Sky Ride events will take place in 10 cities across the UK this summer and each of these events have traffic-free streets, enabling cyclists to enjoy a day of bike-based entertainment and to explore their city on two wheels with family and friends. The free events aim to encourage thousands of people, of all ages and abilities, to get on their bikes.
The Events
The Sky Ride events take place up and down the country:
Ealing, West London (18 July)
Bath (25 July)
Southampton (25 July)
Manchester (1 August),
Middlesbrough (15 August)
London Borough of Redbridge (15 August)
Glasgow (22 August)
Leicester (29 August)
Bradford (29 August)
Blackpool (31 August)
Mayor of London's Sky Ride, central London (5 September)
Birmingham (12 September)
Sky Ride - Getting More People on Bikes
This year's events will build on the success of 2009, which saw over 110,000 people take part. Since last July, Sky's national cycling activities have encouraged almost 300,000 people to start cycling more frequently (cycling more than before Sky Ride 2009) and 92,000 of these people have become new regular cyclists (cycling at least once a month or twelve times a year). Earlier this month Sky and the Greater London Authority won the prestigious Sports Industry, Sport Participation Event of the Year Award for the Mayor of London's Sky Ride 2009.
Sky Ride is being backed by a line-up of celebrities and pro-cyclists this year who will be attending the events across the country. Participants will be able to ride alongside the likes of Sir Chris Hoy, Victoria Pendleton and Bradley Wiggins.
Reaction to Sky Ride 2010
Announcing this year's summer of cycling, Jeremy Darroch, Sky's Chief Executive said; "After the fantastic response we had from the public last summer we want to make this year's Sky Ride even bigger and better. Ultimately we're aiming to get a million more people cycling regularly by 2013. Through Sky Ride, we want to get Britain back on its bike."
Sky Ride ambassador Sir Chris Hoy said; "Sky and British Cycling have a genuine opportunity to make a positive difference to people's lives by encouraging as many people as possible to get on their bikes. I had a fantastic time at last year's events in Glasgow and London and it was great to see so many families enjoying all the activities and having fun. I am thoroughly looking forward to attending Sky Ride events this year."
Ian Drake, CEO of British Cycling, said: "Together with Sky and Sport England we want to inspire people to get out on their bikes more regularly. After the success of last year's Sky Ride, the initiative is back in 2010 to offer you the opportunity to ride your bike alongside stars such as Bradley Wiggins and Sir Chris Hoy. Sky Ride is a fun day out for the whole family and a perfect way to explore your city in a safe environment, so register today and play your part in turning Britain into a true cycling nation."
Kelly Brook, Sky Ride ambassador said; "I am so pleased to be involved with Sky Ride again this year. It is a fantastic initiative and cycling is a great way to stay in shape and keep healthy. Since being involved last year I've enjoyed getting out and about on my bike more and I can't wait to take part in the London event again this September."
Sky Ride Local - Led Rides in Sky Ride Cities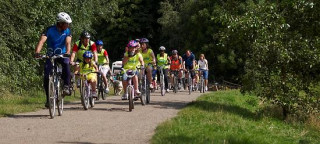 A series of Sky Ride Local events will also be taking place across the country. Trained cycle leaders from British Cycling will guide small groups of cyclists on routes in a number of the Sky Ride cities every Sunday throughout the summer. The local rides will offer a selection of routes at different levels of difficulty ranging from Ride Easy and Ride Steady for any age or ability, to Ride Well and Ride Strong for adults and teenager who want a slightly harder challenge. To find a Sky Ride Local and book a place, visit www.goskyride.com
More advanced cycling enthusiasts will also be catered for this year with the Sky Ride Etape Hibernia a competitive cycling event taking entrants over an 80-mile course in scenic countryside in County Clare, Ireland on 22 August.
Go-Ride Racing - Getting Young People into Racing
Young people are encouraged to get on their bikes this year through British Cycling's initiative Go Ride, a cycling development programme for young people, and Go Ride Racing, a national entry level competition programme that bridges the gap between school and club based coaching sessions and racing. Also Sky Ride Schools, a series of led-rides planned across the summer hosted at schools to encourage young people and their families to get cycling. Full details of the Go-Ride Racing programme
Goskyride.com
People interested in Sky Ride or cycling can visit www.goskyride.com for news, information and online registration for each of the Sky Ride events. The site will also feature tips and expert advice on how to ride safely and look stylish plus views from Sky Ride's cycling ambassadors.