Round five of British Cycling's National Downhill MTB Series produced some action-packed racing across all categories in Moelfre, Wales, on Sunday.
Spectators turned out in great numbers to cheer on the UK's top downhill mountain bike racers on this open Welsh hillside.
Overnight rain was a welcome sight as the track was damped down, providing a tackier and more consistent surface, filling riders with confidence as the day rolled on.
Come the end of practice the course had dried out thoroughly and at 11am the course was in great shape for the start of the timed seeding runs.
Race runs commenced at 2.15pm with the juvenile riders hitting the track first for their one-race run. Jamie Edmundson took top slot again for the fourth time this year and takes a strong lead into the final round.
Youth men's Matt Walker is on average five seconds in front of the competition with four wins under his belt and is now unstoppable for the series title.
Steve Felstead leaps into the series lead for the hookit grand veterans. The Dainese veteran men's category saw Nigel Page almost nine seconds in front of the rest for the ex-UCI Masters World Champion.
And in the master men's race Dave List took top honours to challenge Kye Forte for the series overall lead.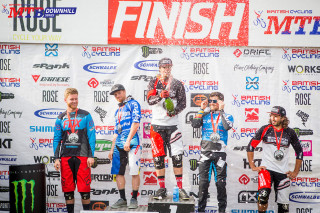 Hazel Wakefield leapfrogs Becci Skelton after taking the win today by the narrowest of margins, only two tenths of a second between them for the women's title.
The female stars of the future are gaining in number with nine riders contesting the junior women's category. Third place in the Series, Elena Melton went fastest with a winning time of 3:16, two and a half seconds in front Aston Tutt.
Spank junior men saw Jacob Dickson's second win of the series in front of current series leader Frazer McCubbing.
In the senior men Leuan Williams led out an ever-growing Thomas Proffitt by over two seconds.
X-Fusion expert men's Dan Farley made his second podium of the season, bettering his previous fourth place by storming into first place.
Manon Carpenter was challenged by current four cross world champion Katy Curd on this jump-fuelled track. Carpenter extended the time between her rival after a close call in seeding.
The elite category was won in a time of 2:29:835 by Matt Simmonds who was also the fastest through the speed trap and was awarded the fastest time of the day for a bumper pay day.
The series moves onto the final at Antur Stiniog on Saturday and Sunday, 19-20 September 2015.
Results:
Elite Men
Elite Women
Expert Men
Senior Men
Junior Men
Junior Women
Master Men
Veteran Men
Grand Veteran Men
Youth
Juvenile
Women