Photos: Sven Martin
Report: Dan Brown, Atherton Racing -
---
Rachel Atherton won the final round of the UCI Downhill World Cup round on a diverse and testing Norwegian track. In doing so, she also clinched the overall series title, despite missing the opening race of the season.
The Norwegian round was the final event of the seven round series in which Rachel claimed a win in 5 of the 6 events she raced. It wasn't all plain sailing however: Rachel had to sit out the opening round in Pietermaritzburg with an injured shoulder and then Frenchwoman Emmeline Ragot chased her all the way into the final event.
Rachel looked good from the moment she produced a great ride in Friday's qualifying session to finish 6.9 seconds clear of second placed rider Manon Carpenter. Ragot made a mistake in one of the technical sections but still managed to qualify in third place. Any top five result would have given Atherton the title but true to form she went all out to finish the season in style.
After some thrilling racing, Ragot was sitting in the hot seat. Manon Carpenter was next up but fell on her run, and then it was Rachel's turn. At the first interval check Rach was right on the mark, just one tenth slower than Emmeline. The second sector included the first major rock garden and Rachel seemed to have that dialled as she took the advantage by 1.1seconds. Through the final third and tackling the final rock garden Rach found another 1.1 seconds her time of 4.01.545 a good 2.2 seconds clear of Ragot and over eight seconds ahead of third place rider Morgane Charre.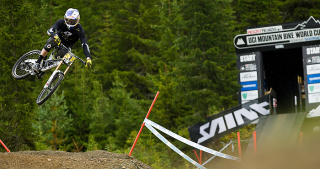 Rachel Atherton showing the style that helped her clinch her second World Cup crown
With a grand total of 1450 points Rachel claimed her second World Cup Championship and cemented her position at the top of Women's Downhill Mountain Biking.
Speaking after the race, Rachel said: "The track was ridiculously rad and reminded me of home. To win a world cup on such a cool track was an amazing feeling but to clinch the overall title at the same time was a dream come true. I'm still a little shocked after this World Cup season, a real battle, the way it should be!"
Rachel's brother and team-mate Gee finished in fourth in the men's race, taking third in the overall series which helped push the GT team to the top step in the overall team rankings, capping off a great maiden year for GT Factory Racing.
Team Director Dan Brown said "We're stoked. So overjoyed for Rachel especially after a tense start to the season. What a fantastic first year for GT Factory Racing, we've put together a brilliant team with the most supportive set of sponsors and it's paid off for us. Now we're off to celebrate."