---
On a lovely sunny afternoon in East Kent, Thanet RC held a Go-Ride Racing Grasstrack event. The event, which was a great success attracting over 35 young riders, took place on a 150m Grasstrack circuit and included a devil race, a flying lap, a mass start race, a kierin race and a team time trial. All the results were added together to get a final score.
The Results are in
In the U6s the overall winner was Max Robinson and the overall girl was Anna Redmond.
In the U8s the overall winner was Stanley Ball and the overall girl was Shannon Neame.
In the U10s the overall winner was Lance Childs and the overall girl was Hannah Bennett.
In the U12s the overall winner was Callum O'Regan and the overall girl was Megan Griffiths.
In the U14s the overall winner was Ollie Robinson and the overall girl was Kelsey Fuss.
In the U16s the winner was Jake Charlton.
And finally in the adult's race the overall winner was Colin Robinson.
To see the rest of the results click on the results link at the top of the page.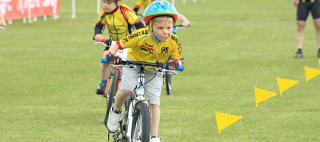 There were also other fun events on the day including track stand competitions, slow races and the forever funny mums and dads races which were perfect in entertaining the crowds throughout the afternoon. All riders received prizes and went home very happy.
Grasstrack is certainly a great event for Go-Ride racing and Thanet RC would recommend that other clubs give it a go.
---