---
A school in Rutland for boys who have struggled in mainstream education has paid tribute to the benefits of the Cycling Award for Young Volunteers (CAYV) programme after witnessing some positive results amongst its pupils.
Wilds Lodge School in Leicester is a residential for eight to 16 year-olds who have struggled in mainstream education. Many of the students may lack confidence in their ability to make progress in learning, which is why Mark Robinson, a Design and Technology teacher and keen cyclist, trialled the CAYV programme on a handful of five pupils - and after seeing it bring great success, he is keen to utilise the programme even more in the future.
"We registered as a Go-Ride School two or three years ago so we have been doing cycling activities as part of our 24 hour curriculum," Mark told British Cycling. "Then we heard about the CAYV and we thought we had some ideal candidates for it.
"What you have got to appreciate is that these kids have struggled in mainstream schools, so we look for alternative ways to build self-esteem and cycling has been a useful tool for that.
"They get to see cycling as a bigger picture. It isn't just riding your bike, but there is more to it. So as long as British Cycling keeps it going, we will always have kids to go through it."
By offering a 24 hour curriculum of planned activities and learning, Wilds Lodge School aims to turn negative feelings into more positive and optimistic views and it was recognised that Cycling and the CAYV could be an integral part of this.
The CAYV programme provides young people with a broad range of skills through opportunities to develop important skills in a variety of roles through cycling. CAYV workshops are made up of approximately six hours, but involve post course commitments, which require the young volunteers to further their experience by volunteering at a Go-Ride Club across three tasks; Running a Club, Officiating and Coaching.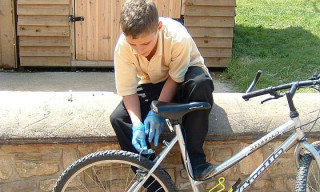 Five of the older boys have now completed the CAYV and are already well on the way to achieving their silver award. According to Mark, the enormity of value to the individuals' well-being cannot be underestimated as the youngsters are beginning to recognise that they can do good things based on their interest in cycling. Similarly, one of the most pleasing outcomes has been to see some of the pupils make cycling a more prominent part of their personal life.
Mark added: "A lad has taken on work experience at a local bike shop in Leicester and he is also hoping to take on a Cytech Course, while another has just started doing work experience at Rutland Cycling and that interest has come from the cycling in school.
"One of the boys went to a recent race in Nottingham, so some of them are accessing bits and bobs outside of the school. It has been fab, really good. What they all have realised is that there are other things they can contribute to; things like we need timekeepers and marshals. It's great, it really is."
This article first appeared in the summer edition of the Go-Ride Magazine.
Download a copy here
---