Road To 2012
UCI Mountain Bike World Cup XCE/XCO
Round 3: Nove Mesto Na Morave, Czech Republic

Homepage: Road To 2012 | British Cycling's Performance Programs Explained
Team GB Mountain Bike Roster | Join Team GB
Mountain Biking: Olympic Qualification Explained | UCI National Rankings
UCI Mountain Bike Cross Country Eliminator World Cup Round 2 Results:
Men | Women
UCI Mountain Bike Cross Country Olympic World Cup Round 2 Results:
Junior Women | Under 23 Men | Junior Men | Elite Men | Elite Women
Video Replay
Eliminator | Men Cross Country | Women Cross Country
---
Liam Killeen and Annie Last both finished inside the top twenty at the penultimate mountain bike World Cup prior to Olympic qualification closing, in the process almost certainly securing a single Olympic spot in both men's and women's cross country for London 2012.
For Killeen, 19th place was his best result of 2012 and his best World Cup finish since June 2011 in Windham. The British Cycling Olympic Podium Programme athlete moved up from 32nd on the grid, starting progress after an eight minute start loop. On lap two Killeen was 16th fastest on track, while his final lap was his fastest of the race.
The result has been the first indication of Killeen's World Cup form since a crash at the opening round in South Africa left him injured and unable to perform well in Houffalize.
In the Elite women's race, British Cycling Olympic Academy athlete Annie Last finished 20th position and looks set to be the first British woman to compete in the Games' mountain bike race in over a decade.
OLYMPIC DEVELOPMENT
Earlier in the weekend Junior riders - some of which experiencing their first mountain bike World Cup - showed great maturity and composure to race in Nove Mesto following the theft of their bikes hours before competition.
Bethany Crumpton, Alice Barnes, Mike Thompson, Iain Paton, Ed McParland and Stuart Wilcox were all without bikes on the morning of their race after they were stolen overnight leaving support staff with a huge challenge to get every rider to the start line.
But thanks to borrowed bikes, just hours later the team lined up. Bethany Crumpton competed on Annie Last's spare bike and finished ninth, with Alice Barnes riding a 29er for the first time. Borrowed from Tracy Moseley, Barnes' new bike took her to 21st place, her highest World Cup finish to date.
In the under-23 men's race, Kenta Gallagher recovered from a bad start to finish 26th - one place outside of the points - with Grant Ferguson having a rare bad day. Starting in the top ten, the first year rider had an unexplained shut down after the start loop, finishing outside the top fifty.
The team now move to La Bresse for the final World Cup before Olympic qualification closes.
Result
Elite Men
1 Nino Schurter (SWI) 1.26.46
2 Jaroslav Kulhavy (CZE) +0.00.06
3 Burry Stander (RSA) +0.00.17
other
19 Liam Killeen (GBR) +0.03.28
82 David Fletcher (GBR) +0.10.36
Elite Women
1 Julie Bresset (FRA) 1.29.17
2 Irina Kalentieva (RUS) +0.00.29
3 Katerina Nash (CZE) +0.00.48
other
20 Annie Last (GBR) +0.04.45
Under-23 Men
1 Ondrej Cink (CZE) 1.19.58
2 Michael van der Heijden (NED) +0.00.06
3 Alex Gehbauer (AUT) +0.00.50
other
26 Kenta Gallagher (GBR) +0.05.06
65 Grant Ferguson (GBR) +0.11.01
Junior Women
1 Margot Moschetti (FRA) 1.04.56
2 Barbora Machulkova (CZE) +0.01.40
3 Jenny Rissveds (SWE) +0.01.54
other
9 Bethany Crumpton (GBR) +0.04.37
21 Alice Barnes (GBR) +0.08.50
Junior Men
1 Victor Koretzky (FRA) 1.07.19
2 Romain Seigle (FRA) +0.01.42
3 Antoine Bouqueret (FRA) +0.02.14
other
34 Iain Paton (GBR) +0.07.37
49 Mike Thompson (GBR) +0.10.28
62 Ed McParland (GBR) +0.12.17
84 Stuart Wilcox (GBR) +1 Lap
---
CROSS COUNTRY ELIMINATOR
Annie Last did not compete in round two of the World Cup Eliminator in Nove Mesto, instead choosing to keep her powder dry for Sunday's cross country competition.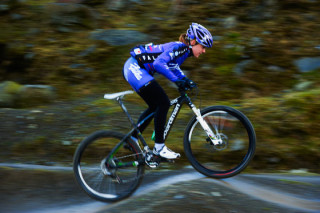 After winning round one in Houffalize, Last would have started favourite in an event eventually won by Alexandra Engen, but with Olympic qualification almost secured for Great Britain the acknowledged effect the Eliminator has on Sunday's cross country performance was surely a consideration.
Fellow British Cycling Olympic Academy member Kenta Gallagher qualified eleventh, but went out in the opening round on a significantly different course to Houffalize - mainly flat and tarmac with limited off road sections and most races decided in a sprint to the line.