Report: Yorkshire Summer Cyclo-Cross Round 8
Heavy rain in the afternoon meant that the eighth round of the Paul Milnes Yorkshire Cyclo-Cross series was a little more challenging than expected. A flowing course around the playingfields and bankings of Brooksbank School in Elland was greasy, though it didn't really cut up, with much of the water staying on the surface grass.
Seb Marsh towers over his Under-14 category rivals and he was in a class of his own, lapping smoothly and consistently and taking a convincing win. Behind him a great battle for the next three places saw Chris Barnes pull clear by a couple of lengths to claim second, with Amira Mellor just holding off Lewis Byram on the line for third.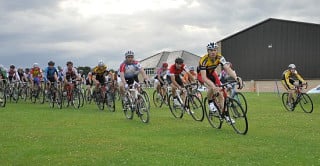 The Over-14 race began under threatening skies, but mercifully stayed dry. By half way round the first lap a quartet of riders had gone clear, with Jack Clarkson, Neil Crampton, Oli Webster and Ian Taylor marking each other closely. Clarkson looked like he was going to go clear on his own, but was pegged back as he fell twice as the slippery conditions took their toll.
Gradually Clarkson and Taylor asserted their authority and Webster and then Crampton dropped back, leaving the top two from the previous event to contest the win.
Taylor has masses of experience, whilst Clarkson is just over a year into an impressive career which has seen him move rapidly through the Yorkshire Cyclo-Cross ranks. And it was Clarkson who claimed the win after a well-timed late attack, which gave him breathing space over Taylor.
Matt Denby came through late, recording the fastest lap of the night in the process, to claim third place. Crampton was fourth.
Next Event: Harrogate 25 July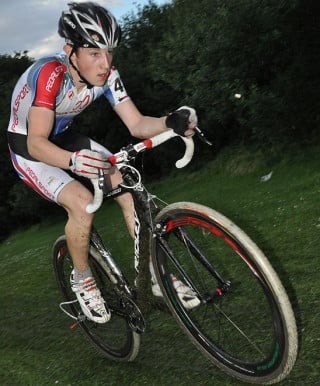 Winner, Jack Clarkson
Results
Under-14
1 Seb Marsh Bradford Oly / Paul Milnes RT 7 15:00.6
2 Chris Barnes Seacroft Wheelers 7 15:37.5
3 Amira Mellor Holme Valley Wheelers 7 15:41.5
4 Lewis Byram Holme Valley Wheelers 7 15:44.5
5 Leon Crossley Wakefield Junior Tri 6 15:09.1
6 Joe Parker Crosstrax 6 15:20.5
7 Bryan Barrett Pedalsport CC 6 15:39.1
8 Fabien Cullaigh Holme Valley Wheelers 6 16:11.5
9 Annabel Mason 6 16:28.2
10 Max Rushby Pedalsport CC 6 17:29.0
11 Alexandra France Holme Valley Wheelers 6 18:11.0
12 Felicity Gledhill Holme Valley Wheelers 5 15:14.2
13 Tom Whitworth Huddersfield RC / Salamander Fabrications 5 15:29.3
14 Ainsley Stevenson Brooksbank 5 16:15.4
15 Lucy Whearty Pedalsport CC 5 17:13.3
16 Lewis Townend 5 17:14.6
17 Sophie Thackray Bradford Oly / Paul Milnes RT 5 17:19.6
18 Adam Fortune Pedalsport CC 5 17:35.8
19 Marcus Hiley Pedalsport CC 5 18:31.3
20 Ava Oxley 5 19:13.9
21 Thomas Sheard 4 15:56.5
22 Charlotte Siddal Pedalsport CC 4 16:13.4
23 Tom Scott 4 16:54.5
24 Lewis Watson Aire Valley RT 4 17:11.7
25 Nathan Fortune Pedalsport CC 3 15:05.3
26 Alexandra Bailey 1 01:58.9

Over 14
1 Jack Clarkson Pedalsport CC 11 00:41:49.9
2 Ian Taylor Craven Energy Tri 11 00:42:10.8
3 Matt Denby Zepnat RT 11 00:42:33.6
4 Neal Crampton Crosstrax 11 00:42:36.5
5 Oliver Webster Crosstrax 11 00:43:18.8
6 Johnny Limebear Batley CC 11 00:44:34.9
7 Kieth Murray Hope Factory Racing 11 00:44:45.3
8 Simon Rogers OPH 11 00:44:50.4
9 Robin Bradbury Aire Valley RT 11 00:44:54.4
10 Jon Watson Team Charge Bikes 11 00:45:38.3
11 Darrell Bradbury Norton Wheelers 11 00:45:43.3
12 Nick Barnes Seacroft Wheelers 11 00:45:59.5
13 Nick Kotlarewski Bradford Oly / Paul Milnes RT 11 00:46:10.0
14 Marcus Spencer Batley CC 10 00:41:56.0
15 Chris Baines Buxton CC 10 00:42:32.2
16 Rick Crabtree Pedalsport CC 10 00:42:35.1
17 Chris Taylor Pedalsport CC 10 00:42:37.6
18 Edwyn Oliver-Evans East Bradford CC 10 00:42:39.4
19 Andy Whitworth Huddersfield RC / Salamander Fabrications 10 00:42:51.9
20 Andy France Holme Valley Wheelers 10 00:43:11.1
21 Tom Jolly 10 00:43:23.3
22 Julian Hodgson Pedalsport CC 10 00:43:25.6
23 Justin Morgan Pedalsport CC 10 00:43:33.8
24 Myles Chandler Batley CC 10 00:43:35.3
25 Oliver ????? 10 00:43:37.2
26 Andrew Pearson Huddersfield Star Wheelers 10 00:43:46.3
27 Dave Micklethwaite Velocity Cycles 10 00:43:55.7
28 Wayne Nicholson www.yorkcycleworks.com 10 00:44:21.3
29 Ben Pygott Pedalsport CC 10 00:44:24.2
30 Ralph Bentley Otley CC 10 00:44:28.6
31 Graham Piccavey Huddersfield Star Wheelers 10 00:44:42.3
32 Scott Weston Crosstrax 10 00:45:17.4
33 Martin Jones Colnago 10 00:45:18.5
34 Nigel Dickson Huddersfield Star Wheelers 10 00:45:19.0
35 Giles Bailey Huddersfield Star Wheelers 10 00:45:28.4
36 Brian Perks Pedalsport CC 10 00:45:37.1
37 James Dyson Pedalsport CC 10 00:45:50.4
38 Dave Senior Huddersfield RC / Salamander Fabrications 10 00:45:58.1
39 Stephen Rimmer Holme Valley Wheelers 10 00:46:14.1
40 Peter Dimitisevic 10 00:46:15.9
41 John Belson 10 00:46:36.9
42 Paul Gilbert 9 00:42:07.1
43 Joe Howard Wakefield Tri Club 9 00:43:20.5
44 Anthony Greiff Columbia Bikefood 9 00:43:43.7
45 Mark Rushby Pedalsport CC 9 00:45:02.1
46 Nikola Butler Pedalsport CC 9 00:46:19.5
47 Richard Stansfield Pedalsport CC 9 00:46:33.7
48 Phil Thackray Bradford Oly / Paul Milnes RT 9 00:46:51.1
49 Timothy Evans East Bradford CC 9 00:47:24.2
50 Stephen Thewliss 9 00:47:27.4
51 John Mason 8 00:42:09.2
52 Peter Stone 8 00:42:12.0
53 Peter Bradford Bradford Oly / Paul Milnes RT 8 00:43:29.9
54 Steven Cavell Condor RC 8 00:43:39.8
55 Chris Parker East Bradford CC 8 00:44:06.8
56 Brian Crossley 8 00:44:09.7
57 Rebecca Wormersley Sowerby Bros CRT 8 00:44:12.0
58 Gary Marsh Seacroft Wheelers 8 00:47:22.7
59 Fred Rothwell Bradford Oly / Paul Milnes RT 7 00:43:05.8