Location: Astley and Tyldesley Miners Welfare Club, Manchester
Event: 11 September 2011
---
Gin Pit was the venue for the 2011 British Cycle Speedway Team Championship Finals on Sunday. Hard work by Astley and Tyldesley club members in the weeks leading up produced an excellent racing track and venue for the top domestic team event of the season.
Poole had too much for a resilient Leicester side at Gin Pit
The holders Leicester were in action in the first semi-final against surprise qualifiers, East Newport. Any thoughts Leicester may have had of an easy passage to the final were jolted as East Newport raced into a seven points lead after just two races. However, Leicester moved into the lead in heat 5 and were never headed after that. Full credit though to the Welsh underdogs, who gave it their all and restricted Leicester to a 93-83 win.
The second semi-final between Poole and Wednesfield, the two most successful teams in the history of this competition, proved to be a real hard fought encounter. The lead changed hands several times before Poole took a 7-3 in heat 14 to move into a five points lead. They kept the pressure on in the last four races to run out 92-83 winners.
Leicester lined up for the final with three veteran (over 40 riders) in their team, whilst five of Poole's octet were teenagers. The opening races were cagey and tactical, as the lead changed hands several times, before Leicester recorded two successive heat wins to go into the interval with a 46-41 lead. Heat 12 proved to be the turning point of the match, as both Leicester riders received race exclusions for different offences. This gifted Poole a 7-0 heat win and they moved into a six points lead.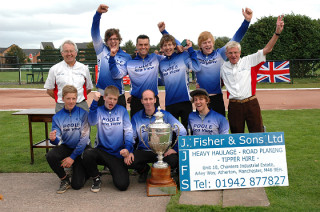 The champions celebrate their victory
The match was effectively won for Poole when they took a 7-3 in heat 14, to move into a 10 points lead. As in the semi-final, the superior fitness of Poole's youngsters was decisive and they turned the screw as Leicester tired, to run out winners by 93.5 points to 79.5 points (there was a dead heat for second place in heat 16, hence the half points awarded). A tremendous second half performance by Poole saw them outscore Leicester by 20 points in the second half of the match.
The young Poole team thoroughly deserved their victory on the day and extended their record of British Team Championship victories to a new record of 13. Poole skipper Pete Young, ironically the only veteran on their team despite his name, received the magnificent cup from Leigh MP Andy Burnham.
Results
British Team Championship semi-final results
East Newport 83: Dan Bock 16 (1), Aaron Herbert 15, Aaron Hughes 14 (1), Correy Burnell-Jones 13, Chris Davies 9 (1), Matt Davis 7 (1), Neil Power 6, Nicky Evans 3.
Leicester 93: Kevin Burns 15 (1), Phil Howells 15, Craig Marchant 14 (1), Norman Venson 14, Leon Yelland 12, Nicky Whitehead 10, Jason Ashford 8 (3), Ashley Doughty 5.
Referee - Bob Prince (West Midlands)
Wednesfield 83: Chris Jewkes 19, Mark Griffiths 18, Lee Aris 14 (1), Nick Perry 10, Luke Draisey 8, Tom Haddock 7, Tony De-Leon 5, Matt Haddock 2.
Poole 92: Tom Colling 18, Chris Roberts 14 (1), Pete Young 14 (1), Sam Hearn 13, Leyton Glover 11 (1), Aaron Morgan 9 (2), Tom Reed 9 (2), Matt Mildon 4 (1).
Referee - Mark Winwood (West Midlands)
British Team Championship final result
Leicester 79.5: Craig Marchant 14.5, Leon Yelland 14, Phil Howells 13 (1), Mark Newey 13 (1), Kevin Burns 9, Jason Ashford 7 (2), Norman Venson 5, Nicky Whitehead 4 (1).
Poole 93.5: Tom Reed 17 (2), Pete Young 15 (1), Tom Colling 15, Aaron Morgan 13.5 (3), Chris Roberts 13, Sam Hearn 9 (1), Matt Mildon 6, Leyton Glover 5 (1).
Referee - Bob Prince (West Midlands)