Follow britishcycling.org.uk on
Report: Cyclespeedway Under-13 Club Championships
Posted August 2 2010
Kesgrave 31 July 2010 | Cyclespeedwayphotos.co.uk
After a lot of heavy rain overnight and consistent drizzle all morning the track was looking very heavy and the riders were going to need to work hard to succeed today. After some last minute track preparation and finally the racing got under way with the first semi consisting of holders Ipswich, Poole, Exeter and Sheffield; with Horspath having pulled out two days previous.
Poole made an early statement of their intent with a win in the first race by Aaron Smith whilst Ipswich took the next two from Terry Gilbert Rolfe and Richie Fellgate; Richie's being especially impressive when he had to come from behind to beat Harry Boucher who unfortunately fell in the incident. In the final race of the first four Exeter took the win with Charlotte Cox.
The second set of four races saw Poole taking three wins Aaron again, Pass Chattin and Harry Boucher. The fourth race winner was James Robinson from Exeter. Within the races Ipswich took all second places so at the half way stage Ipswich were leading with 26 points whilst Poole and Exeter were vying for second spot with 22 and 21 points respectively, Sheffield were trailed off on 10 points.
The third quarter of the semi saw Ipswich and Poole start to dominate with two wins each so saw them build up a healthy advantage before the final set of races.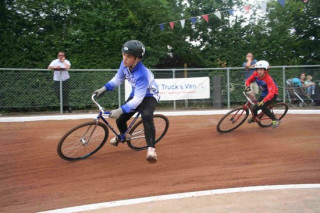 The final four races went to form with the rest of the meeting with Aaron Smith from Poole completing his maximum and Harry Boucher winning his third race of the day. Matt Hill of Ipswich picked up his second win of the day and something for Sheffield to cheer in the final race when Kyle Brough took the win.
Final Score - Ipswich 51. Poole 47. Exeter 38. Sheffield 23.
So it's Ipswich and Poole off to the final later in the afternoon although they did not have it all their own way, as for a time Exeter were right in the mix. The first semi final had shown the teams from the forthcoming second semi final how much they would need to step up to the plate to be able to beat them in the final.

After further track preparation and no further rain the second semi final got underway with the hosts Kesgrave, Leicester, Astley and Tydesley, East Newport and Norwich; Wednesfield having pulled out a week ago.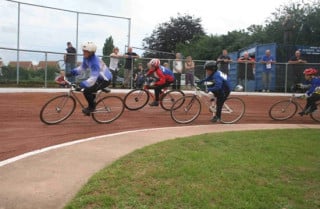 Heat one went to the impressive Adam Phillips of Astley, two and three went Kesgrave's way with Phillip Day and Ross Knight taking the honours. In heat four Khalid Mitha of East Newport took the honours in a race marred by a nasty crash for Ross Green of Astley which ensured he took no further part in the meeting. Heat five was won by Liam Davis from Leicester who stalked Matt Gifkins of Kesgrave for three laps before passing him.
In the next five races Kesgrave took wins in all their races via George Wiggins, Matt Gifkins, Phillip Day & Charlie Reeve. The fifth race winner was Adam Phillips. At this half way point Kesgrave were already away in the distance leaving the other four teams to fight for second spot.
For the third round of races Kesgrave were still taking the wins and accumulated three more through Ross Knight, Matt Gifkins and Charlie Reeve, Adam Phillips took the chequered flag for the third time whilst Ethan Lewis of East Newport took his maiden win of the day. The battle for second place was now heating up with only four points separating East Newport, Norwich and Leicester.
Norwich took heat 16 with Oliver Riley, The honours in heat 17 went to Liam Doughty and heat 18 for Phillip Day of Kesgrave. Adam Phillips completed his maximum in heat 19 so it left us going into the final heat with Norwich one point clear of Leicester for second place. Young Dane Parkins from Norwich made the gate and led for two laps before being passed by Liam Davis of Leicester, unfortunately for Dane he lost his momentum and ended the race in last position thus leaving second place in the hands of Leicester.
Final Score - Kesgrave 53, Leicester 39, Norwich 37, East Newport 36 & Astley & Tydesley 26.
So Kesgrave and Leicester join Ipswich and Poole in a final that leaves the mouth watering. Commiserations to Norwich and East Newport for just missing out but spare a thought for Astley who were down to three riders due to Ross Green's unfortunate injury in his first ride.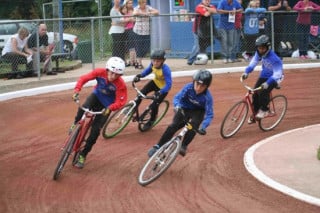 With an hour between this semi and the final plenty of tyre packing went into the track and a good surface was created for the final. The pre-match presentation was made of the riders to the sponsors Neil and Gill Mason of the Sipton White Horse and then the action got underway.

The first two heats were won by Kesgave's Phillip Day & Ross Knight with a superb sweep for third to first in one lap. Honours in the third race went to Poole's impressive Harry Boucher and Ipswich took the honours in Heat four via the equally impressive Richie Fellgate.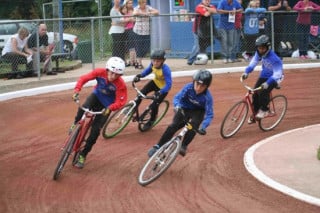 With Ipswich's three second places and a win this saw them go into a lead after the first set of heats with 13 points, Kesgrave and Poole were tying in second with 11 points a piece with Leicester tailing off with five points.
The second set of four saw Ipswich take the honours twice through Terry Gilbert Rolfe and Dan Knights, Kesgrave and Poole took a heat win each through Phillip Day and Harry Boucher respectively. Heat seven was the pick of these races with Terry Gilbert Rolfe fending off Matt Gifkins before Pass Chattin can steaming through to overtake Matt and almost get Terry at the end. You could have thrown a blanket over the three of them going into the final bend. So at the end of this set of racing each team had actually doubled their points with Ipswich now leading Poole and Kesgrave by four points.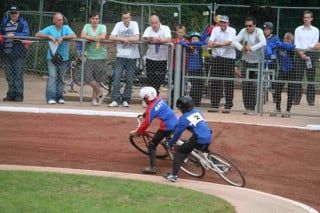 The tension was now building as Ipswich had been consistently building up their lead whilst Kesgrave and Poole were taking points from one another. Heat nine saw a win for Poole's Aaron Smith from Kesgrave's Charlie Reeve, Heat ten saw Harry Boucher of Poole taking the chequered flag ahead of Dan Knights of Ipswich. Ipswich took heat 11 and 12 through Richie Fellgate and Matt Hill.
So amazingly enough each of the four teams had again matched their totals from the first two sets of racing but time was running out for Poole and Kesgrave as Ipswich led by six points with four to go.
Ipswich then decided it was time to clinch the title in style and won the next two heats through Matt Hill and Richie Fellgate so now the focus going into the last two heats was second place with Poole and Kesgrave still tied together and both teams with their strongest two riders in these heats. Aaron Smith took advantage of being inside Ross Knight in heat 15 so zoomed from the gate for victory then we saw Harry Boucher complete his maximum over Phillip Day in heat 16 to clinch second place for Poole overall.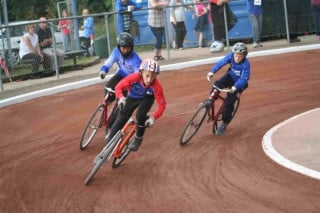 Final Score of a pulsating final was Ipswich 51, Poole 46, Kesgrave 44 & Leciester 19.

Ipswich were now deserved Under 13 champions for the second year running, they did not let the tag of favourites get to them and owe their victory to the consistent scoring right through the team. Poole had two of the most impressive riders on view in Harry Boucher and Aaron Smith. The young guns of Kesgrave gave it their all and these riders get another chance as they all qualify next year and Leciester made up he quartet but I think he exertions of their semi final possibly took its toll however Liam Davis was taking vital points off Poole and Kesgrave riders. Not only was it an exciting final it was also raced in a tremendous spirit and ref'ed in a sensible manner befitting the occasion.