Follow britishcycling.org.uk on
Horspath Hammers Nail the Opposition
2010 Veteran Club Championships, 20th June 2010 | Report and Images: Andy Whitehouse
Horspath veterans added another trophy to their cabinet on Sunday 20th with a powerful display of cycle speedway at the recreation ground.Fine rides by all five of the Horspath team ensured victory against old rivals Poole,Wednesfield and East London.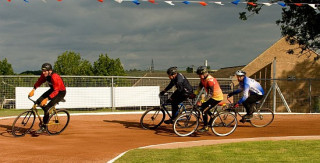 Veteran racing is always competitive at this level and nothing is given away by any rider - Saturday's clash proved this point emphatically with close racing and crashes. It may take a little longer to get up off the floor but the riders are always ready for the re-run when pride is at stake against old adversaries! Former British, European and World champions all compete so racing is clever and canny and the day gave the crowd many head to head battles.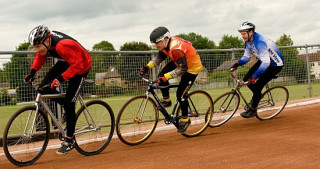 Poole got off to flying start taking the win in the first two heats with fine rides from Dave Murphy and Colin Wheeler respectively with Horspath's Ian Lawrence and Paul Gibbs taking three points. Wednesfield's Steve Mullinder took a nasty tumble in heat two but managed to get back on his bike to claim the point. Both Horspath and Poole were proving to be the stronger teams and the final looked to be splitting into two separate battles with the two favorites fighting it out for the top spot and Wednesfield and East London looking to claim the bronze position.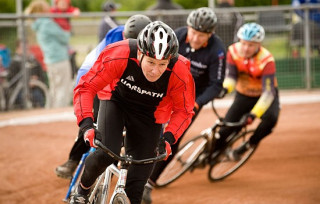 Heat six saw Horspath's number five rider make his first appearance in the final when they substituted Steve Harris for Paul Gibbs. Sending a warning to the opposition, Harris took a dominating win proving far too strong even for second placed rider Pete Young. Mike Burgess was having an excellent day's racing taking heat seven with a fine win from Wednesfield's Mick Aris and with Poole's Colin Wheeler bringing up the rear the points gap was beginning to stretch with Horspath five points ahead of Poole's twenty.
Heat eight gave the day's best race with Wednesfield's Mark Griffiths and Horspath's Steve Harris shoulder to shoulder from the tapes, right to the chequered flag and Griffiths taking the four points on the line. By the half way point Horspath were ekeing out a comfortable lead of eight points from Poole's 22 and Wednesfield still holding third spot ahead of East London. Mark Griffiths was back on the start grid in heat nine in back-to-back heats, taking another great win - this time from Poole's Colin Wheeler. From heat 12 there was no stopping the Horspath train with all five riders taking heat wins and leaving the opposition to sort out their own racing and a punch in the air by Mark Janes in the final heat summed up what the title meant to the Oxfordshire club taking the Dash trophy on their own track.

Result
HORSPATH 57 POINTS: Mike Burgess 15,Steve Harris 15, Ian Lawrence 13, Paul Gibbs 7 Mark Janes 7
POOLE 44 POINTS: Pete Young 14, Dave Murphy 12, Colin Wheeler 10, Rob Haywood 8
WEDNESFIELD 32 POINTS: Mark Griffiths 12, Mick Aris 8, Roger Ellis 6, Steve Mullinder 6
EAST LONDON 27 POINTS: Les Stevens 8, Dennis Hubble 8, Dave Tulloch 6, Kevin Smith 3, Steve Woodruff 2