Follow britishcycling.org.uk on
Report: British Team Championships - Wednesfield v Birmingham
Event: 6th June 2010 | Report and Images: Andy Whitehouse
For the third year running these two Midland clubs were drawn together in the first round of the team championships.With Wednesfield looking to go one better in 2010 and retake the title (losing out to Horspath in 2009) and local rivals Birmingham looking to break their duck in the competition, the match promised to give the crowd some mouth watering racing. However with Birmingham losing Paul Heard from the line up after a recent crash and with Wednesfield fielding their strongest side, the meeting turned out a one sided affair in favour of The Aces.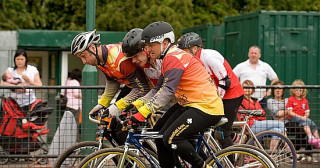 The opening heat started poorly for Birmingham captain Chris Timms with an exclusion for a tape violation and with Wednesfield captain Chris Jewkes and team mate Matty Beharell on home soil they proved too strong, taking the first seven points of the day, leaving Birmingham's Russ Evans to bring it home in third place. Dominating the Birmingham scoresheet was Marcus Wadhams and heat two saw the ever present high scorer take his first four points of the day on the way to a twenty point maximum. Heat four saw a fall from Russ Evans on the back straight - the Birmingham rider found himself lapped by the remaining three riders and facing a walk back to the pits.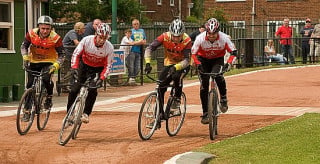 The match was not going Birmingham's way and heat five seemed to sum up their day with Bob Prince falling on the first bend and Chris Timms suffering his second exclusion for a tape violation. Wednesfield's Roger Cox and Chris Jewkes took their second 7-2 of the day and a fifteen point lead. A fine tussle in heat seven between Jewkes and Birmingham's Nathan Groves gave the crowd four laps of fine speedway racing with the Wednesfield captain proving the strongest of the two riders and taking second place behind team mate Matty Beharrell.
Heat nine saw Wednesfield's Terry Norman excluded for a tape violation which left team mate Sam Smith to battle things out with Ben Mould and Mark Winwood. The best race of the day saw four laps of top draw action between Smith and Mould with the Wednesfield rider taking the four points and giving the Aces a 22 point lead going into the interval 54-32.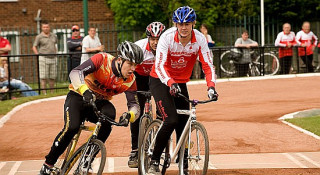 Heat ten gave Marcus Wadhams his third win of the day and with Wednesfield's Roger Cox and Scott Doherty taking second and third place respectively the heat gave us a five-all draw. A tangle of bikes in heat thirteen saw Scott Doherty and Russ Evans looking at referee Colin Simmonds waiting for his whistle to stop the race but he was having none of it and with Terry Norman and Chris Timms still racing the pair had to untangle and get on with the racing.Heat fourteen saw the win awarded to Wednesfield's Mark Griffiths after Bob Prince had ridden Sam Smith into the back straight fence, picking up an exclusion from the referee. A win in heat sixteen by Marcus Wadhams gave the Birmingham rider his maximum twenty points and well deserved applause from crowd and riders alike. However, Wadhams couldn't do it alone, and Wednesfield romped away to victory by thirty seven points, the final score standing at 106-69.

Result
WEDNESFIELD 106: Mark Griffiths 17+2, Matt Beharrell 17+1, Lee Aris 16+2, Chris Jewkes 14+4, Terry Norman 13+1, Scott Doherty 12+1, Sam Smith 9+2, Roger Cox 8

BIRMINGHAM 69: Marcus Wadhams 20, Ben Mould 14+1, Nathan Groves 10, Chris Timms 6, Mark Winwood 6,Russ Evans 5, Paul Timms 5, Bob Prince 3