Report: East Newport Bag South and South West Rose Bowl
Event: 23rd May 2010 | Report: Gilbert Davis
Above: East Newport celebrate their victory in the company of event sponsor Sheik Raymond of Yaskin Sports Limited.
On a glorious Sunday 23rd May East Newport Cycle Speedway Club hosted (for the first time in their short history) the South and South West Rose Bowl Final.

With a healthy crowd in attendance and under the watchful eye of referee Mr Ian Sizer the six competing teams East Newport, Exeter, Hellingly, Swindon, Newport and defending Rose Bowl winners Southampton lined up in this 30 heat event on the well prepared East Newport shale.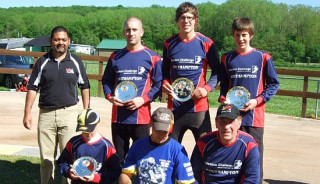 Above: Runners-up Southampton had to fight hard in the final heats to secure second spot.
With the guarantee of Gold Cup action later in the year at Southampton, by finishing 4th or above, everyone point on offer was well contested for.
East Newport started the meeting as favourites and didn't disappoint the home crowd by lifting the Bowl for the 2nd time in their history on 60 points.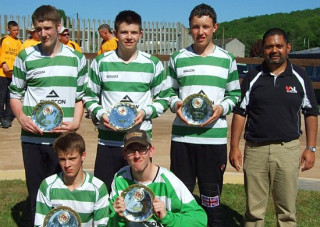 Above: Exeter pipped Hellingly for third by a single point, but both teams did enough to qualify for the Gold Cup later in the year.
Southampton came home in 2nd place 52 points, but needing a 1st and 2nd in the last race of the day to secure 2nd place managed to achieve this after some good team riding by former British Individual Champion Gavin Wheeler.

On reflection a great day of racing was had by all and both seeded teams in the Gold Cup Final Poole and Horspath will have to be at their best to stop one of these none premiere league sides from winning the Gold Cup later in the season at Southampton, it was also pleasing to see former vet riders from years gone by in attendance.

Awards were presented to all riders and referee by Mr Sheik Raymond of Yaskin Sports Limited who is hoping to attend more matches both at East Newport and Filton in the future.

Result
East Newport 60:R Hughes 15+1, A Hughes 15+3, N Power 15, N Evans 15, L Harvey 8+2
Southampton 52: C Wheeler 15, T Collin 10+1, G Wheeler 16+3, D Miller 13, H Chant dnr.
Exeter 51: S Dart 14+2, A Coles 6, A Herbert 14, D Winchester 4, C Nethercott 13+2
Hellingly 50: E Ridley 6, M Hollebon 17+1, N Hollebon 18, Z Parsons 9+2, S Archer dnr.
Newport 49: J Harrold 8+1, D Murphy 17, C Simmons 12+2, C Davies 12, O Sidwick dnr
Swindon 31: M Glover 8, F Joachin 8+1, P Matthews 6, A Glover 9