Follow britishcycling.org.uk on
England v Wales International (Seniors)

Story posted April 14, 2010, by Andy Whitehouse
The second international meeting on April 10 at Filton saw the senior riders from England and Wales going head-to-head. With England fielding a fresh team while half of the Welsh team was composed of riders who had raced in the Under 18 event, there were a few tired legs in the Welsh camp before a pedal was turned.

The Welsh however acquitted themselves well and the final score does not reflect some excellent racing from the men in red. England won the toss and took grids two and four and just like their younger counterparts who earlier had got off to a storming start, the seniors took the first heat 7-3 with an on form Andy Angell taking the win followed home by team mate Lee Smith. Wales captain Dave Murphy was left standing at the grid in heat three with a bike that wasn't going anywhere and retired with a mechanical leaving him having to watch team mate Mark Carmichael take a fine four points.
Heat seven gave Mark Carmichael his second win of the meeting with another fine win from Lee Smith. A tussle between Andy Angell and Dave Murphy saw Angell knocked from his bike on the second lap but the Englishman remounted to take his point. Two 7-3 heat wins from the Englishmen in heats eight and nine took the racing into the interval with England seventeen points to the good, 52-35.

Heat ten gave England their fourth 7-3 of the afternoon with a storming ride from Sean Rudman and Jamie Brown to take the points with Ryan Hughes taking third and a tired looking Ben Mould rolling in fourth. A classic last bend move by England captain Chris Jewkes gave the Wednesfield rider his second win of the day after Mark Carmichael had nudged Chris Timms onto the centre green which left just enough room for Jewkes to sneak underneath to take first place. Two England exclusions in heats thirteen and fourteen by Adam Peck and Sam Hearn saw Wales unable to capitalize and although taking five points from both heats, they should have really taken seven points from the heats.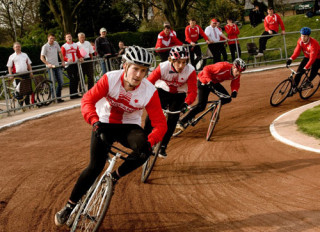 Two wins from rider of the day Mark Carmichael in heats fifteen and seventeen wasn't enough to give the Welsh team a more respectable score and England romped away to a 107-75 victory. A fine days riding from both England and Wales on a track that certainly deserves to be used more than it is now. The England team certainly has strength in-depth both in the Under 18 and senior squad and the Welsh team, although a small squad, has top class riders such as Mark Carmichael and Ben Mould and certainly showed a lot of promise for the future.
RESULT
ENGLAND 102
Chris Timms 15, Sam Rudman 15, Adam Peck 14, Chris Jewkes 13+2
Lee Smith 13+2, Jamie Brown 13+2, Andy Angell 13, Sam Hearn 8+2

WALES 75
Mark Carmichael 19, Ben Mould 14, Mark Winwood 10, Chris Davies 9+1,
Ryan Hughes 9, Dave Murphy 6+1, Aaron Hughes 4, Matt Davies 4
Related Story