Location: Preston Sports Centre, PR2 1SG
Event 23 September 2012
---
It was with great sadness that the world of cycling learnt of the death of 18 year old Lewis Balyckyi in a cycling accident on the road on Tuesday 18 January 2011. Lewis had been a member of the British Cycling Talent Team and was a very popular rider of great promise.
Now, for the second year running, Lewis' father Kevin will be holding a memorial sportive in honour of his son with a focus on raising money for the Lewis Balyckyi Trust Fund.
When we spoke to him recently, Kevin explained the motivation behind the Fund: "The main reason we are raising money is to sponsor a rider. Originally it was going to be a Junior rider because of the big step up in fees, distances to races etc, but we didn't get that many junior applicants last year for some reason, so we have opened it up to U23s.
"We sponsored Ashley Marshall from Yorkshire this year" Kevin continued. "He received £300 a month for the duration of the road season, a total of £2400. The main criteria is to help someone who has the ability and drive to succeed at National level but not necessarily all the means to compete equally with the top riders. They do not have to be winning everything at this stage but have the determination to train hard and desire to improve."
"We know how expensive racing can be from when Lewis was racing, and if we can help someone to succeed where they might otherwise have had to give up their dream then we think that will be a fitting legacy from Lewis and he certainly would have been proud."
Turning to the event itself, just as last year, there will be three rides as Kevin explained:
"There is a family ride which is a marshalled flat ride to an ice cream shop and back. There is an intermediate ride which takes in the trough of Bowland. There is one longish climb which goes on for a few miles. The "man up ride", as Lewis used to call it is 100Km in total. This goes over the Trough of Bowland and then climbs over Waddington fell. All rides are open to all, male and female."
He continued: "There is something for everyone, it doesn't all have to be done in one go: it's not a race" Lewis' father Kevin emphasised.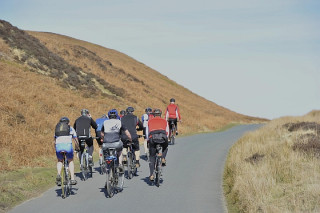 There will be no feed stops as this is a charity ride with the main aim to raise funds for the Trust Fund. However, Kevin has confirmed that he has had a word with a couple of cafes en route and they will be doing some subsidised meals for riders during the event.
"There is one in particular called "The Cobbled Corner" which has hired the village hall out this time around after they got swamped by riders last year. Everyone stopped after the climb and it's only a small corner café so they were swamped. The village hall will be better not only because of the extra space but there will also be more areas to park your bike this year too."
Entries are going well, with about 60 people having signed up. This is similar to the same point last year but then, around 200 people signed up on the day.
"This was obviously great but we are hoping that more people will sign up in advance so as not to swamp the people on the sign up table too much this time around." Kev commented
Applications for the rider sponsorship will be open shortly after the memorial ride via the website, LBTF.org, and will remain open until the end of October. The funding available will depend on how much has been raised but organisers are hoping it will be at a similar level to last year.
"We really want to encourage people to come and have a great day's riding on Lewis' favourite roads to help us raise as much as possible. If enough is raised," Kevin commented "we may be able to sponsor two riders which would be really great."
Entries are still available for The Lewis Balyckyi Memorial Ride – enter now using British Cycling online entry.