---
The completion of the National Indoor BMX centre, based at the National Cycling Centre in Manchester, and adjacent to the world-famous Manchester Veledrome was celebrated at a special event on Friday 21 October 2011.
The new £24m BMX centre will host major BMX events attracting riders from all over the world. The country's top riders will also be training at the centre in the run-up to the 2012 Olympics.
However the centre is not just for elite riders – Manchester school children will have access to the track and keen local cyclists will be able to attend discounted 'pay and ride' sessions in the evening and at the weekend.
An opening address from Councillor Mike Amesbury, Manchester City Council Executive Member for Culture and Leisure, was followed by a question and answers session involving Brian Cookson, British Cycling President, Charles Johnston, Sport England Property Director, Sheldon Phillips, Head of Regional Major Events Northwest Regional Development Agency and Eddie Smith, Chief Executive New East Manchester.
This was followed by a spectacular show during which some of the country's leading young BMX riders showed off their skills.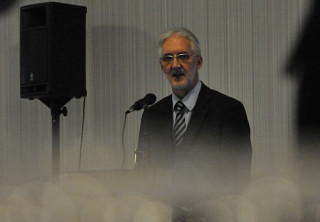 British Cycling's President, Brian Cookson outlined the impact the new venue will have:
"The BMX Arena is a superb training facility which will help Britain's elite riders in their preparations for London 2012 and Rio 2016 and beyond. Multiple BMX World Champion Shanaze Reade is just one of many athletes already using the indoor track taking full advantage of being able to train on an indoor super-cross track on a daily basis.
It will serve as a fantastic community facility for Manchester which will give local children and adults an opportunity to experience the fun and thrill of BMX all year round.
Next year's Olympics and Paralympics are not just about elite athletes winning medals, but the benefit staging the Games in Britain will bring to communities. That is precisely what this BMX Arena will do for the people of Manchester. This is the only sports venue in Britain which has been built as a direct result of our country's successful bid to host the Games but which is not being used to stage an Olympic event. Instead it will benefit this city and its people for generations to come.