Kielder Forest hosted this year's HSBC UK | National MTB Marathon Championships as part of the Deadwater 100 race. Kielder Forest, Northumberland, did not disappoint with this classic mountain biking location serving up a brutal 31-mile lap that took in a little something for everyone.
The riders started down in the shadow of Kielder Castle and after a climb up the fire road, the riders were sent straight into a technical black-graded descent which kept many of the riders on their toes.
This mix of open fire road and sublime single track was the theme of the 31-mile lap which many riders used just one word to describe; 'brutal'.
Out first in the morning was the women's race with the senior and veteran's fields being contested over two laps of the Kielder course.
In the senior race, Isla Short took the win by 4 minutes after 6 hours of racing, which left Isla on the floor in exhaustion at the finish line. Isla adds the National Marathon Championship to her XC National Championship she won only weeks before.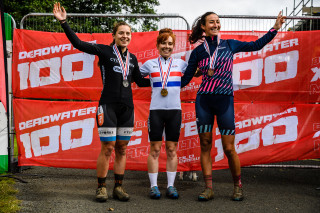 In second place was Amy-Jo Hansford with a time of 6:18:23 followed by Joanne Thom. The over 40s women's race was won by Karen Price, with Melanie Alexander in second and Ruth Miller coming home in third. Virginia Roberts dominated the women's over 50's race with a winning margin of 39 minutes over Julie Bratton with Lucy Rogers finishing her two laps in third.
The men's race started with a sprint for the first climb with a mixed field which included the current reigning national champion. Some familar faces to the road racing scene were part of the mix to keep the XC riders honest on the climbs.
This is where the Kielder course excelled, it had enough flat out climbing to keep the road specialists in the race with enough tough tech sections to allow the pure XC riders to show their skills. At the front of the race, there was a pack of 5 riders for most of lap 2 until the closing moments saw the front 5 places decided with a margin of just 3 minutes after 5 hours of racing.
The first man over the finish line was Jacob Scott with Frazer Clacherty in second and Connpr Swift rounding out the podium in third. In the men's over 40's race, Hope Factory Racing's Paul Oldham took the win by 15 minutes over Tony Fawcett in second and Sam Humphrey in third. Last but by no means least the men's over 50's race saw Pete Middleton taking the title ahead of Anthony White in second and Andrew Turner in third.