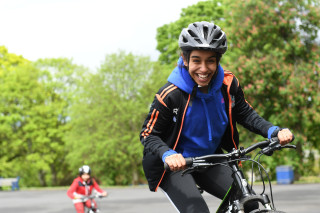 British Cycling and leading sport for development charity, Sported, have today published new research into the motivations, opportunities and capabilities of young people from lower socio-economic groups and diverse ethnic communities to take part in cycling activities.
Through engaging with young people and community group leaders through focus groups, interviews and online surveys, the findings will play a key role in shaping British Cycling's work to engage the next generation, one of the seven priority areas of its new 'Lead our sport, inspire our communities' strategy.
Key findings from the research include:
Cost of and access to bikes and concerns about road safety are key barriers to participation.
There is a lack of diverse role models in cycling, particularly for Muslim communities.
Young people are more likely to engage when cycling is offered as part of a range of activities by groups.
Greater access to funding or equipment is needed to support groups to start delivering activity.
The research makes a number of recommendations for British Cycling and other activity providers, including where to reach younger audiences, the importance of making activity fun and engaging, and minimising barriers to access. The full report and recommendations can be found here.
As part of the organisation's new strategy to 2024, British Cycling is aiming to increase the number of children and young people riding in clubs or groups by 20%, and a 10% increase in participation amongst disabled children and those from both diverse ethnic communities and low socio-economic backgrounds.
This builds upon British Cycling's work to make the sport more inclusive, as set out in its Our Ride equality, diversity and inclusion strategy, which was published in July 2021.
British Cycling Strategic Programme Manager, Abi Dean, said:
"We know that too often activity for children and young people is driven by presumptions about their capabilities, opportunities and motivations, rather than listening to what they have to say themselves.
"Through working with the team at Sported and their network of community groups we've been able to engage directly with young people and group leaders from lower socio-economic groups and diverse ethnic communities, and uncovered some really strong insights into what we do well and where we have room to improve.
"We now look forward to translating these findings into positive action through work with our own network of clubs, clubs and volunteers, as we work towards the ambitions set out in our new organisational strategy."
Working mainly in areas of deprivation and with a focus on inequality, Sported offers professional expertise, resources and operational support to over 2,600 sport and activity groups who between them regularly reach nearly 500,000 young people, including nearly 170 groups who offer some form of cycling activity.
Sported Deputy CEO, Tom Burstow, said:
"We are delighted that, through this research, we have been able to connect British Cycling to our network in order to hear the views of young people and group leaders currently disconnected from cycling. The report suggests there are great potential growth opportunities amongst currently under-represented audiences and provides some clear recommendations of ways to address the challenges faced.
"We look forward to continuing to work with British Cycling as they implement their Our Ride strategy for equality, diversity and inclusion."