The final day of the Tokyo 2020 Paralympics track cycling was a golden one for the Great Britain team with Neil and Lora Fachie, plus the mixed team sprint riders, all winning their events.
Kadeena Cox, Jaco van Gass and Jody Cundy set a world record in the team event while there was also a silver medal for James Ball and a bronze for Sophie Unwin as GB collected five medals on the fourth and final day at the Izu Velodrome.
There were also two world records for the British riders as they took the overall tally of track cycling medals to 14 - six of them gold.
For the mixed C1-5 team sprint squad - Kadeena Cox, Jaco van Gass and Jody Cundy - their stunning victory over China in the final added to their amazing personal weeks.
Cox had already won gold, Cundy a silver and van Gass a gold and bronze but there was no sign of fatigue as they finished second in qualifying, half a second behind China over the three-lap, 750m race.
But in the final, Cox produced a devastating opening lap, van Gass maintained the pressure and Cundy turned in the final lap of a lifetime to edge out their rivals by just over one-tenth of a second in a new world record time of 47.579 seconds.
"It's amazing to ride with these boys, this is my favourite race, and we knew if we got it together it could be as special as it was," said Cox.
Van Gass added: "It all came together in the end. I couldn't feel more united with these two riders. They're in the top shape of their lives and I was in the middle of it.
"My first ride was hard but we all knew we had something more to give and that's all I was focusing on in the second ride."
That performance capped a glorious day for Great Britain that included a gold and bronze in the women's B 3000m individual pursuit.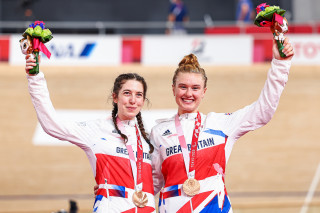 Sophie Unwin, and pilot Jenny Holl, set off in the early qualifying heats and set a new Paralympic record of 3:22.670 but, after Ireland's Katie-George Dunlevy had set a new world record, the stage was set for Lora Fachie, piloted by Corrine Hall.
Riding in the last heat, they broke the world record set moments earlier with a time of 3:19.483 to advance to the final against the Irish tandem.
There, Fachie and Hall led from the opening lap, in a perfectly-paced ride, to win gold from Dunlevy by just under two seconds.
Having finished third in qualifying, Unwin had advanced to the bronze medal race where she and Holl beat the Belgian pair to add to the medal haul.
"I've never successfully defended a title before so I'm just delighted, it's been an incredible day," said Lora Fachie.
Lora's husband Neil had started the medal rush when he and pilot Matt Rotherham won the first GB gold of the day in the men's B 1000m time trial.
Team-mates James Ball and Lewis Stewart were in the ninth of the ten heats and set a blistering time of 59.503, a new Paralympic record.
But Fachie and Rotherham, with the pressure on and the gold on the line, were able to go even faster in the final heat, their time of 58.038 seconds beating Fachie's own world record.
"We thought we'd have to beat the world record to win gold," said Neil Fachie. "All the talk has been about breaking the 59 second barrier and we nearly beat the 58 second barrier. It was phenomenal.
"We knew today was going to be a massive day for the team. We were the first medal so we knew we had to deliver. We did it and saw our team-mates get silver then to watch my wife get gold was unreal. Then the team sprint as well … wow, we'll never forget this."
For Cundy, his team sprint success marked the eighth gold, and 12th medal overall, of a Paralympic career that dates back to his days as a swimmer at the 1996 Paralympics.
"It's everything I ever dreamed of, being in Paralympic sport," said Cundy. "I started in '96 and nobody really knew what the Paralympics were. Now, here we are, live streaming every event from every venue.
"Hopefully we're an inspiration to everybody else. Hopefully they have seen all the disabilities on show here and these amazing athletes doing the different events.
"I think there will be a young generation of future athletes getting in touch with British Cycling, and other federations, and hopefully we will have the next generation coming through and replacing people like me!"