World champion Beth Shriever and Kye Whyte blazed to back-to-back victories in the final rounds of the National BMX Racing Series in Manchester this weekend.
You can catch up on all of the action from rounds seven and eight on YouTube courtesy of BMX Race Hub here.
Round 7
In the men's superclass category it was Kye Whyte (GT Bicycles) who put on a dominant display on Saturday, easing through all four motos and taking a well-deserved win, with fellow Great Britain Cycling Team rider Ross Cullen (Preston Pirates BMX) pushing Whyte all the way to the line to take second place. Newly-crowned British champion Quillan Isidore (Pure Bicycles) added yet another podium spot to a strong season, finishing third.
Speaking afterwards, Whyte said:
"Manchester national weekend was a good weekend for me. I think this was the first time I raced in Manchester since 2019 maybe. A few of the boys were racing which made it much harder, the likes of Ross, Quillan and Paddy plus a few younger lads, so a good little race weekend and kept it clean all weekend. I made everything count when I needed to so for me that was a good weekend and now looking forward to Sarrians in France."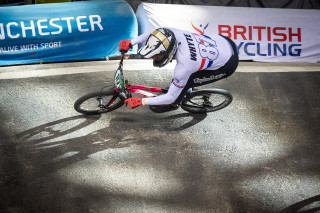 The championship women's class saw Beth Shriever (Crucial BMX) in imperious form once again, taking the win ahead of Freia Challis (Absolute BMX) after a great battle all day, with Emily Hutt (Radio Box) taking the third podium spot.
Shriever said:
"Great weekend racing at the national, just ticking over getting the laps in for the second half of my season. I'm going to Sarrians next week for the World Cup followed by a trip to Argentina to finish of the series. It's great to see the young girls coming through, even in the challenge side seeing so many girls jumping the second straight is great to see and gets me very excited for the future for girls in BMX."
In the junior men's category it was local Manchester BMX rider Harry Tanner who took a maiden victory, after Taylor Hunt (Crucial BMX) slid out in the second berm. Charlie Roy (Moto1 365) finished close behind in second place, with Harrison Bell (Pure Bicycles) picking up third.
Tanner said "Going into the final I was hoping for a podium because throughout the day I rode well and thought that was a good aim for the final. I had a bad gate but kept myself in the mix and had a good first corner, getting myself into second and holding the position until the second corner where I had a bit of luck, and ultimately went on to win. It felt really good as it was my first national win in junior and from the 8m hill too. I'm really pleased with my performance this weekend."
Superclass
Kye Whyte
Ross Cullen
Quillan Isidore
Matthew Hutt
Mark Fletcher
Oliver Cope
Dean Reeves
Joel Clarke
Championship women (17+)
Beth Shriever
Freia Challis
Emily Hutt
Elsa Rendall-Todd
Sienna Harvey
Theia Gaynor
Junior men
Harry Tanner
Charlie Roy
Harrison Bell
Harvey Fawcett
Danny O'Gorman
Harrison Collis
Taylor Hunt
Ben Cornish

Round 8
Sunday's superclass final was a close-fought battle between Whyte and Matthew Gilston, but it was Whyte who would prevail to take his second win of the weekend, with Isidore matching his third place finish from the previous day.
There was simply no stopping Shriever in round eight, with the world and Olympic champion consistently recording sub-30 second laps to take yet another victory. As with the previous day, it was down to Challis and Hutt to battle it out for second and third, with Challis proving to be the strongest.
It was all to play for in the junior men's final on Sunday, with Ben Cornish needing to win to secure the overall title. Despite banging elbows with Hunt on the start hill, he recovered to deliver a great lap to take the win and title, with Tanner rounding off an amazing weekend to take second place and Bell once again rounding off the podium in third.
Superclass
Kye Whyte
Matthew Gilston
Quillan Isidore
Joel Clarke
Mark Fletcher
Oliver Cope
Matthew Hutt
George Hunt
Championship women (17+)
Beth Shriever
Freia Challis
Emily Hutt
Sienna Harvey
Elsa Rendall-Todd
Theia Gaynor
Junior men
Ben Cornish
Harry Tanner
Harrison Bell
Harvey Fawcett
Taylor Hunt
Harrison Collis
Ben Fitzsimmons
Charlie Roy