Mark Stewart and Ollie Wood secured a sensational silver medal in the men's Madison as Neil Fachie and Matt Rotherham claimed their third world championship title alongside Lizzi Jordan and Amy Cole in day six of the 2023 UCI Cycling World Championships.
Para-track
After a dominant qualifying ride that saw Neil Fachie, pilot Matt Rotherham, Lizzie Jordan and pilot Amy Cole clock the quickest time, the final of the mixed B team sprint saw Great Britain take the gold and a third world championship title for Fachie and Rotherham.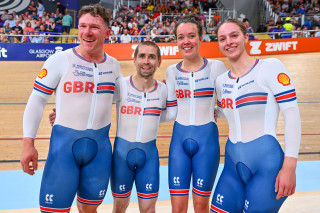 Fachie said: "It was fun today to be honest, we've done one training session together to get an idea of how we could make it happen. But we had a good run in training and qualifying this morning. We knew there were a few things we needed to tweak and I think we made those tweaks, it was a good ride, just delighted.
"I never thought I'd come away with three golds, I've never had the chance before to get three in one champs. 19 is a nice number but 20 sounds nice so I guess I'm coming back for more.
"This week has been stunning and it's just been great to have para-cycling on this platform, not just the tandems this time but everyone and I hope it's a sign of things to come because the fans have been loving it, they loved the tandem sprint yesterday especially. Nothing fires you up like that audience. I'll remember this week forever, I've no doubt."
Fran Brown raced a measured and controlled scratch race in the C1 category, taking a breakaway with China's Wangwei Qian with around 30 laps to go. They were pulled back into the peloton with 14 laps to go, Brown biding her time to make a move. Brown took a solo attack with six laps to go, taking a quarter of a lap lead with the bunch gaining. Attacks were launched from the Swiss and Australian riders who caught Brown and created a three-woman fight for the rainbow jersey with three laps to go, The lead group grew to four with the addition of the French rider with Brown ready to launch a sprint on the final lap, crossing the finish line with style to take her the title.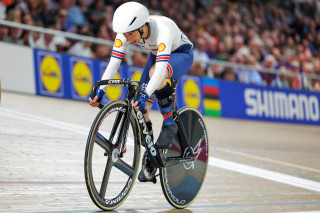 The scratch race also closed-out the women's C1 omnium event which was all to play for with just two points separating first place Wangwei Qian of China and Great Britain's Fran Brown in second. The scratch race win gave her enough points to sneak up into first place and take her third world title of her debut track championships. Just four points separated Katie Toft from a bronze medal, but a fourth place finish wasn't quite enough to make her way up the leader board and she placed fourth overall in the omnium. Debutant Amelia Cass had a positive first outing at a world championships, finishing her competition with a sixth place finish in the scratch race, putting her eighth overall in the omnium.
Kadeena Cox, Jaco Van Gass and Jody Cundy put in two incredible rides in the mixed C team sprint, but it was not quite enough to defend their title against the Chinese. After a conservative qualifying ride to see them comfortably into the final, Cox kicked off the ride like a woman on a mission, setting up Van Gass to push the pace for Cundy to take over, crossing the line to bow out of their championships with a silver medal time of 48.251.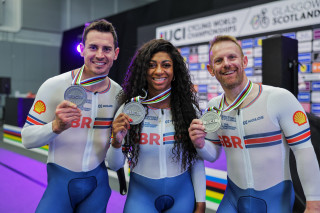 Track
Mark Stewart and Ollie Wood won a sensational silver medal after a dramatic final sprint in the men's Madison.
The 200 lap race saw Stewart and Wood stay in contention throughout, going off the front with the Netherlands and French team early on to gain consistent points within the first 50 laps to sit in fourth position. The sixth sprint saw Wood driven by the roar of the home crowd to take the five points and move up into third, before doing it again on the ninth sprint to move to the silver medal position, just three points behind Belgium. Britain continued to face stiff competition from Belgium, Denmark, the Netherlands and New Zealand, with the silver and bronze positions changing throughout. Spain made some big moves before the Dutch came from nowhere to go on the attack with just 50 laps remaining as Britain sat in joint fourth with New Zealand. With 20 laps to go, the British pair made a great move to secure full points and sit just two points outside of the medal places, before moving into third place with just one sprint remaining.
A dramatic finale saw a huge tussle for the final podium places, with changes and tight racing in the final three laps making a tense chase. A brilliant change from Stewart saw Wood seal the deal for a silver, crossing the line in second place to move up the leader board on 35 points, just one point ahead of the Kiwis.
Wood said: "An extremely hot 200 laps with a home crowd - it was quite different to normal with a lot of just sprints. At one point, I thought the Dutch would take a lap but they blew as well. I could see them suffering but so was everyone else to be honest. It came down to those couple of points in the end but I think we can be proud of how we raced. Second last year, second again, so we certainly haven't got any worse! I think we rode a better race, one of the best races I've ever ridden."
Stewart said: "I've been away for a few years and the coach, Ben, brought me back in and the team that he's put around us - obviously he's got fantastic riders, Ollie, Ethan, Dan, Charlie - but the team that Ben has built around, with Chris the psyche, Sophie our performance analyst, I've never come into a race more prepared. I'm actually a bit gutted we didn't win because it felt fantastic to have that support - it's been such a nice change. To be in Glasgow, I was maybe one of the first riders on this track in 2012 doing the local track league, it's kind of funny, I was going to the toilet before the race and I was doing the same thing over 10 years ago!"
The men's keirin competition kicked off in style for the Brits as Jack Carlin and Hamish Turnbull qualified on first time of asking. Carlin, placed first in his heat, worked hard to make sure he was positioned well going into the sprint and attacked with just over half a lap to go, maintained his speed and sensationally crossed the line to go straight through to tomorrow's quarter finals.
Hamish Turnbull positioned himself well at the front of the pack with two laps to go, keeping his line strong, An attack from the Malaysian rider dropped him back slightly but he held the pace and qualified second, joining Carlin in tomorrow's second stage.
After just missing out on a team sprint medal earlier in the competition, Joe Truman put down a strong qualifying time of 59.507 seconds in the men's 1km time-trial. Truman backed up his talent with a 59.092 in the final, being followed by cheers of the home crowd, but just missed out on a medal to finish in fourth position.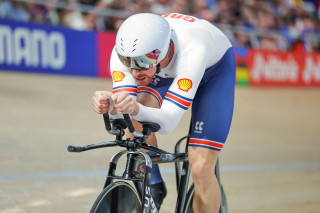 Neah Evans started her points race off with a bang, gaining five points in the first sprint of the evening as Belgium's Lotte Kopecky pushed on the pace early on.
France attacked, and Kopecky showed her sheer power to chase her down and take the front as Evans and Australian Georgia Baker drove on behind. Kopecky and Baker led off the front as Evans faded, with the three eventually lapping the field to take 20 points each.
Evans sat just two points behind Kopecky, as American Lily Williams went off the front and also gained a lap. As Kopecky continued to pile on the pressure, the peloton split in two, and Evans was unable to match her speed and had to remain in the chasing bunch. The front group, with Kopecky and Baker, were able to lap the field again, meaning Evans lost her 20 point gain, but remained in the bronze medal position in the second half of the race.
With two laps to go, Evans hit the front, but just timed it too early and missed out on the all-important maximum points to finish in fifth place.
Sprinters Emma Finucane and Sophie Capewell continued to bring the action following yesterday's qualifiers, both sailing through the 1/8 finals.
After setting a new British record on the flying lap yesterday, Finucane met Canadian Lauriane Genest in the quarter-finals and with seemingly little challenge, took a 2-0 win to head into tomorrow's semi-finals. Capewell was up against tough competition in the form of the keirin world champion New Zealander Ellesse Andrews, making for a nail biting three-race face-off. Capewell delivered a powerful and crafty first ride giving her an early lead; the second round saw Andrews take a win after a kick over the finish line. The tense third ride saw the riders neck and neck until Capewell succumbed and was knocked out of the event with a 2-1 result.
Road
The road events continued on the streets of Glasgow, with the riders greeted by glorious sunshine as Elynor Backstedt, Anna Shackley, Pfeiffer Georgi, Dan Bigham, Ethan Vernon and Josh Charlton joined together to form the Great Britain squad for the team time-trial mixed relay, finishing in fourth place.
Teams are made up of three men and three women, the men going first and completing a 20.1km lap, before handing over to the women who do the same.
The male trio got off to a strong start, with Charlton pulling a few big turns before peeling off, saving his legs for the under-23 men's time-trial tomorrow.
Shackley rolled off the start ramp alongside Georgi and Backstedt, with the three riding as a tight unit until Backstedt peeled off at the foot of Montrose Street. Shackley pushed the pace with Georgi on her wheel over the main climb of the course. Crossing the line, they had gone second fastest, but the Germans would go quicker before the Swiss defended their title to ultimately leave the British sextet in fourth place.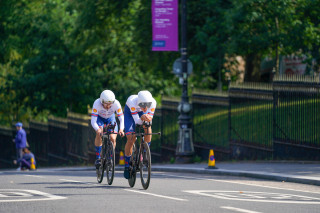 Speaking afterwards, Backstedt noted: "That really put our skill to the test, as well as power and cohesion, and it's the first time together, so I think we did pretty well, trusted each other, and got everything out. We're gutted to have missed out on the podium, but we gave it everything."
Shackley added: "It was a very technical course and we don't ride together so often, so we've spent the last few days getting used to riding together. We can be proud of how we did, even if we're a bit frustrated."
In the BMX freestyle flatland, Matthew Hemmings qualified in 16th for tomorrow's semi-finals, while Lee Musselwhite finished in 20th, and Reece Thomson came in 34th place.
The seventh day of the 2023 UCI Cycling World Championships will see medals up for grabs in the final day of the track events in the women's sprint, women's omnium, men's keirin and men's points race. In Glentress, the mountain bike cross-country team relay kicks off, while the roads of Scotland will see the handbike and trike categories in the para-cycling individual time-trials take place, as well as the under-23 men's time-trials. You can keep up to date with all the action across the British Cycling @BritishCycling social media accounts and #GlasgowScotland2023.