The Great Britain Cycling Team continued to add to their medal tally on day two of the 2023 UCI Cycling World Championships, with the para-track squad proving their world dominance by taking home nine medals, bringing Great Britain's total to 14 medals so far.
Over in Fort William, Aimi Kenyon just missed out on a medal in the junior women's downhill final while the elites got underway with some exhilarating performances in qualifying.
Para-track
Neil Fachie claimed his 17th world championship title, retaining the men's B 1km time-trial with pilot Matt Rotherham after a lightning quick ride against compatriots James Ball and pilot Steffan Lloyd, who secured the silver just 0.042 seconds behind. Fachie and Rotherham were the only pairing to drop under a minute in the qualifying, and claimed the gold medal in a time of 1:00.287, while Steve Bate and Chris Latham came in eighth overall.
Scottish rider Fachie said: "I had no idea it was that tight, but it felt good and strong - fair play to the other lads! It's the first world championships I've had my son in the crowd so I'll always remember it. Being back and racing in Glasgow is amazing - it's the first major I've done here since the Commonwealth Games in 2014 which was one of the highlights of my career as well. We won today because you could hear the crowd roaring and you had to dig deep."
Rotherham added: "We are super happy. I've always loved racing in front of big crowds, and I'm just buzzing!"
Sophie Unwin and pilot Jenny Holl claimed their second world championship title of the 2023 UCI Cycling World Championships in the women's B individual pursuit, beating fierce rivals in their teammates Lora Fachie and pilot Corrine Hall. Fachie and Hall qualified fastest, but were unable to repeat their efforts in the final as Unwin and Holl clocked 3:22.513 to take the win. Lizzi Jordan and pilot Amy Cole finished in sixth place.
Unwin said: "It was nice to see we had the speed in our legs yesterday and that gave us some confidence today. Today during the day, I was thinking 'win-win, Brits are going to win', and on the start line, I was just trying to forget that my friends were on the other side of the start line."
Holl added: "This was the event we came in hoping to win really so to execute it after qualifying second on Wednesday is just brilliant. We are not kilo riders so yesterday was a shock!"
Jaco Van Gass and Fin Graham also managed to retain their world championship results from last year, with Van Gass taking the gold and Graham taking the silver in the C3 equivalent as Martin Hailstone finished ninth.
Jody Cundy stormed to victory in a heroic ride to claim his 14th consecutive C4 1km time-trial world title and young rider Archie Atkinson finished in sixth place after a gutsy ride in the final.
Cundy said: "I wasn't expecting any of that! At the start of the year, I had an absolute shocker at nationals and almost retired. I didn't really know what I was doing, but with all my friends and family and the guys at British Cycling where there was a good back up team there, and I've managed to sort out a lot of my problems. I've come back well in this world championships and my performance tonight, I'm ecstatic with. It's the first time my fiancé and my kids have come to watch me in a kilo so it was amazing."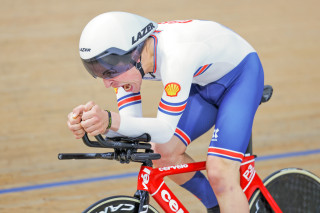 Daphne Schrager took home a successful silver medal in the women's C2 individual pursuit after qualifying in a rapid world record time of 3:51.721. Amelia Cass finished in seventh overall after a commendable debut performance.
Fran Brown also claimed a silver in the women's C1 500m time-trial, only being beat by Chinese sprinter Wangwei Qian who broke the world record, while Katie Toft finished in fourth.
After a fourth place finish in yesterday's individual pursuit, Sam Ruddock came back fighting in the C1 omnium 200m time-trial, taking first place with a time of 12.311. In the 200m time-trial as part of the C2 omnium, Daphne Schrager took third and Amelia Cass got 10th, while in the men's equivalent C2 event, Matt Robertson claimed fifth in his first championships back from injury and Ryan Taylor came in seventh.
Track
The women's team pursuit saw Great Britain qualify fastest in a time of 4:10.333 with Elinor Barker, Josie Knight, Anna Morris and Katie Archibald pulling incredible turns, and will face France in tomorrow's first round.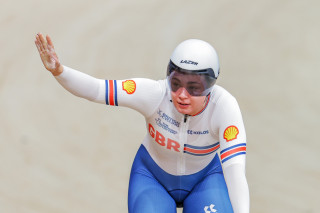 In the women's 500m time-trial, Sophie Capewell qualified third fastest on 33.042, but just missed out on a medal after finishing fourth in the final. Lauren Bell finished 12th overall.
In a change from yesterday's initial line up, which saw the men's team sprint qualify sixth, Scotsman Jack Carlin stepped in place of Joe Truman as the third sprinter, clocking 42.821 alongside Ali Fielding and Hamish Turnbull in round one to put them into the bronze medal final. Unfortunately, it wasn't to be for the British squad, missing out on the medal by just half a second.
Jess Roberts rode incredibly well in the women's scratch race, but just left it too late on the final lap to be in contention for a medal, settling for 11th place.
Downhill mountain bike
Aimi Kenyon finished in a fantastic fourth place at her home world championships in Fort William, putting down an incredibly quick run of 5:22.322, but was just edged out of medal contention. Nina-Yves Cameron finished a commendable 24th place after a brilliant competition.
Kenyon said: "I knew as soon as I crossed the line that it wasn't my best run. I'm not disappointed with the result - fourth is still incredible - but I would have been happier if I'd have done the run I wanted. I'm still happy, and it's been amazing and the best feeling ever to have the crowd shouting your name."
In the junior men's, Dom Platt came in 10th place to be the best of the Brits, with teammates Archie Townsend 11th, Alfie Heming 12th, Luca Thurlow 14th, Rudi Eichhorn 20th, Leo Frater 22nd, and Morgan Williams 38th.
Platt said: "It's a little bit frustrating - I made one pretty big mistake about half way down and then after that just tried to reel it back in. It's unreal to have a world champs at home. We've worked as a team all week and team morale has been great. I had Archie and Alfie right behind and Luca just behind that so it's a real team effort."
Bernard Kerr qualified third fastest in the elite men's downhill qualification, setting the track on fire in Fort William with a time of 4:26.800. The British men put down incredible performances, with Charlie Hatton, Danny Hart, Matt Walker, Greg Williamson and Jordan Williams all qualifying within the top 22, while previous world medallist Laurie Greenland recovered quickly from sliding out of a bend to qualify for tomorrow's final.
In the elite women's qualification, Tahnée Seagrave qualified second fastest in an impressive time of 5:07.751, but a hard fall across the line has put doubts over whether she will compete tomorrow in the final. The same goes for multiple world champion Rachel Atherton, who admirably took to the start line in qualifying today, finishing in 31st after suffering a dislocated shoulder in yesterday's training run.
National downhill champion Harriet Harnden will be competing in the final, alongside Stacey Fisher, Phoebe Gale, Louise-Anna Ferguson and Mikayla Parton.
Further world champions will be crowned tomorrow in the third day of action at the 2023 UCI Cycling World Championships in the junior women's and men's road races, and elite women's and men's downhill mountain bike finals, while BMX freestyle park will face qualifying rounds.
At the Sir Chris Hoy Velodrome, para-cyclists will be looking to gain medals in the men's C1 and C5 1km time-trials, the women's C5 individual pursuit, and the men's C2 and C3 scratch races as the women's C5 omnium kicks off with the 200m time-trial. The women's team pursuit will also be hunting for a medal, but will first have to face France in round one. You can keep up to date with all the action across the British Cycling social media accounts @BritishCycling and #GlasgowScotland2023.