British Cycling can today announce the 23 riders selected to represent the Great Britain Cycling Team (GBCT) in the BMX racing and BMX freestyle park events at the 2023 UCI Cycling World Championships in Glasgow. This takes the total squad size for the 11-day event to 200 athletes across eight disciplines.
The squads feature Olympic champions Beth Shriever and Charlotte Worthington, as well as Olympic and world championships silver medallist Kye Whyte, Olympic bronze medallist Declan Brooks and newly-crowned European champion Kieran Reilly.

The BMX racing and BMX freestyle park events form part of an 11-day programme of 13 world championship events taking place in Glasgow and across Scotland, with 8,000 riders competing and 190 UCI World Champions to be crowned.

The BMX freestyle park events will be held on Glasgow Green in the centre of the city from 5-7 August, while the BMX racing events will close out the championships at Glasgow BMX Centre from 12-13 August.
BMX racing
After an impressive season so far, which has seen her win three UCI BMX Racing World Cup rounds, 2021 elite women's world champion Beth Shriever will be looking to ride her way back into the coveted rainbow jersey.

In the elite men's category, 2022 world championships silver medallist Kye Whyte will be fighting for his position on the top step in front of a home crowd, on the same track where he won his breakthrough silver medal in a British 1-2 at the 2018 European championships. Teammates Ross Cullen, Quillan Isidore, Eddie Moore and Paddy Sharrock will join Whyte at the start line for some ferocious racing.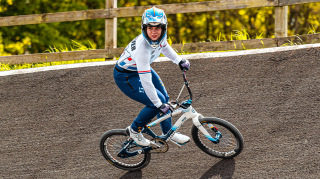 Representing Great Britain in the under-23 women's category will be up and coming rider Emily Hutt, who completed her 2022 season with a world cup bronze medal in Colombia, while Matthew Gilston and Callum Russell compete in the under-23 men's event.

Junior women's rider Betsy Bax will be taking on her first-ever world championships after three European Cup wins so far this season. Fellow debutant Sienna Harvey will join her on the start ramp, with Ava Brown rounding off the women's team. Alex Talbott and debutant Mark Fletcher will compete in the junior men's event.

The BMX racing world championships will be a culmination of four days of challenge racing, which will see over 3,000 riders from ages eight upwards compete for their respective world titles.
GBCT's Lead BMX Racing Coach, Marcus Bloomfield said, "The squad has had a busy season, with a lot of competition so far which has helped prime the riders to be on top form in Glasgow, both physically and mentally. We've trained well on this track over recent months, and it's been great to see the team's excitement grow; they're motivated and ready for a weekend of racing not to be missed.

"We are going to approach this like we would do all races, while also bearing in mind it's the biggest race of the season, so it's a fine balance! But we can't wait to get in front of that home crowd and show those spectators who may be new to BMX racing why we love the sport so much, and hopefully take the win on home soil!"

Elite women's rider Beth Shriever said: "I'm planning to be the fastest I've ever been. I want to be able to get that rainbow jersey back, especially in front of a home crowd. We've raced the Glasgow track a few times and the atmosphere is just amazing. The whole squad is hungry and ready to show what we can do, so the crowds are going to see some epic racing and we can't wait to hear them cheering us on."
BMX Freestyle Park
Newly-crowned European champion Kieran Reilly will have his sights on becoming Britain's first freestyle park world champion, in what promises to be one of the UCI Cycling World Championships' most hotly-contested and eye-catching spectacles.

Joining him will be Olympic bronze medallist Declan Brooks, James Jones, and Shaun Gornall. Jude Jones will also take to the ramps for his first-ever world championships.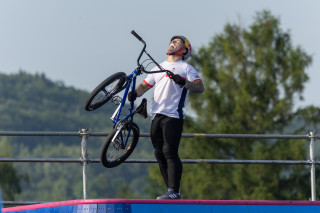 Contesting the women's event will be Olympic champion Charlotte Worthington, and she will be joined at Glasgow Green by teammates Sasha Pardoe and Holly Pipe. At just 16 years old, Sasha has delivered a string of impressive runs in her first year as a GBCT Junior Academy rider, including qualifying fifth at the European Games in June. Holly Pipe finished eighth at the same event, aged just 19, and this will be her debut run at a world championships.

GBCT's Lead BX Freestyle Park Coach, Jamie Bestwick said, "The squad we're taking to Glasgow has gone from strength to strength in the past year. We've got Olympic and European medallists, as well as new young talent that are developing every day; every member of the squad has something really special to offer.

"The team repeatedly delivers impressive results and we've just come off the back off the UEC BMX Freestyle Park European Championships which saw Kieran take the win, with Declan standing beside him on the podium accepting a bronze medal. Those joining us at Glasgow Green or watching at home are guaranteed to see some impressive tricks and hopefully see a side of cycling they might not have before, including the joy that the freestyle park community has."

Olympic bronze medallist, Declan Brooks, said: "I can't wait to ride in front of a home crowd. We've never had the luxury of having a BMX freestyle park world cup or world championships in the UK so this will be something we'll all cherish and try to perform at our optimal. My family will all be in attendance, so it'll be amazing to have all their support as well."

The Great Britain Cycling Team's BMX racing and freestyle park programmes saw their first ever Olympic medallists at the 2020 Tokyo Olympics, with Beth Shriever and Charlotte Worthington crowned Olympic champions, Kye Whyte taking silver in the BMX racing and Declan Brooks winning a freestyle park bronze.

These successes are in large part thanks to the support of the UK Sport World Class Programme, funded by The National Lottery, which has also enabled the Great Britain Cycling Team to establish new performance pathways for both disciplines, which are already benefitting the development of the next generation of Olympians.

A limited number of tickets are still available to buy for both events and you can find more information about all of the events taking place online at www.cyclingworldchamps.com.
Squads in full:
BMX Racing
Elite men
Ross Cullen
Quillan Isidore
Eddie Moore
Paddy Sharrock
Kye Whyte
Elite women
Beth Shriever
Under-23 men
Matthew Gilston
Callum Russell
Under-23 women
Emily Hutt
Junior men
Mark Fletcher
Alexander Talbott
Junior women
Betsy Bax
Ava Brown
Sienna Harvey
BMX Freestyle Park
Elite men
Declan Brooks
Shaun Gornall
James Jones
Jude Jones
Kieran Reilly
Dylan Hessey (reserve)
Elite women
Sasha Pardoe
Holly Pipe
Charlotte Worthington