British Cycling can today announce the 59 riders selected to represent the Great Britain Cycling Team in the mountain bike cross-country and downhill events at the 2023 UCI Cycling World Championships in Scotland.
The cross-country squad includes Olympic champion Tom Pidcock and 2021 world champion Evie Richards, while 2022 junior world champion Jordan Williams and six-time world champion Rachel Atherton will ride for rainbows again in the downhill events.

The cross-country and downhill events form part of an 11-day programme of 13 world championship events taking place in Glasgow and across Scotland, from 3-13 August, with 8,000 riders competing and 190 UCI World Champions to be crowned.

The downhill events will take place in Fort William from 3-5 August, while the cross-country events will take place from 8-12 August in Glentress Forest. Tickets are still available for both events, and you can find full information at www.cyclingworldchamps.com.
Cross-country
Current Olympic mountain bike champion Tom Pidcock will be heading to Glentress with his eyes firmly set on the elite men's rainbow jersey after world cup wins in both cross-country and short track earlier in the season. He will be joined by Cameron Orr and Cameron Mason, who will be competing in the elite category for the first time.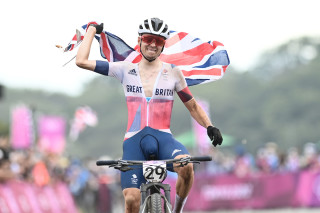 Evie Richards comes into the championships in good form after five top 10 finishes across the 2023 world cup season, including a third place in cross-country short track in Leogang. Richards will be joined by teammates former Commonwealth champion Annie Last and local rider Isla Short.

Joe Blackmore will lead the under-23 men's squad having secured five top 10 world cup finishes so far this season, and he will be joined by Crieff based 2019 junior world champion Charlie Aldridge. Corran Carrick-Anderson, Huw Buck Jones, Rory McGuire and debutant Sam Chisholm complete the squad.

Ella acLean-Howell will be gunning for the under-23 women's title after an impressive string of world cup results and will be taking on the purpose-built course alongside Elena McGorum and world championship debutants Anna McGorum and Anna Flynn.

Junior riders representing the Great Britain Cycling Team include Max Greensill and Emily Carrick-Anderson, and debutants Ben Allan, Nathaniel Henderson, Oliver Murphy, Reuben Oakley, Kacey Eyeington, Bethany-Ann Jackson and Daisy Taylor.

The cross-country world championships will take place over five days in the picturesque Glentress Forest, with events including individual cross-country, short track and a mixed team relay, all of which will have British representation.

Current Olympic mountain bike champion, Tom Pidcock, said, "It's been great so far this year to be able to include a good number of mountain bike world cups in amongst my road races and taking two wins always boosts your confidence ahead of a world championships. After a big three weeks on the road, it's always great to pull on a GB jersey and have some fun back on the mountain bike – especially in front of a home crowd who I'm sure will show up and bring the atmosphere."

GBCT's Mountain Bike Development Coach, Matt Cox said, "A home world champs is even more exciting than normal but to have it in a location that is synonymous with mountain biking in the UK takes it to another level. The Tweed Valley lives and breathes mountain biking and a huge number of riders both past and present have learnt their skills and honed their physical talents on the trails. So, to see some of them on the start line, along with the rest of the UK's finest mountain bikers, tackle this beast of a course is going to be incredible.

"We've selected a squad of the strongest cross-country mountain bikers in the country which includes world, Olympic and Commonwealth medallists, down to the next generation of young talented individuals. It's going to be exciting to see what they can do on home soil with such a passionate home crowd supporting them. Of course, we're here to win some medals and rainbow stripes but we also want these riders and this amazing event to inspire the next generation of mountain bikers to continue to take this sport from strength to strength."
Downhill
Last year's junior world champion, Jordan Williams, will contest the elite men's downhill event for the first time. So far this season, Williams has shown great form, taking the win in his first elite world cup race earlier this year in Lenzerheide.

He will be joined by Laurie Greenland, who has also shown form on this track, taking a National Downhill Series win at Fort William in May. He was joined on the podium by 2017 junior world champion Matt Walker and Charlie Hatton, showing they also have what it takes to go fast at Fort Bill.

Rachel Atherton will be looking to take her seventh world title in her first world championships since giving birth to her first child, and she's made a strong return to competition with a world cup win in Lenzerheide earlier this season.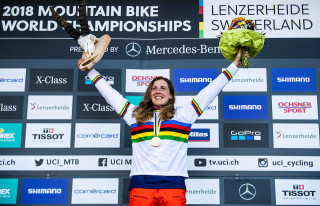 The 2021 junior national champion, Phoebe Gale, will be looking to make her mark in her first elite world championships. She will be joined in the elite women's category by Louise-Anna Ferguson, Stacey Fisher, Mikayla Parton, Tahnée Seagrave and debutant and endurance rider Harriet Harnden.

In the junior events, Aimi Kenyon will be returning to the world championships in her final year in the junior category, after a string of impressive world cup results in 2023, taking fifth in Lenzerheide and second in Leogang. She will be joined by debutant Nina Yves Cameron.

The junior men's squad will include Dom Platt and Luca Thurlow, and world championship debutants Rudi Eichhorn, Oscar Griffiths, Will Haines, Owen Rick, and rider Alfie Heming. Heming has previously been part of the British Cycling Talent Development Pathway for youth riders at the Gawton Talent Development Centre and Regional Gravity Academy sessions.

Michael Vickers, competition officer for British Cycling said, "There have been some exciting performances from the riders this year in the world cup and national events. Off the back of this it is great to see a strong squad selected who we believe can challenge for world championship medals across all categories. It is also really promising to see us fulfil our elite female quota for the first time with some extremely talented female athletes.

"I can't wait to see the riders get on course at their first home world championships in 16 years and be pushed on to the finish line with the support of the home fans."

The Great Britain Cycling Team's mountain bike squad crowned its first Olympic champion at the 2020 Tokyo Olympics, with Tom Pidcock taking the gold medal. Thanks to the elite success our riders have enjoyed at major events over many years, and with the support of the UK Sport World Class Programme, funded by The National Lottery and Sport England, we're able to support over 150 mountain bikers across our elite, academy and talent squads.
Squads in full:
Cross-country
Eilte men
Cameron Mason
Cameron Orr
Tom Pidcock
Elite women
Annie Last
Isla Short
Evie Richards
Under-23 men
Charlie Aldridge
Joe Blackmore
Corran Carrick-Anderson
Sam Chisholm
Huw Buck Jones
Rory McGuire
Under-23 women
Anna Flynn
Ella Maclean-Howell
Anna McGorum
Elena McGorum
Junior men
Ben Allan
Max Greensill
Nathaniel Henderson
Oliver Murphy
Reuben Oakley
Junior women
Emily Carrick-Anderson
Kacey Eyeington
Bethany-Ann Jackson
Daisy Taylor
Downhill
Elite men
Laurie Greenland
Danny Hart
Charlie Hatton
Bernard Kerr
Matt Walker
Jordan Williams
Greg Williamson
Phil Atwill (reserve)
Ethan Craik (reserve)
Jack Piercy (reserve)
Joe Breeden (reserve)
Elite women
Rachel Atherton
Louise-Anna Ferguson
Stacey Fisher
Phoebe Gale
Harriet Harnden
Mikayla Parton
Tahnée Seagrave
Jess Stone (reserve)
Rebecca Baraona (reserve)
Chloe Taylor (reserve)
Junior men
Rudi Eichhorn
Oscar Griffiths
Will Haines
Alfie Heming
Dom Platt
Owen Rick
Luca Thurlow
Archie Townsend (reserve)
Morgan Williams (reserve)
Leo Frater (reserve)
Will Savery (reserve)
Junior women
Nina Yves Cameron
Aimi Kenyon