British Cycling can today announce the 59 riders selected to represent the Great Britain Cycling Team in the track and para-track events at the 2023 UCI Cycling World Championships in Glasgow.
The squads feature 20 current world champions who will be looking to retain their rainbow stripes, in what will be the first integrated track and para-track world championships, taking place in the Sir Chris Hoy Velodrome over seven days of racing from 3-9 August.

The track and para-track racing kicks off an 11-day programme of 13 world championship events taking place in Glasgow and across Scotland, with 8,000 riders competing and 190 UCI World Champions to be crowned.
Para-track
After achieving their most successful track cycling world championships of all time and topping the medal table in 2022, the Great Britain Cycling Team para-track squad will be heading to Glasgow with high expectations, with just over a year to go until the 2024 Paralympic Games.

In total, 16 defending world champions have been selected, including 16-time world champion Neil Fachie, while Jody Cundy will be eyeing an incredible 14th consecutive kilo world title. Tandem stoker Lora Fachie will make her return to the track following the birth of her son last year, pairing up with pilot Corrine Hall, while world and Paralympic champion Kadeena Cox will also look to add to her burgeoning medal collection.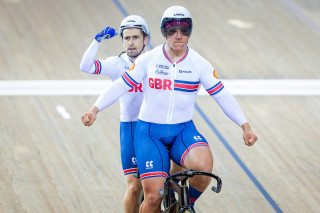 The stacked team includes 13 other defending world champions who will be aiming to defend their titles in front of the Scottish crowd. They include Fachie's pilot Matt Rotherham (MB), Fin Graham (MC3), James Ball piloted by Steffan Lloyd (MB), Sam Ruddock (MC1), Sophie Unwin piloted by Jenny Holl (WB), Katie Toft (WC1), Jaco Van Gass (MC3), Blaine Hunt (MC5), Steve Bate piloted by Chris Latham (MB) and Daphne Schrager (WC2).

This year's line-up also includes world championship debutants Archie Atkinson (MC4), Fran Brown (WC1), Amelia Cass (WC3), Amy Cole (WB pilot), Martin Hailstone (MC3), Hannah Moore (WC4) and Jacob Smith (MC3), who will all be looking to make their mark in front of a sold-out home crowd.

Lead Paralympic WCP Coach, John Hewitt said, "We're all very excited to compete in front of a home crowd and relish the opportunity to showcase what para-cycling on the track is all about. We have selected a highly competitive team with a diverse range of experience, from our debutants to our defending world champions.

"Our focus for the 2023 Para-Cycling Track World Championships is simple – deliver the best performance each individual is capable of at this moment in time as we continue building momentum toward the 2024 Paralympic Games."

Neil Fachie, 16-time world champion said, "As always, I'm extremely proud to be representing my country at a major event. The Sir Chris Hoy Velodrome in Glasgow has a special place in my heart, and to be back racing there in front of a sell-out crowd will be huge. This has the potential to be a moment for para-cycling and I intend to make the most of it."
Track
The Olympic track squad boasts four reigning world champions including home favourite and current points race world champion Neah Evans. Reigning team pursuit champions Dan Bigham, Ethan Vernon and Ollie Wood will be looking to take the top step of the podium once again, and they will be joined by Charlie Tanfield, Will Perrett, Mark Stewart and world championship debutants Will Tidball and Josh Charlton in the men's endurance events.

The women's endurance squad will see Glasgow-born Katie Archibald vying for another rainbow jersey in her home velodrome, and joining Archibald and Evans will be Elinor Barker, in her first world championships since giving birth to her son in 2022, sister Megan Barker, Josie Knight, Jess Roberts, and Anna Morris.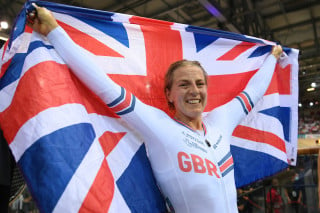 In the sprint events, both squads will be looking to repeat their medal-winning feats of 2022 in the team sprint. Paisley-born Olympic silver medallist Jack Carlin is selected to head up the men's squad of Ali Fielding, Hamish Turnbull and Joe Truman.

Katy Marchant will be heading to Glasgow to compete in her first world championships since giving birth to her son in 2022, alongside last year's bronze medallists Lauren Bell, Sophie Capewell, and Emma Finucane.

The Great Britain Cycling Team Head Coach, Jon Norfolk said, "The UCI Track Cycling World Championships is a key milestone in our qualification journey to Paris and represents the biggest opportunity this cycle to rack up points and see where we stack up against the rest of the world, with under a year to go to the Olympic Games.

"The squad is made up of a mixture of seasoned riders, current Olympic and world champions, as well as new talent pushing through which is incredibly exciting to see. Local rider Katie Archibald will be competing at her ninth track world championships in Glasgow, while it's under-23 rider Josh Charlton's elite debut. Having this mix of experience is very encouraging for the strength and depth of the squad and shows that if you are fast enough, you are old enough to compete at the highest level."

Four-time world champion, Katie Archibald said, "I can't wait to race at home. I know it's going to be high intensity, high speed, and high pressure; but I'm not scared.

"It makes me so proud that Scotland's hosting such a massive event, and as a fan of the sport, I'm really excited that such a huge celebration of cycling is happening here."

The Great Britain Cycling Team's track and para-track cycling programmes have been developing the country's best riders for more than 20 years, with the support of the UK Sport World Class Programme, funded by The National Lottery.

Since World Class Programme funding started, the programme has delivered 31 Olympic and 50 Paralympic champions as well as a staggering 56 track and 110 para-track world champions. Both teams have been preparing for the 2023 UCI Cycling World Championships at the National Cycling Centre, which thanks to Manchester City Council, is home to a newly refurbished velodrome.

Both events will be held at the Sir Chris Hoy Velodrome in Glasgow, and a limited number of tickets are still available to buy. You can find more information about all the World Championships taking place online at www.cyclingworldchamps.com.
Squads in full:
Para-track women
Fran Brown (WC1)
Amelia Cass (WC3)
Kadeena Cox (WC4)
Hannah Moore (WC4)
Morgan Newberry (WC5)
Daphne Schrager (WC2)
Katie Toft (WC1)
Para-track men
Archie Atkinson (MC4)
Will Bjergfelt (MC5)
Jody Cundy (MC4)
Jaco Van Gass (MC3)
Fin Graham (MC3)
Martin Hailstone (MC3)
Blaine Hunt (MC5)
Matt Robertson (MC2)
Sam Ruddock (MC1)
Jacob Smith (MC3)
Ryan Taylor (MC2)
Para-track tandem
James Ball piloted by Steffan Lloyd
Steve Bate piloted by Chris Latham
Lora Fachie piloted by Corrine Hall
Neil Fachie piloted by Matt Rotherham
Lizzi Jordan piloted by Amy Cole
Chris McDonald piloted by Adam Duggleby
Sophie Unwin piloted by Jenny Holl
Henry Latimer (reserve pilot)
Men's track sprint
Jack Carlin
Ali Fielding
Joe Truman
Hamish Turnbull
Women's track sprint squad
Lauren Bell
Sophie Capewell
Emma Finucane
Katy Marchant


Men's track endurance
Dan Bigham
Josh Charlton
Will Perrett
Mark Stewart
Charlie Tanfield
Will Tidball
Ethan Vernon
Ollie Wood
Rhys Britton (reserve)
Fred Wright (reserve)
Women's track endurance
Katie Archibald
Elinor Barker
Meg Barker
Neah Evans
Josie Knight
Anna Morris
Jess Roberts
Sophie Lewis (reserve)