The second round of the Women's Battle of Britain saw the South and South Wales take the honours by the slenderest of margins, while Sheffield's Emily Burgess took the win in the Individual Grand Prix in Bury.
Women's Battle of Britain
The South and South Wales finished the day on 61 points after solid riding from Round 1 winners, The Midlands, who finished just a point behind.
Lily Parr opened the match with her first win of the day for the South East and Eastern, leaving the South and South Wales pair of Natalie Goulden and Jamie-Lee Walters to roll across the line to take second and third.
Emily Burgess powered off the grid in the following heat to take an easy win from The Midlands duo, Rebecca Humphries and Amy Baynes.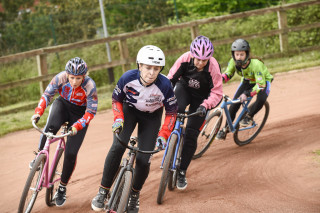 Demi-Blu Harris took a fine win in heat seven, holding off Lizzie Rigley, one of the top riders in the country, to claim four points.
Parr's turn of speed ensured another win for the South East and Eastern, while Rachael Lammin and Lauren Hookway had to be content with second and third and the five points for the South and South Wales.
The following heat saw Laura Watson take another win for the North and Scotland but more solid team riding from Humphries allowed Baynes through for a solid three points.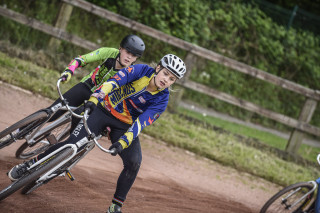 Heat 22 saw Lammin take her first win of the match and with teammate Charlotte Geech capitalising on a fall by Humphries, it ensured a 7-2 heat to turn the match to the South and South Wales' favour.
The final heat would decide the match win and although Rigley took the win for the Midlands, it was Lauren Hookway's second place that pushed the South and South Wales for the win.
Individual Grand Prix
In the afternoon's Individual Grand Prix, it was Emily Burgess (Sheffield) who took the win in the expert A final. Stepping in for an injured Rebekah Humphries, Burgess only dropped a point in qualifying to take grid one in the final.
As a track sprinter, Burgess was able to fly off the gate with ease, while the rest of the riders had to fight their own race. A battle worn Lily Parr took second whilst Lizzie Rigley won the tussle with Lara Watson to claim third. Rachael Lammin took the win in the B final from Ella Case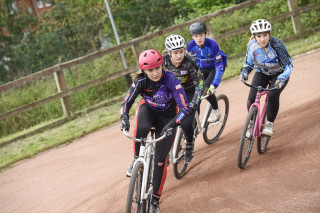 Demi-Blu Harris took the win in the intermediate A final. A tight first bend looked as though the race could have gone to anyone with all four riders shoulder to shoulder, but it was Harris who had the turn of speed to come out of the tussle first. Lola Martin (Herthersett) took the B final from Coventry's Amy Baynes.
After two rounds, Lily Parr leads the elite Individual Grand Prix with 45 points ahead of Lizzie Rigley with 34. Demi-Blu Harris leads the intermediate with 50 points from Maisie Baker with 38.
Results
Women's Battle of Britain
South and South Wales – 61 points
East and South East - 60 points
The Midlands - 60 points
North and Scotland - 52 points
Individual Grand Prix
Expert A Final
Emily Burgess (Sheffield)
Lily Parr (Kesgrave)
Lizzie Rigley (Leicester)
Laura Watson (Sheffield)
Intermediate A Final
Demi-Blu Harris (Kesgrave)
Yoanna Gilpin (Coventry)
Maisie Barker (Ipswich)
Jamie-Lee Walters (East Newport)
Lola Martin (Hethersett) B Final