British Cycling is pleased to today announce the dates and venues for the 2023 National Disability and Para-cycling Series.
Contested over seven rounds of time-trial and circuit races, the series covers all four corners of England, starting in the Midlands and finishing in the South West region. The series announcement follows soon after the launch of British Cycling's new Limitless disability and para-cycling programme, which aims to provide opportunities for 5,000 disabled riders to participate in club activity over the next four years.
The first round of the series takes place on Saturday 15 April at Harvey Hadden Sports Village in Nottingham, before heading to Loughborough for the second round time-trial on the lumpy Six Hills route on Sunday 16 April. Entries for rounds one and two remain open here, with entries for the entire series open to both classified and non-classified riders.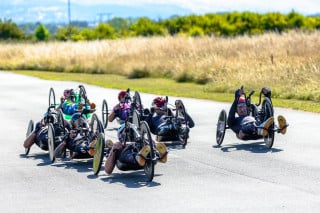 Round three will take place at Wyke Cycle Circuit in Bradford on Saturday 3 June, before heading to Northern Gateway in Colchester for rounds four and five over the weekend of 16-17 September. Both facilities have received support from British Cycling's Places to Ride scheme, as part of the organisation's ambition to provide safe, traffic-free environments for cycling in communities across the country.
The sixth round will see riders line up for a time-trial on Saturday 30 September, hosted in Thruxton, Andover, before the series wraps up the following day, Sunday 1 October, at Odd Down in Bath for a final circuit race.
Further information on the 2023 National Disability and Para-cycling Road and Time-Trial Championships which are set to take place in the Eastern Region, will be published in due course.
British Cycling is also working to secure a further round of the series in the West Midlands, and is seeking interested clubs, volunteers, and commissaires to support the event. If you would like further information, please email disability@britishcycling.org.uk
National time-trial champion and Great Britain Cycling Team C5 para-cyclist, Morgan Newberry, said:
"It was amazing to win a national jersey in the time-trial last year and I can't wait to race it again this year – and hopefully retain the title! The National Series is really fun to race, and I look forward to seeing the British para racing scene building on the success of last year going into this season."
British Cycling's National Disability Manager, Lyndsey Hollands, added:
"I am very much looking forward to the 2023 season of disability and para racing. Having recently launched Limitless, our brand-new inclusive cycling programme, we can start to build a pathway from recreational and club cycling into competition and racing, and I am excited to see new riders take part in the upcoming events."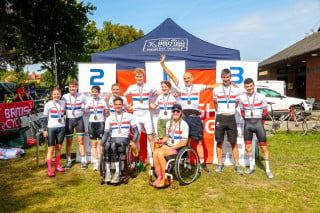 2023 National Disability and Para-cycling Series
Round 1 – Saturday 15 April: Circuit Race, Harvey Haddon, Nottingham
Round 2 – Sunday 16 April: Time Trial, Six Hills, Loughborough, Leicestershire
Round 3 – Saturday 3 June: Circuit Race, Wyke, Bradford
Round 4 – Saturday 16 September: Circuit Race, Northern Gateway, Colchester
Round 5 – Sunday 17 September: Circuit Race, Northern Gateway, Colchester
Round 6 – Saturday 30 September: Time Trial, Thruxton, Andover
Round 7 – Sunday 1 October: Circuit Race, Odd Dwn, Bath